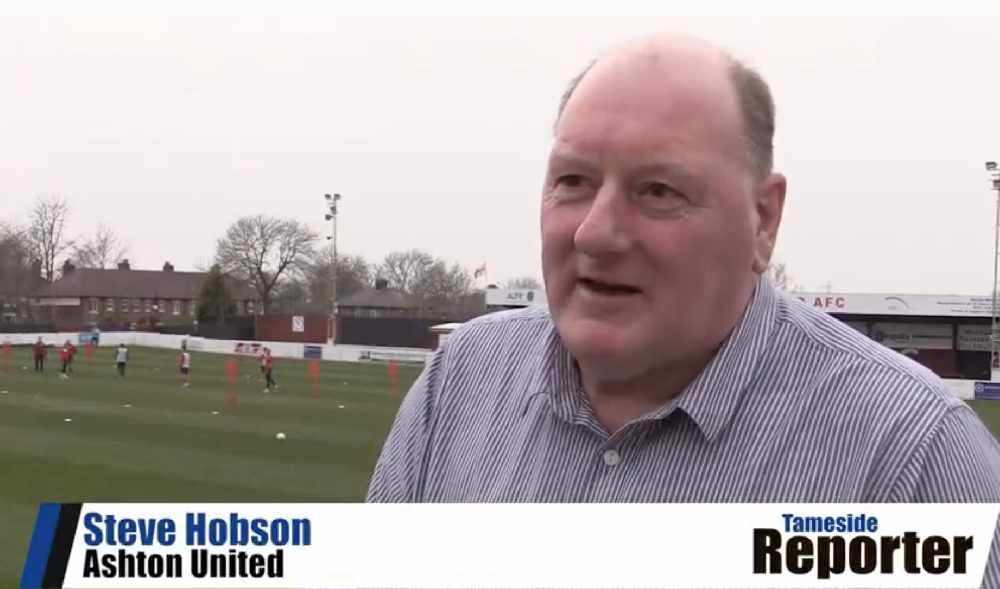 Ashton United vice-chairman Steve Hobson believes the club will have to be flexible and adapt to new conditions once football returns to Hurst Cross.
The Robins have been without a fixture since the 16th December due to the ongoing nature of covid-19, and while it's hard to predict when football will finally return Steve feels the club will have to adjust to whatever requirements are thrown at them.
Despite the almost four month postponement of fixtures, clubs including Ashton, Hyde United, Stalybridge Celtic, Mossley and Glossop North End are still waiting to see if the 2020/21 season will be ended. A decision moving forward is expected to be made following prime minister Boris Johnson's announcement on February 22. In their latest statement regarding the situation, the Football Association said: "The Alliance Committee (Steps 3 & 4) and Leagues Committee (Steps 5 & 6) met on February 8 and 9, respectively, to discuss the data that was collated following the recent surveys circulated to clubs at this level of the game," the FA statement said.
"During discussions, the committees acknowledged the likelihood that the Prime Minister will set out a 'roadmap' to the nation on February 22 as to how the government intends to begin to reduce the current Covid-19 restrictions.
"Given that any such update from the government on February 22 may provide the committees with additional, relevant information to help determine the preferred route forward, they have agreed to reconvene after this date.
"In addition, the Alliance Committee are also conscious of the ongoing process the National League (Steps 1 & 2) are undertaking and the potential impact this could have on any actions the committee may choose to take."
It's proving to be a frustrating situation for all clubs concerned, but Steve feels there isn't much the club can do apart from wait for an answer. Speaking to Ian Cheeseman about the club's activities in the absence of on-pitch action, Steve said: "It is what it is really and something beyond our control, so we've just got to batten down the hatches and get on with it.
"On the football side the management team keep in touch with the players and they have their fitness regimes, so we leave that with our manager Michael Clegg.
"It's also about keeping the football club going financially and keeping it financially stable, so we're in contact with the two chairmen, myself and the other directors to keep our eye on the ball and reduce costs as much as possible and apply for any grants that might be available.
"The third strand to the club is that we're very closely linked to our charity partner, Ashton United in the Community. The amount of work on that side has absolutely gone through the roof. We've been running a food pantry at Hurst Cross for about nine months now and that's grown week on week, so much so that we've now supported local people to set up their own charity and establish a food pantry in a nearby close park. That will kick off in April time.
"It's a real plus that we've brought the community together and they're now taking ownership of that. Over the Christmas period we provided selection boxes for the kids and hampers for local pensioners. Normally we would have a Christmas party for the pensioners but this year we just proved hampers for them. Throughout the pandemic we've provided activity packs for people that focuses on a different theme each week, and that's kept people engaged and occupied. We've given grants out under the Winter Pressure scheme, and we've been giving grants out to people in need. From a football club point of view it's exploded, but these people are our neighbours, friends and supporters, so we've just tried to do our bit to support the community."
Asked if the club's community engagement could lead to a stronger bond with the community, Steve said: "We've always had a strong bond with the local community but I think more and more people are realising we're more than just a football club; we are an integral part of the community. I've no doubt the other clubs are doing the same thing, and people don't realise how football clubs such as ours are integral to their community. I think the pandemic has woken some people up to that fact."
Tameside is renowned for its non-league football clubs and the rivalry that exists within the borough itself. However, in the early stages of the pandemic the clubs came together as one in a bid to preserve their status and financial security. Steve said: "We're fierce rivals on the pitch but we try and help one another where possible, and that was demonstrated early into the pandemic when the government brought in certain regulations and rules regarding the use of the club facilities, and all the clubs got together and approached our MPs and councillors to lobby them for a relaxation on the rules. We were moderately successful, let's just say that, and we do speak as one."
Town rivals Curzon Ashton, who compete in the National League North - one division above Ashton - have recently taken a stand against the league and declared that they will not be fulfilling future fixtures due to various financial issues. The Nash were given a grant of £36,000 at the end of September to keep them afloat until just after Christmas, but it has recently been announced that additional financial help will come in the form of a loan - something Curzon aren't prepared to take on. Commenting on the situation, Steve said: "If you look at the media and say 'Curzon are getting all this money and we're all green with envy' but in fact its not quite as simple as that. It is what it is for them, and it is what it is for us. I'm bound to look at our league and say how much better it's run - and I'd say that because I'm on the board of this league - but it's a really difficult time, we haven't had a pandemic before, so how do you deal with it? You can make a decision based on that moment in time, but before you implement that decision the government has changed it or the council has changed it and you're made to look daft. You've just got to suck it up and get on with it, and that's what we've tried to do within our means."