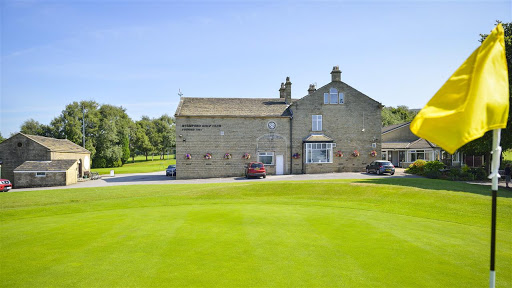 Stamford Golf Club professional Mark Smith has criticised the Government's ruling to close courses during the coronavirus lockdown.
Mark, who has been Stamford's professional since 2006, feels courses should have remained open to members, albeit with safety provisions put in place.
The former Fairfield junior, who became assistant professional at Ashton in 1999, believes a golf course is one of the safest environments a person can operate in, especially compared to other places that have remained open.
And after almost eight weeks without any action, Mark, who hasn't hit a ball since the lockdown was implemented, is hoping golf will be included as part of the government's relaxing of lockdown rules during phase one.
Speaking to Reporter Sport, Mark said: "We should have been allowed to play with strict restrictions in place, such as members only.
"With safety measures in place, such as a maximum of two or three balls every ten minutes, and no club house or club shop open, people could at least get their daily exercise and take care of their mental wellbeing at the same time.
"There are devices available which mean you don't have to come into contact with anybody when you're playing. You don't have to touch a score card, you can mark a score online, and you don't have to touch the flagpole anymore.
"We're just waiting for the green light from the English Golf Union, which lies in the hand of Boris Johnson. We're hoping that golf will be permitted in phase one of the lifted restrictions, as it's got to be one of the safest environments to be in."
While it's currently unclear as to what the government's ruling will be, Mark said if restrictions remain in place for social venues, including the club house, Stamford will be affected financially. "The club house is dependent on functions and events, but if the government restrict us from operating weddings, birthdays, christenings and carveries, that will impact us in terms of the fixed costs that we pay to use the club house" said Mark.
"At the moment the club house staff are furloughed, so our future looks alright, but as I said it depends on what the conditions are when we return.
"Memberships are the main source of income for the club. Members pay an annual fee and the course is open 12 months of the year, so there's always a steady income stream. However, the fixed costs of the club house are high, so it takes a lot of events to meet those fixed costs."
Since lockdown took effect, Mark and the staff have been furloughed, whilst the greenkeeping team returned to work having taken advantage of the scheme for the first three weeks.
Although the current situation is frustrating, not only for golf clubs but the country as a whole, Mark believes there is light at the end of the tunnel and is excited to see members return to the club. "The course is in really good shape. ready for golf's return, whenever that may be" said Mark.
"In the short term the lockdown has impacted some of the members that are self-employed - nobody is going to come out of this unscathed.
"Stamford is a good club with loyal members, so dare I say it at the moment, but we seem to be okay. The Government has given us a bit of help and we've been fortunate in that respect. Other clubs have been less fortunate as they have come above the rateable value to qualify for funding. However, it's all dependent on the conditions we return to as to how bright our future looks."
Stamford has affiliated into the Tameside Sport and Physical Activity Network – an initiative run by Andy Dwyer in collaboration with Active Tameside.
It supports clubs on a one-to-one basis by offering support and guidance in terms of sourcing extra funding amongst other things.
Mark said the relationship is of great importance – especially in the current climate. "It's a new connection that we've made and I've always had a good relationship with Andy since we met in 1999. He's always been a keen supporter of me personally and I've had a good relationship with him, so he's come up with this great initiative which will help us out massively, and it was a no brainer really to affiliate."
For further information on Stamford, contact Mark on: professional@stamfordgolfclub.co.uk