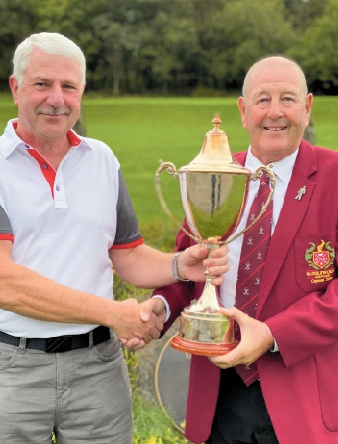 The 'major' competitions at Saddleworth Golf finished with a 36-hole medal for the coveted Mountain Ash Trophy.
Nick Marner set the early pace with a neat 66 in round one and this was followed in round two by Mark Timperley with 67.
But the consistent performer over two rounds was club veteran Simon Halliwell, who followed his opening 71 with 67 for a two-round total of 138, two less than Ben Pullen and James Owen.
The best round gross scores were posted by Nick Marner 69 and Ben Pullen 68 - Ben's round was a fantastic -3 gross which is his lowest score round Saddleworth.
The winner was delighted with his victory which he detailed in his extensive winner's speech.
l The FV Rhodes Trophy at Saddleworth was won by Ian Lees with 43 points from Steve Baron 40 and Cliff Bird 39. In the subsidiary Stableford, Matthew Chapman led in with 42 points, three more than Mark Orme and Jonny Fancy.
l A Saturday Team of Four competition at Denton was won by the fab four of Paul Kassimi, Dave Rowles, Steve Cullerton and Phil Rudkin after a cpo on 84 points from N Doyle, J Dean, Gary Bennell and D Costello.
A Wednesday Stableford at Denton was won by N Coburn after a cpo on 38 points from J Taylor, two more than M Cole.
The Sunday Stableford at Denton had M Heap first past the post with 39 points from T Maggs 38 and Mr Captain 35.
A singles Stableford for Denton ladies had Linda Leung leading in with 14 points from Pam Wiseley 14.
l Ashton's men played a Tuesday Stableford and Paul Newton was in a league of his own in division one with 41 points, six more than Antony Lambert, Lasher Lewis and Mike Robertson.
In division two, Wayne Evans was also a clear winner with 39 points from Graham Hughes 35 and the Yellow Tee winner was Nigel Whittaker after a cpo on 35 with Gordon Nelson.
It was closer in a BB Stableford at Ashton with S Carroll and B Froggatt leading in with 45 points and hot on their heels with 44 were S Heeley and P Bacon, P Godfrey and A Clegg and Martin O'Keefe and D Shenton.
A singles Stableford for Ashton's ladies was won by Justine Hadfield with 37 points from Sarah Pownell 35.
l The final day medal at Crompton and Royton was won by Steven Barrett with 68, one less than Jon Thomson and Aaron Fletcher and Gareth Snell took the subsidiary medal with 68.
l The 30th Pro's Stableford at Brookdale was led in by Terence Boothby with 39 points from Alan McQuaid 38 and DB Taylor and Alan Robson, both 37.
There was some good scoring at Brookdale in a medal for the Autumn Cup led by 65 from Daniel Hurst ahead of Glen Bayley and Paul Holt, both 66 and Trevor Mayo 67.
Medal action for Brookdale ladies had Maureen Parker in top spot with 76 from Adele Keate 79 and Kath Storey 81.
l Fairfield captain Stewart Proffitt was in charge of a Winter League Stableford posting 42 points to lead in from club legends Paul Latham 40 and John Bell 39.
l A medal at Dukinfield saw a medal on clickety click go to Neil Hodgkiss after a cpo from Dave Goodwin, one less than Edgar Orford.
l The opposite age range of golf covered by the Manchester and District Alliance featured in two of their main Inter Club KO finals.
Lowes Park Golf Club were again excellent hosts for the final of the Williams BMW Junior Team with their challenging course in good condition, despite some awful weather prior to the final day.
The final was contested between Ringway and Rossendale and was a very close contest with Ringway emerging as the winners by 3/2.
It is the first time in the long history of the event that Ringway have won the competition which is a great achievement for their team and club.
Ringway junior organiser Isobel Parry said: "It's been a good season as the team also won the Gleneagles Division of the Mid Cheshire Junior League and reached the league play-off final at Warrington where we finished in third spot."
l The Manchester Alliance Inter Club Senior Men's Knock Out is a relatively recent introduction to their busy programme, but has grown in strength year on year with ever-increasing entries.
Manchester Golf Club has hosted the final each year and they were again excellent hosts with their top class course enjoyed by first-time finalists Chorlton and Heyrose in superb weather.
The format is five pairs in BB matchplay and Heyrose drew first blood with a 4/3 win for Paul Salt and Paul Hammond over Paul Cosh and Chorlton Captain David Paxton.
Chorlton then gained control with wins for Billy Sutton and John Walsh by 5/3 over Graham Jackson and Bill Pilling and Chorlton legend Richard Mallard and David Bielby by 3/2.
Heyrose then hit back with a 2/1 win for George Kerr and Jeff Dunn over Trevor Golds and Keith Bowden to see all eyes turn on the final match out on the course.
Chorlton had frequent champion Peter McManus and Mike Swirle flying their flag against Nigel Evans and Brian Johnson as it went into extra holes.
The nerves were jangling for both teams as the match went into the 23rd hole before the jubilant Chorlton team emerged with memorable victory to complete another great Alliance competition.
By Geoff Garnett