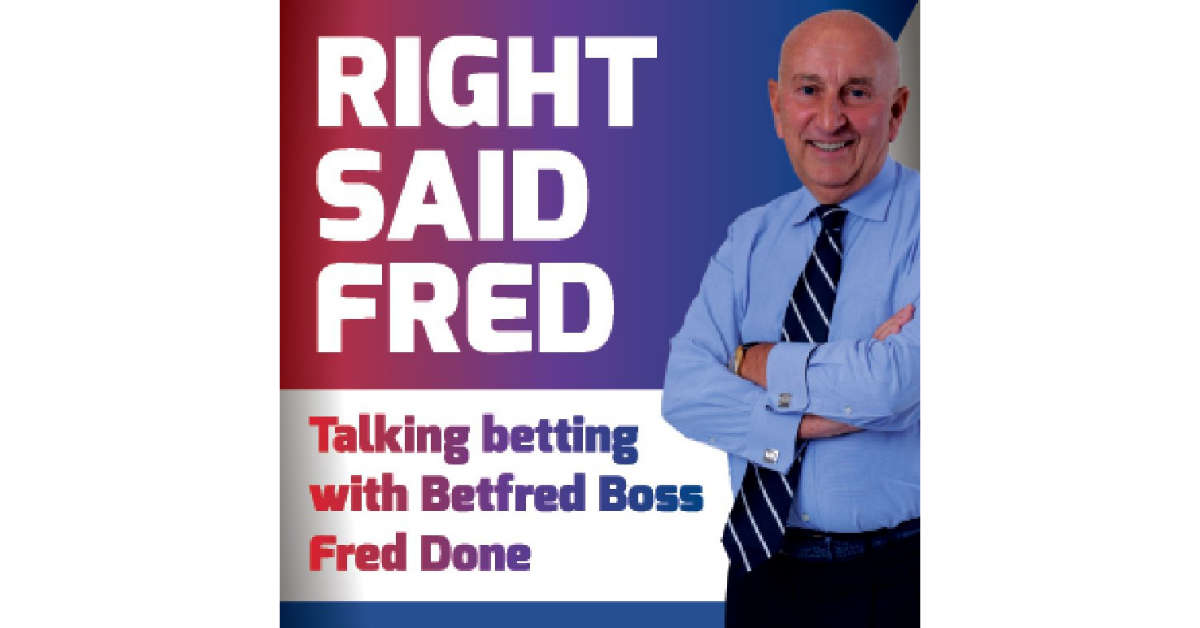 It's still up there as one of the most eagerly anticipated fixtures domestically if not in world football: United v Liverpool at Old Trafford.
Bring on Sunday afternoon for what is sure to be another intriguing clash.
The form book might as well be thrown out of the window although sad to report it is Jurgen Klopp's Reds who are doing so much better in the Premier League.
So its second v sixth – and the odds reflect that with Liverpool 11/8 favourites with Betfred to pick up all three points while we are 2/1 to inflict a first league defeat on the visitors.
No prizes for guessing that Mo Salah is 7/2 favourite to score first. This fella is in fantastic form and no wonder he's 2/1 favourite to be the Premier League top scorer with one time favourite for this title Cristiano Ronaldo drifting to 5/1 with Chelsea's Romelu Lukaku at 7/2.
Think Ronaldo will be on target with the opener on Sunday well he's 4/1 with Mason Greenwood at 7/1 - and Marcus Rashford available at 8/1.
Meanwhile City are 4/9 outright favourites to put high-riding Brighton in their place and pick up all three points on the south coast on Saturday.
To win the Premier League outright we have champions City at 10/11 favourites with Chelsea 5/2, Liverpool at 7/2 while United are on the slide…out to 33/1.
Wedding bells are on the horizon for a London-based student who has won an incredible football bet at Betfred.
Ellyas Hamed, 32, wagered just £20 and won £81,600 on his five-fold accumulator.
He backed Chelsea to win the Champions League (16/1), Norwich to top the Championship (3/1), Hull to win League One (3/1), Cheltenham to finish top of the tree in League Two (4/1) and France to claim the Nations League (2/1).
The Italian-born politics student can now afford to get married – but first he'll have to propose to his girlfriend!
Ellyas said: "It's a massive boost for me to win so much from just £20. I'm set up for life – it's a great cushion."
He went on: "I'm a Chelsea supporter and I fancied them to win the Champions League – but when it was City in the final I knew I would have to get a little lucky.
"Norwich were always going to come back up having been relegated from the Premier League, but I got lucky with them being champions.
"Regarding Hull, they had done well in the previous season so I fancied them – while Cheltenham was basically just a lucky one for me.
"I've got a girlfriend and now we can afford a reception when we get married. As well as putting some money away for that, I'm going to Paris for a holiday and I'll probably get myself a new car – maybe a BMW.
This was a truly tremendous win. Ellyas has picked my pocket good and proper.
Chelsea were nowhere near favourites for the Champions League when he placed the bet, and he's shown his football knowledge in picking out the other four winners on his acca.
I'm glad he's got his future mapped out, and I'd like to pass my congratulations to him.
As a bricklayer for more than 40 years, Colin Mercer knows all about the property business.
Now, thanks to a big win at Betfred, he's going to buy a second home.
Colin, 57, who is a regular at the Betfred shop in Peterlee in County Durham, won £28,000 plus a £2,000 bonus with a £40 treble on the Irish Lotto.
He picked numbers 15, 16 and 25 based on family members' birthdays - and all three came in.
"You'd think it was simple to pick three numbers, but it most definitely isn't," said father-of-three and grandfather-of-six Colin.
He went on: "I'm too busy working to celebrate at the minute, especially with my boss cracking the whip.
"I'm getting my partner some new running shoes as a treat, so she can run away from me!
"I'm going to use most of the money on buying a property for when I eventually retire – but that's a long way off because I have no plans to stop working anytime soon.
"Number 15 relates to my birthday, 16 is my ex's and 25 is my sister's. I've stuck with these numbers for over two years, and I'm always thinking about changing them but obviously I'm now glad I didn't."
Colin is a hardworking customer who fully deserves his good fortune, and I'm chuffed to bits he's investing his windfall wisely.
GRANDAD Chris Thomas is to mark his retirement with a trip to Ireland after winning £13,300 by landing an astonishing TWENTY SIX-fold footy acca at Betfred.
Now the 65-year-old, a regular at the Betfred shop in Milford Haven near his home, thinks he's entitled to a place in the Guinness Book of Records for winning such a huge accumulator.
Chris, who leaves his job as an industrial painter at power stations and oil refineries in December, took just 20 minutes to fill in his mammoth slip, which he wagered just £3 on.
He opted for mainly favourites in recent World Cup qualifiers, and also predicted some matches in the EFL first and second divisions, plus games in the National League and Scottish Challenge Cup.
Chris was awaiting a hospital appointment and had been told to isolate, so asked his wife Maureen to put the bet on for him.
He said: "I'm due to retire at the end of the year, so this money will come in handy.
"We'll be off to see some friends in Dingle, in County Kerry, and I will no doubt be getting a treat for Maureen – but what it is will stay between us.
"I took just 20 minutes or so to make my picks on Friday night and my wife, who doesn't go into the bookies very often, took in my slip.
"I'm having to isolate at home before I go to hospital for a painkilling injection for my calf muscle and hip.
"I checked the paper on Monday morning and could see I'd done quite well in the World Cup Qualifiers, but there was no mention of the non-league games or those in Scotland, which I had to check on my laptop.
"I was pleasantly surprised to have won £13,3000, because I thought it might have been about £10,000.
"I usually put bets like this on, but usually involve around 15-16 teams – rarely 26! It's just a bit of fun as far as I'm concerned."
Chris predicted World Cup qualifier wins for Cyprus against Croatia, Germany against Romania, Montenegro against Gibraltar, Netherlands against Latvia, North Macedonia against Liechtenstein, Slovenia against Malta, Russia against Slovakia, Bosnia against Kazakhstan, Sweden against Kosovo, England against Andorra, Austria against the Faroe Islands, Serbia against Luxembourg, Denmark against Moldova, Poland against San Marino and Switzerland against Northern Ireland.
Turning to the EFL, he successfully predicted Wycombe's win over Gillingham, and Harrogate's triumph against Scunthorpe.
In the National League, he went for Altrincham to beat Maidenhead, Halifax to triumph over Weymouth, Solihull Moors to overcome Kings Lynn, Chesterfield to better Southend, Stockport to get three points against Aldershot and Grimsby to beat Woking.
Finally, he correctly predicted wins for Raith Rovers, Cove Rangers and Inverness against East Fife, Albion Rovers and Elgin City respectively in the Scottish Challenge Cup.
They talk about the luck of the Irish, but this win for one of our Welsh customers is frankly remarkable.
Chris has turned £3 into £13,300, which has come at just the right time ahead of his retirement.