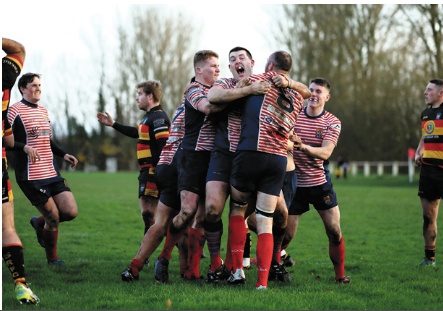 Lancashire Trophy semi-final: Oldham 25-20 Southport
Oldham beat Southport to secure their first final appearance in over 20 years.
It was a fairly even contest with Southport, despite losing two key players through illness on the morning of the game, having the edge in possession and territory throughout and creating far more half chances.
Oldham started convincingly with a fine piece of vision by scrum half Will Mellor who chipped to the corner for Ryan Arundale to dive over and Callum Megram converted superbly from the touchline. 7-0. The next 20 minutes saw Oldham penned inside their own half as they defended superbly, until the inevitable happened as Wood dived over in the corner after quality handling and support play. 7-5.
Oldham hit back immediately after Pickles had won the ball at the kick off and Oldham forced a scrum on the 20 metre line. A quick heel, followed by a neat transfer from Rob Froggatt to Mellor saw him draw the winger and give Ryan Arundale a simple run in. 12-5 .
Southport again pinned Oldham back for a long period in their red zone but a sweet pass from Megram put Martin Meggison through a gap and he sprinted 50 yards before finding full back Alex Jobson who chipped on and was just beaten to the ball as it bobbled temptingly over the line. In the following sequence of play however, Oldham received a penalty which Megram calmly slotted. Half-time 15-5.
The second half saw Southport win a scrum directly from the kick-off and with less than two minutes on the clock, Barnes accelerated through the smallest of gaps to score a fine try but the conversion was missed. 15-10. Once again Southport moved up a gear, played expansive heads-up rugby and Oldham were hanging on desperately. A penalty was their only reward though (15-13) as they pounded the Oldham line but when, with a try looking inevitable, a stray pass in the Oldham 20 went to ground the ever-alert Jobson kicked ahead, skilfully kept it in play and just ran the length of the field dash to the line. 20-13 to Oldham with 15 to play.
Southport's greater fitness began to take its toll and Oldham were glad that they had a strong bench of Jack Sayle, Richard Keeling, Adam Takila and Rob Somerwill to call on and its judicious use helped refresh the team and stem the menacing Southport onslaught. Two sin-binning's, a series of poor decisions, knock-ons and penalties given by the home side saw Southport camped in Oldham territory, but fine defence by all the squad, two superb and much needed turnovers by Froggatt and three great tackles, looked to have secured Oldham's win as Southport turned down several kickable penalties as they went for the converted try to guarantee them victory.
But the defensive wall eventually crumbled and with less than two minutes remaining Southport deservedly scored by the sticks and seemed to have secured victory as the conversion sailed over.
However, a pin-point accurate kick-off by Callum Megram was taken by second rower Chris Roddy who sped 20 yards down the wing before finding Ryan Pickles and Josh Watson in support. Player-coach Roddy picked up and dived over to give Oldham a victory they know they were incredibly lucky to get.