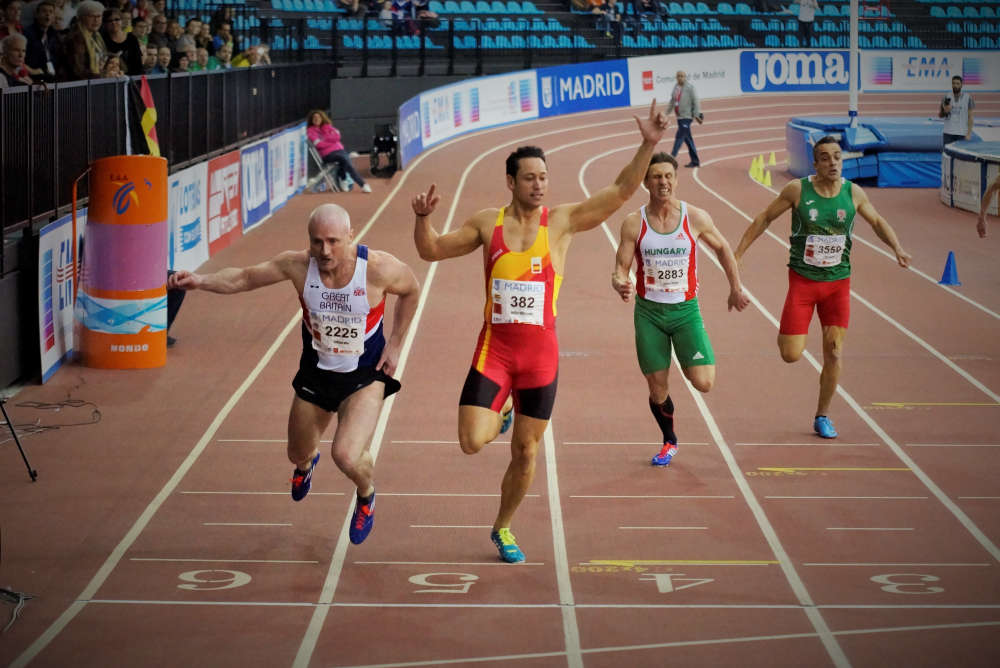 East Cheshire Harriers' Mike Coogan has stormed to another two titles at the British Masters Athletics Championships.
The 49-year-old entered the event, which was held at the Moorways Athletics Track in Derby, as the World and European Champion in the 200m sprint.
But now, after another powerful performance against some of the best athletes in the country, including former Olympians and club runners, Mike has become the British Champion in the 200m and 100m event.
It caps off a hugely successful period for the Mossley-based sprinter, who was first introduced to athletics at the age of 43 having previously played cricket and the occasional game of darts.
Mike will be celebrating his 50th birthday next year but has no plans to stop breaking records. In fact, he has his sights on more competitions, with the World Masters Championships scheduled for the Summer of 2022 in Tampere, Finland.
Ahead of the event, Mike will continue to train at SportCity and at East Cheshire Harriers under the guidance of his coach, Geoff Hirst.
Commenting on his achievement, Mike told Reporter Sport: " Due to covid restrictions this was the first major masters athletics Championships home or abroad since 2019 and it was good to catch up with old friends we hadn't seen in a while.
"I'm currently the World and European Champion at 200m so was keen to round things off with the British title and a masters grand slam before moving up to the vet 50 category next Summer.
"The event went well and despite the stormy conditions the marshals did a great job. I managed to complete a double win in the 200m and 100m."
For many athletes the lockdown caused by Covid-19 was a source of huge frustration, however Mike used the time away from competitions to up his game, maintain his fitness and enjoy the scenery of his local area. He said: "Training has been fine during the lockdown and we have been able to make use of local hills and roads around Mossley when tracks have been shut."
This year's British Masters Athletics Championships was held in Derby due to the Alexander Stadium in Birmingham undergoing a renovation for the 2022 Commonwealth Games.