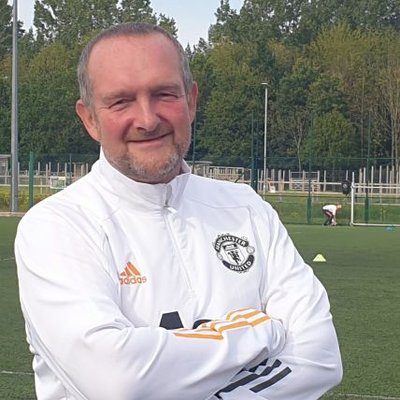 Sala Soccer Schools owner Neil Lucas has been left disappointed by the Football Association's decision to slash funding to the bare bones for England's national futsal team.
Neil, who is a Futsal Coach for Man Utd Women, believes futsal has been left in the shadows in the wake of the Coronavirus outbreak and is worried for its future if financial support isn't forthcoming.
His own business, Sala Soccer Schools, has felt the pinch over the past six months due to the lockdown as well.
And heightened restrictions implemented just a few weeks ago, meaning no more than six people can play sport indoors, leaves him with very little optimism about the sport's future.
As other sports have received financial support and assurances from the Government, futsal appears to be lingering at the bottom of the list in terms of priorities. At a time when the England national team is preparing to fulfil their remaining UEFA 2020 qualifying games, entirely self-funded, the FA are left with many questions to answer.
It's a cruel set of circumstances - especially compared to other countries including Germany and Spain, whose national sides have received significant investment to ensure the game prospers.
Speaking to Reporter Sport about the issue, Neil, who has nurtured and developed players including Barnsley's Callum Styles, Blackburn Rovers' Tyrhys Dolan, and Bolton Wanderers' Finlay Hurford Lockett, said: "I feel it's the final nail in the coffin really.
"There has been a lot of backlash online regarding the decision. Basketball and handball returned about six weeks before futsal, so we had to do a lot of futsal in August outdoors on astroturf, which isn't a surface suited to futsal. We were also doing it on playgrounds and just waiting for the FA to get everything sorted.
"I think the lack of funding for our national team will prove to be a massive clanger. On the same week, Spain announced that they were giving their side eight million euros, whereas our FA have given us £900,000, but most of that has been cut. That kind of money seems a drop in the ocean really."
At the time of publication, a GoFundMe page had been created in the hope of raising £1,000 to help with the England players' costs.
England player Doug Reed has been vocal on Twitter about the decision, with his argument given a platform by The Times' chief football writer, Henry Winter.
However, if the England player's plea falls on deaf ears, he feels it could set Gareth Southgate's team back 20 years, as futsal is a sport that encourages fine technique and skill - something that has become more and more prolific in English football in recent times.
Neil, who also coaches Bolton Futsal men's first team, feels one of the biggest questions that needs answering has been thrown into the wilderness due to recent events: when will futsal finally be allowed to return indoors? He added: "We really want to just get up and running now. My side Bolton play in the National League, and they are fit and healthy. Even if games were behind locked doors, it's a start and something to build on.
"I also work with the Manchester United women's team and futsal was an option for them long-term, as not everyone is going to be a footballer, but they might go on to represent their country playing futsal. To have that taken away as well is hard to stomach."
You can donate to England's cause via the following link: https://www.gofundme.com/f/support-england-futsal-players?utm_source=customer&utm_medium=copy_link&utm_campaign=p_cf+share-flow-1