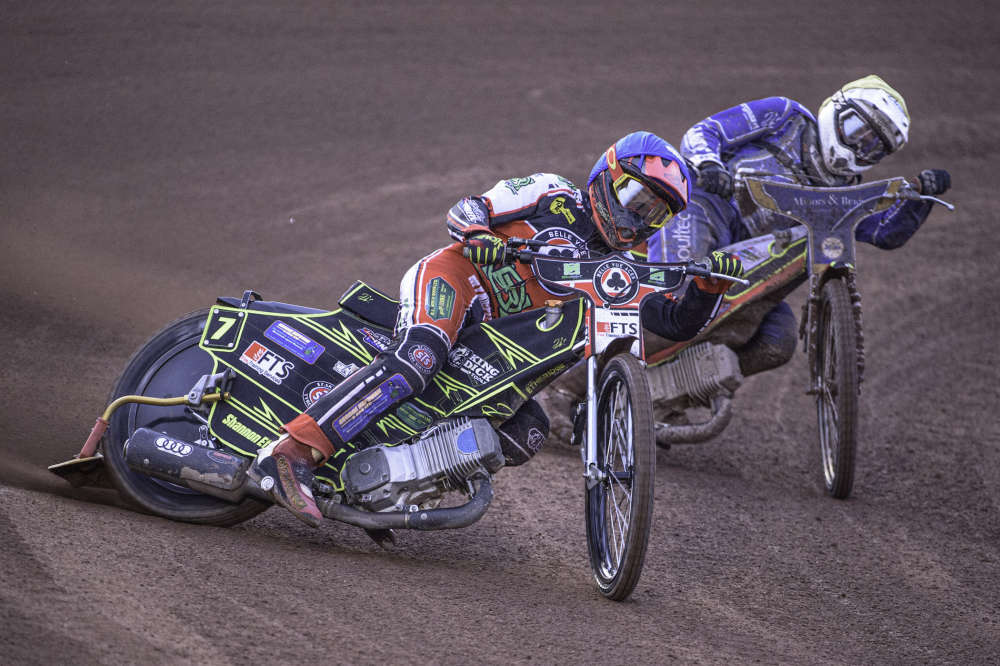 Club bosses are urging fans to turn out in force for Belle Vue's final home match before the 2021 Premiership Play Offs, as the King's Lynn Stars journey to Manchester on Monday, September 13.
The Norfolk side's last visit to Manchester served up a closely contested battle, which the BikeRight Aces dutifully won 48-42 and put them on the path to this year's top four.
And while they are well out of contention for this year's title, the Minors and Brady Stars are determined to finish their campaign on a high.
With the league's top four now confirmed as Wolverhampton, Peterborough, Belle Vue and Sheffield, there is still the matter of confirming the final order of the league rankings.
The Bikeright Aces' recent resurgence in form will have been noteworthy to their rivals and club boss Mark Lemon wants to see an even stronger offensive against the Stars.
He said: "Last week's home derby against Sheffield was a brilliant night of Speedway and the boys really rose to the challenge I asked of them.
"But as I've said before, we can't afford to take our foot off the gas. The Play Offs are imminent and the competition will be as fierce as it's ever been.
"We need to keep up the positive momentum that we have generated for ourselves and that means putting in a big performance against King's Lynn on Monday.
"They can still avoid finishing bottom of the table and I would expect they will be battling for every point they can claim from their last few meetings."
Aaron Summers takes the BikeRight Aces' No.7 race jacket in place of Nikolaj Busk Jakobsen, while Craig Cook steps in at No.1 for King's Lynn in place of the injured Richard Lawson.
Tickets, programmes, parking and hospitality for this meeting can be purchased in advance online at bellevue-speedway.com or at the stadium on race day.
BELLE VUE V KING'S LYNN – MONDAY, SEPTEMBER 13 @ 7:30PM [SGBP]
Belle Vue 'Bikeright' Aces: Dan Bewley 8.48, Jye Etheridge 5.27, Steve Worrall (C) 6.05, Charles Wright 5.95, Brady Kurtz 7.40, Tom Brennan 4*, Aaron Summers (G) 4.63; TM: Mark Lemon
King's Lynn 'Minors & Brady' Stars: Craig Cook (G) 7.39, Ben Barker 5.43, Erik Riss 6.27, Lewis Kerr (C) 5.42, Thomas Jorgensen 6.46, Connor Mountain 4*, Kasper Andersen 4.38; TM: Alex Brady
INDIVIDUAL CHALLENGE – 2ND HALF: Kyran Lyden, Alex Goldsborough, Jack Shimelt, Jacob Fellows, Tim Colley, Mason Watson, Katie Gordon, Bailey Fellows
Words: Hayley Bromley
Images: Ian Charles