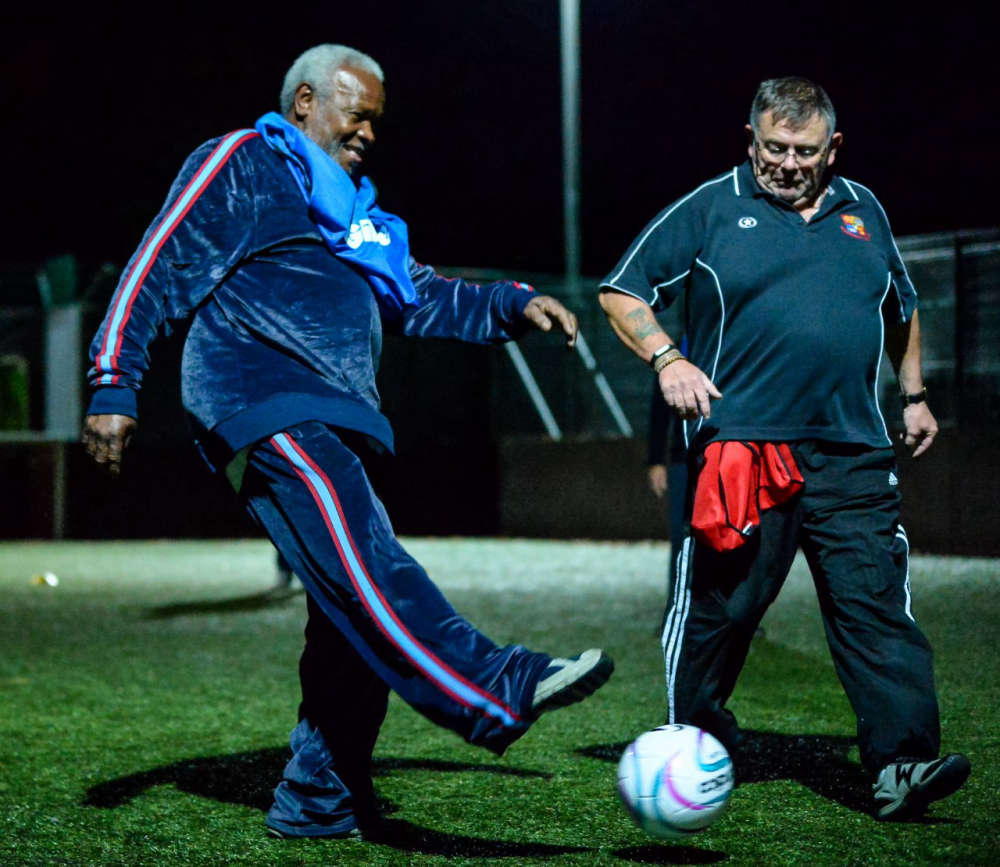 An exciting new programme from Sport England, funded by the National Lottery, and delivered by the Football Foundation will support the Hattersley community to get more active.
Active Through Football is providing Active Tameside with the funding to increase participation through football related exercise.
Active Tameside (in partnership with Tameside Council) went through a competitive process to secure the funding which was open to applications from communities who face some of the greatest inequalities to being physically active.
Thanks to the grant, which is set to fund a five-year project, Active Tameside is set to deliver an innovative and dynamic programme of engagement around the beautiful game targeting two specific groups - women and families aged 16 to 24 and men aged 35-plus who enjoy watching football but don't play it.
Community engagement has already begun in Hattersley to kick-off awareness and interest in the exciting project and outreach is set to increase in the coming weeks with local community groups.
The ultimate goal is to encourage as many people as possible from within the targeted groups to take part in a wide range of fun and professionally run weekly footballed-themed sessions to help boost their physical activity.
A mapping exercise has already identified the number of women, families and men aged 35-plus that the project has the potential to reach.
Sessions such as Walking Football, Football for Fitness, and Talking Football Workshops to encourage people to chat and reminisce about the game they love to watch to inspire them to play and take part, will be launched soon.
There will a variety of sessions amounting in total to five sessions a week.
Active Tameside - a charitable, not-for-profit trust which provides boroughwide, accessible to all leisure facilities and health and social care services to the most vulnerable communities - is currently recruiting a project manager for the scheme.
The project manager will lead a consortium made up of key stakeholders across Hattersley including healthcare professionals, community development workers, Active Tameside and community champions which will meet regularly to monitor the success of the programme.
The impact of the Active Through Football project is potentially huge in terms of helping Hattersley communities to stay physically active through a sport they either love or will quickly grow to love taking part in, as well as fundamentally improving health and wellbeing.
Andy Dwyer, Active Tameside's Head of Sport and Physical Activity, is the strategic lead for the project and oversaw the funding bid.
Andy said he's absolutely delighted that Active Tameside was selected among just 13 England-wide funding recipients and is looking forward to rolling out the scheme and seeing the impact he's sure it will have.
"Through the Sport England Active Lives survey we have some wards in Tameside where certain age groups are inactive and not meeting the recommended Public Health guidelines for Physical activity," said Andy.
"We have carried out some in depth community engagement with local residents and key stakeholders which has shaped a delivery plan within the community to engage with our target groups.
"We are now looking forward to starting delivery to get more people more active through football and physical activity related sessions along with the upskilling of volunteers from within the community."
Tim Hollingsworth, CEO of Sport England, said: "There is a reason why football is followed and played by so many the world over. It brings people together and helps build connections in communities. It's also the sport that is played the most in England and has a reach into places where our research shows activity levels are lower.
"Sport England is proud to be one of the funding partners helping to tackle these inequalities and to support more people from a variety of backgrounds to enjoy playing football and all the benefits that brings."
Robert Sullivan, Chief Executive of the Football Foundation, said: "This grant award to Active Tameside is fantastic news for the local community in Hattersley. Football is a game for everyone - regardless of their background - and it's only right that people across all walks of life are able to play the nation's favourite game.
"Over the past 21 years, we have been working with local authorities up and down the country to ensure everyone has access to high quality pitches.
"Thanks to Sport England National Lottery Investment, this new project will help to transform people's lives by developing the sport and related activities in Hattersley, unlocking the many benefits of football for the community."
Active Through Football Hattersley project information will be shared via Active Tameside's social media channels, Facebook, Twitter and Instagram
Anyone within the identified target groups who would like to get involved can email: andrew.dwyer@activetameside.com