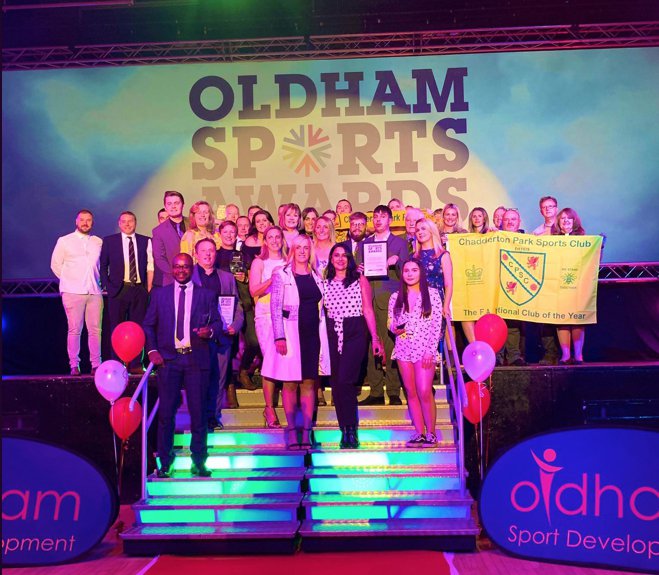 Local sporting heroes and dignitaries gathered at the Queen Elizabeth Hall for the 2019 Oldham Sports Awards.
Back for its 17th consecutive year, the event was held to recognise and celebrate the achievements of clubs, groups and individuals over the past 12 months.
Former England Netball coach Tracey Neville, who guided the squad to a bronze medal at the World Cup in July, was invited as the guest speaker on the evening and took part in a Q&A session with BBC Radio presenter Mike Shaft.
There were also guest appearances from Olympian Dorothy Shirley Emerson, who won a Silver medal in high jump in the 1960 Olympic Games and continues to be an advocate for sport across the Borough, as well as former Oldham Athletic manager Pete Wild, who guided the Latics to a famous FA Cup victory over Fulham in the third round last season.
Jo Taylor from ABCDiagnosis was also given a standing ovation after a heartfelt speech of her battle with cancer. As a result, she created ABCDiagnosis, which provides cancer patients with a retreat in Saddleworth.
Guests were also treated to entertainment from Ian Harrison from Drumz Aloud - a movement and drumming activity which had everyone on their feet, drumming along.
Once the formalities were over, it was down to business with the following eight awards being handed out on the evening:
SCHOOL COMMITMENT TO PE & SPORT
THE OLDHAM ACADEMY NORTH
The judges were impressed with the wide range of opportunities for their pupils both across the curriculum and beyond. The school have developed an inclusive environment which promotes opportunities to be active throughout the school day as well as a comprehensive extra curriculum programme and a huge range of competitive opportunities for all ages.
COMMUNITY INITIATIVE AWARD
MENTAL HEALTH FOOTBALL
One of the first of its kind in the country, this initiative has been running since January, and in a relatively short period of time has already built a committed following. Taking place every Friday night, these free sessions provide a safe space for sufferers of mental health issues to meet new people, share experiences, and sometimes simply have a chat, all while playing a sport they love.
Workforce Advocate Award
CLAIRE TIMMS

Working as a midwife, Claire also has a passion for running. Claire has used her passion to inspire others and over the last year has encouraged other midwives to take part in the couch to 5k programme. Leading by example, Claire recently completed a half marathon to raise money for the NHS. Claire has been striving to encourage not just the midwives, but also staff in the women's and children's departments, giving hospital staff a chance to socialise away from the workplace, whilst improving physical and mental health.
CHANGING LIFESTYLE RECOGNITION AWARD
REDDY LENGE
The judging panel were inspired by Reddy's development in the last year. He found himself spiralling into depression, anxiety and weight gain, Reddy had shut himself off from the world outside of work. Struggling to socialise and cutting himself off from family members, at his lowest ebb Reddy was prescribed time off work and it was during this time he discovered physical activity, after becoming a member at Royton's OCL Gym. In the gym Reddy found a new lease of life, improving his physical fitness and confidence. Reddy's social skills continue to improve, and he has since joined a football team and completed the three peaks challenge. Well done Reddy!
SPORTS ACHIEVER OF THE YEAR
LIBBY GENGE

In a very competitive category, the panel decided to give the award to Libby, who's coming off the back of an exemplary year in Brazillian Jiu-Jitsu. In her own age and weight class, Libby is the current national, European and World champion. Libby is extremely dedicated to her craft, training at Oldham's Stealth BJJ Centre for two hours, six nights a week. At the age of 14, Libby is now competing in adult competitions, and winning gold medals at that level as well. A driven individual in a sport where role models are traditionally male, Libby is already becoming an inspirational figure to her peers. We wish Libby the best of luck and success for her future.
VOLUNTEER OF THE YEAR
PAM HAZELTON
Pam is head coach at the extremely successful Oldham Netball Club. Pam oversees the structure of the whole club from the Under 8's up to senior teams, dedicating around 20 hours a week to the cause. Pam's efforts have coincided with one of Oldham Netballs most successful periods in their history. Pam has been instrumental in steering her players to the next level of netball, with six Oldham players making up part of the Manchester Thunder squad that won the 2019 Super League Grand Final. Aside from on court skills, the players are developing life skills at the club which will help prepare them for their future and without Pam's commitment and ethos this wouldn't happen.
UNSUNG HERO IN SPORT
GARETH EVANS
Gareth had dedicated most of his life to Hollinwood Football Club. He has organised countless fundraising events, gained numerous grants, and dealt with club appeals, as well as having numerous roles within the club, including child welfare officer.
His impact on the club has seen it go from strength to strength and kept the club in existence.
CLUB OF THE YEAR
OLDHAM NETBALL CLUB
Oldham Netball Club are coming off the back of their most successful year to date. They have won 3 national titles making Oldham Netball Club the best netball club in the country at Under 14's, Under 16's and Seniors. In addition to this, Oldham Netball are also now Greater Manchester champions at Under 11, Under 13 and Under 15 level. Oldham Netball are creating players for the future, with 25 Oldham players in the Manchester Thunder pathway at numerous age groups, and 6 players in the England pathway. With their new Future Stars programme for 5+ year olds coming into play this year, Oldham Netball are already planning for more success in the future.