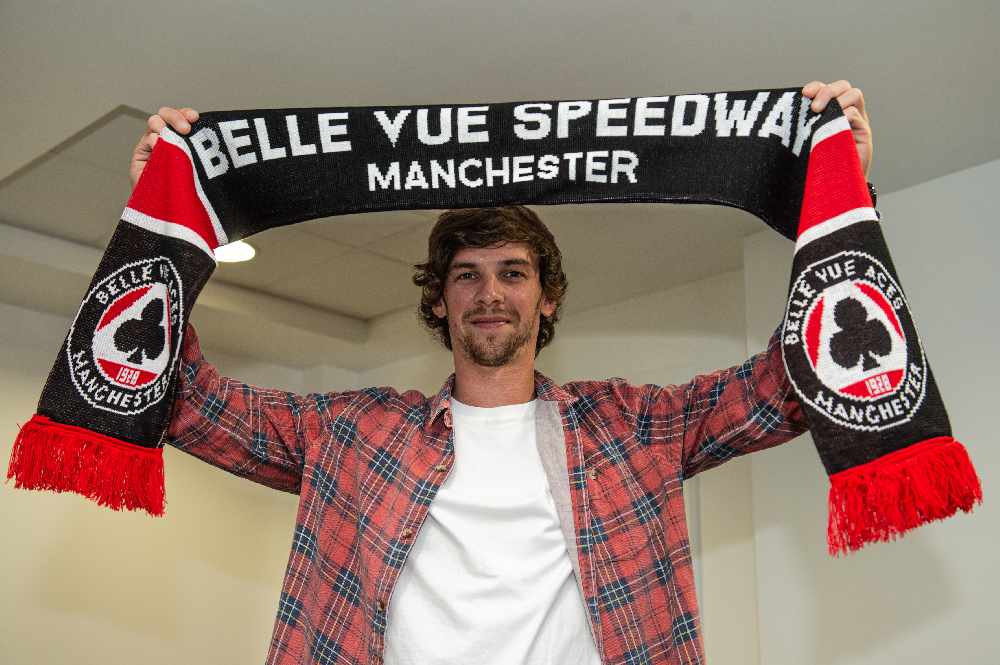 Reigning British Champion Charles Wright has revealed his delight at finally linking up with local team Belle Vue, continuing a family tradition that spans back to the late 50's.
The BikeRight Aces were ecstatic to secure the 31-year-old's signature for the 2020 season after overwhelming interest from several other Premiership clubs.
He now has his sights set on picking up from where he left off and admits he's encouraged by the positive feedback he has received from supporters.
Wright said: "I've been around for a few years now. My brother has ridden for Belle Vue and, way back in the day, my grandad Jim Yacoby used to ride for the Aces so it's a real pleasure for me to be here.
"It's a great feeling to know that the Belle Vue supporters are behind me as well. I'm very excited to be a part of this team for the new season and I can't wait to get started."
The humble Stockport lad became an overnight celebrity after storming to a dramatic win in last year's British Final, and says he even surprised himself with his performance.
He said: "I was actually ill on the night and I wasn't sure how well I'd be able to ride, but once I put my helmet on it was like nothing else mattered and I knew I was capable of beating all the guys there.
"I had some bad luck after being excluded but I picked myself up and carried on, and I ended up getting three great heat wins which turned out to be the most important heat wins I've ever got!
"It was a fantastic achievement and a night I'll never forget, and to have made it to Cardiff was just unbelievable. That experience will stay with me for the rest of my life.
"When they announced my name and the crowd went mental, in my heart I felt massive pride and I hope that's not the last time I get to experience that."
Winter may be in full swing, but the new-look BikeRight Aces have already been cooking up a storm with supporters and Wright believes they have all the components for a powerful league machine.
He continued: "I think we've got a team of racers, and that's just what we need especially at Belle Vue. We've got youth and we've got experience, and pretty much all the lads know each other.
"I've ridden with Brady [Kurtz] and Peter [Kildemand], and I got to know Jaimon [Lidsey] and Dan [Bewley] while I was in Australia. They're good guys and I think it'll be quite a competitive team.
"The setup they have at the National Speedway Stadium is just fantastic. The track certainly suits my style of riding, as it does most of the other boys, so hopefully we can prove that come March."
The speedway season launches in Manchester on March 21 with the Peter Craven Memorial, before the BikeRight Aces jump right into competitive action against Sheffield on March 30.
Online ticket sales for all 2020 home meetings will go live on February 3 on the club's official website at: www.bellevue-speedway.com
Pictures by Ian Charles