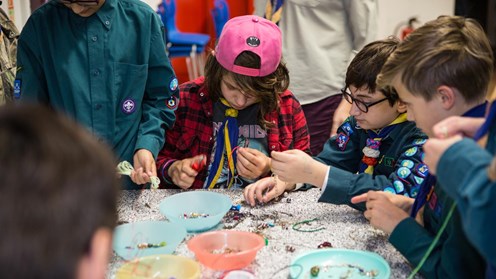 A number of Rainbows, Brownies and Guides across the borough will be getting involved in this year's UK Parliament Week.
1st Failsworth Rainbows and Brownies, 2nd Failsworth Brownies, 16th N.E. Manchester (Hope Methodist) Brownies and 10th N.E. Manchester (Holy Family) Guides are learning about how to mark UK Parliament Week and 'have your say' on the issues that matter most to them.
UK Parliament Week is a UK-wide festival taking place from 2 to 8 November, which aims to engage Rainbows, Brownies and Guides from different backgrounds and communities, with the UK Parliament and empower them to get involved.
They will be following this up with a visit to Oldham Council Chambers to meet the Mayor, Ginny Alexander, and ask her questions.
It's an opportunity for the youngsters to be part of a thriving democracy, ask questions, think critically and engage with the UK Parliament.
Schools, museums, libraries, faith communities and youth organisations representing every constituency across the United Kingdom have already signed up to be part of the conversation.
A spokesperson for the Brownies said: "We are excited to join communities across the country getting involved in UK Parliament Week 2019 and getting more people in Failsworth involved in playing a vital role in their democracy. We are looking forward to meeting the Mayor of Oldham and asking her questions about her role."
In 2018, UK Parliament Week reached almost one million people, with more than 8,100 activities. This year's UK Parliament Week festival is expected to be the largest ever.
David Clark, Head of Education and Engagement at UK Parliament, said: "We are delighted Rainbows, Brownies and Guides have taken the opportunity to participate in this year's UK Parliament Week and inspire their members to get involved in their democracy.
"There are many exciting activities happening across the country as part of this year's UK Parliament Week, with schools, workplaces and community groups using the week to have their say on the issues they care about most. This year's UK Parliament Week will be the largest ever and we can't wait to see all the fantastic activities that will be taking place."