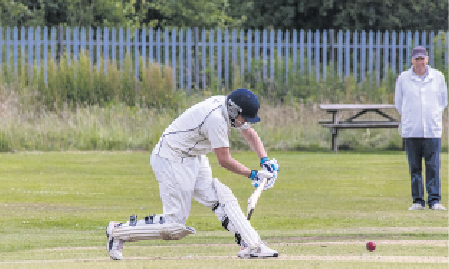 After the previous weekend's washout there was a full programme in the GMCL followed by both the Derek Kay Cup Final and T20 Championship Finals Day on Sunday.
The rainfall in the week undoubtedly led to "slow and low" pitches with runs seemingly at a premium in a lot of games and the race for silverware and the fight to avoid the drop saw a series of results which will make the last 6 weekends full of interest.
Derek Kay Cup Final
Despite struggling in the league Royton featured in the final but were faced with a real challenge as they faced league leaders Denton St Lawrence. Batting first Royton got off to a decent start and reached 53-1 off 14 overs when pro Chirag Khurana fell for 33. As on so many times this season the rest of the Royton line-up had little to offer and they added only a further 51. On paper a target like that should have posed little problem for a DSL line-up which has scored over 3,700 runs in 20 games so far. But Royton made them fight for it, reducing them to 72-5, (Khurana 3-31), before pro Neil Hornbuckle eased them over the line with an unbeaten 30.
Denton SL 105-5 Royton 104ao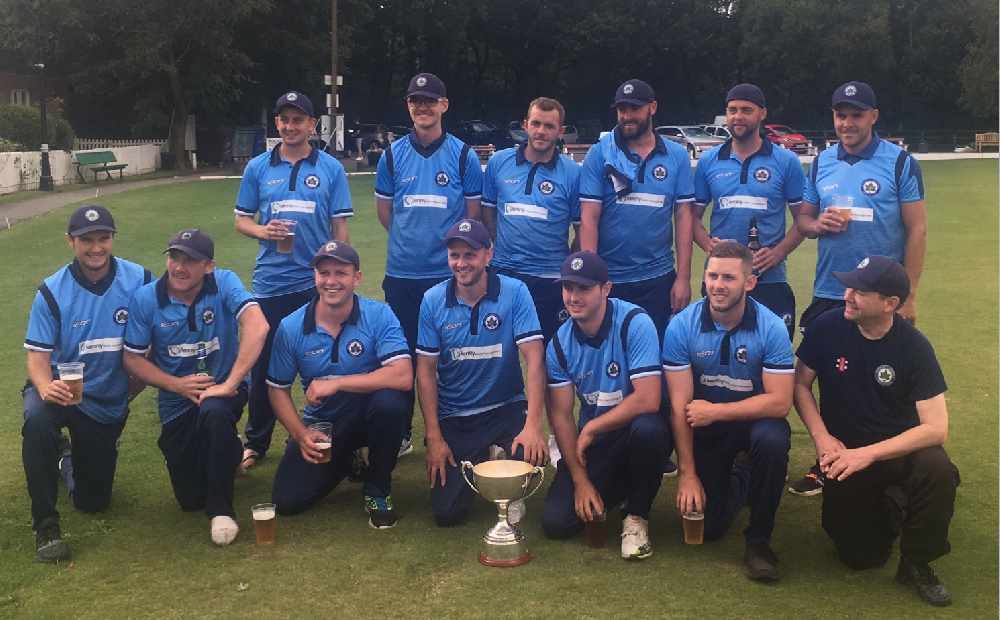 T20 Championship Finals Day
Shaw and Uppermill provided the local interest and faced each other in the second semi-final of the day for the chance of meeting Winton in the final. Shaw rattled up 165-6 with Lincoln Roberts providing the impetus at the end with 48*, including 5 maximums. It was too many for Uppermill as 3 wickets each for Jack Boyle and Callum Jones limited them to 83ao. The final was a conclusive win for Shaw as they dismissed Winton for 96, (pro Dilanka Sandakan 4-5), and then strolled home by 10 wickets, Roberts again featuring with an unbeaten 62.
Premier Division
Greenfield closed the gap to Denton SL after the latter went down by 3 runs in a thriller to Roe Green. Over at Stand the home team managed only 79ao, with Brad Woolley, (5-25), taking the honours. It wasn't a comfortable chase for the Lad Hill Lane club, as they fell to 29-4, but a recovery saw them home by 5 wickets. With 6 games to go Greenfield will be hoping for further slip-ups from DSL and a consistent run themselves if they are to have a chance of lifting the title. Royton won in the league for the second time this season, and in doing so repeated their Cup semi-final win over Woodhouses. As ever pro Chirag Khurana, (47), was the main contributor in the Royton total of 119ao. The Woodhouses reply lay in ruins at 29-8 as Renaldo Holder and Khurana picked up 4 wickets each. A valiant 9th wicket partnership of 79 between Imran Yousaf and Josh Butler almost took Woodhouses to what would have been a sensational win, but they eventually fell 10 short. The defeat dropped them into the relegation places.
Egerton 114ao Flixton 198ao; Stand 79ao Greenfield 80-5; Clifton Monton 264-7; Woodbank 149ao Prestwich 231ao; Denton SL 266-9 Roe Green 269-6; Royton 119ao Woodhouses 109ao
Division 1A
Moorside and Glodwick maintained their place at the head of the table. Moorside travelled to Swinton and dismissed the hosts for 88, (Richard Harrington 5-40). The reply wasn't an easy task as the leaders lost 5 wickets before securing the win. Glodwick saw off Austerlands as the home team
fell for 69, (Imran Asghar 4-33). There were early alarms for Glodwick in the reply as they fell to 9-3, but thanks to Mohammed Mohsin, (35*) there was no further loss and the win was completed inside 14 overs. Uppermill had an easy win at Denton, dismissing the home team for 135, (David Roberts 6-35), and then romping home by 8 wickets, with pro Ayaz Tasawar featuring with an unbeaten 70. With a good run from hereon in Uppermill could feature in the promotion race as they are only 12 points adrift of 2nd placed Glodwick.
Brooksbottom 105ao Flowery Field 129ao; Denton 135ao Uppermill 137-2; Glossop 83ao Denton West 145ao; Swinton Moorside 88ao Moorside 89-5; Unsworth 75ao Heywood 77-1; Austerlands 69ao Glodwick 71-3
Division 1B
A 20 run win for Heyside at Whalley Range kept them well in touch with 2nd placed Walshaw. Sub pro Daryn Smit made 48 in Heyside's 157ao. In the Rangers reply there were 3 wickets each for Danny Cashin and Will Avery as the Heyside attack limited them to 137-8 in their full complement of 50 overs. Astley & Tyldesley continued towards the title as they comfortably beat rock bottom Thornham.
Astley & Tyldesley 86-3 Thornham 82ao; Bury 148ao Stayley 179-6; Droylsden 102-1 Dukinfield 101ao; Edgworth 182ao Westleigh 183-7; Walshaw 209ao Greenmount 212-5; Whalley Range 137-8 Heyside 157ao
Division 2A
In a very low scoring game at Prestwich 2nd XI Shaw managed only 99ao but a great response with the ball saw them to a win which maintained top spot. The wickets were shared around a 5 man attack as Prestwich fell to 57ao. Shaw have a 4 point lead over Winton and barring any surprises the two promotion places now lie between these two and 3rd placed Elton. The alarm bells may be starting to ring at the Coppice as Werneth went down to Littleborough Lakeside. With only 1 win since the beginning of June they desperately need to pick up points in the remaining 6 games. On a day when runs were at a premium Liam Brown was outstanding as he reached three figures, finishing with 101 in Werneth's 169ao. But this proved little problem for Lakeside as they won by 6 wickets.
Elton Vale 59ao Bury 2nd XI 180-8; Littleborough Lakeside 175-4 Werneth 169ao; Prestwich 2nd XI 57ao Shaw 99ao; Roe Green 2nd XI 138ao Glossop 2nd XI 150ao; Winton 89-7 Elton 86ao; Micklehurst 174ao East Lancs PM 173ao
Division 2B
The top of the table clash ended with Friarmere's first defeat of the campaign and brought visitors Edenfield to within 6 points of the leaders. Friarmere were set 152 for the win and it ended up being a very tight game. Adrian du Toit, (who now has over 1,000 runs for the season), started the reply well with 45 but they couldn't mange to get over the line finishing 6 short. Oldham went down at Wythenshawe after managing only 128ao. Despite picking up wickets regularly Oldham couldn't make the crucial breakthrough and lost by 4 wickets.
Denton West 2nd XI 89ao Deane & Derby 90-2; Tottington St Johns 67ao Stretford 68-5; Wythenshawe 132-6 Oldham 128ao; Ashton 93ao Whalley Range 2nd XI 76ao; Greenfield 2nd XI 64ao SW Manchester 154ao; Friarmere 145ao Edenfield 151-7
Division 3 East
Both Saddleworth and Springhead continued on their way to promotion. Leaders Saddleworth reached 205ao with consistent contributions throughout the order. This was far too many for Werneth 2nd XI who fell to 113ao, (4 wickets each for Steven Howard and J Holt). It was an 8 wicket win for Springhead who beat Glodwick 2nd XI after dismissing them for 102.
Dukinfield 2nd XI 149ao Stand 2nd XI 150-9; Flowery Field 2nd XI 73ao Denton 2nd XI 108ao; Heywood 2nd XI 111ao Unsworth 2nd XI 175-8; Glodwick 2nd XI 102ao Springhead 103-2; Werneth 2nd XI 113ao Saddleworth 205ao; Oldham 2nd XI 61ao Denton SL 2nd XI 198ao
Division 4 East
Thornham 2nd XI 73ao Friarmere 2nd XI 271-9; Woodhouses 2nd XI 133-9 Ashton Ladysmith 134-4; Newton Heath 69ao United Stars 82ao; Heyside 2nd XI 126ao Failsworth Macedonia 129-4; Stayley 2nd XI 222-5 Ashton 2nd XI 117ao; Moorside 2nd XI 213-5 Royton 2nd XI
by Martin Frost