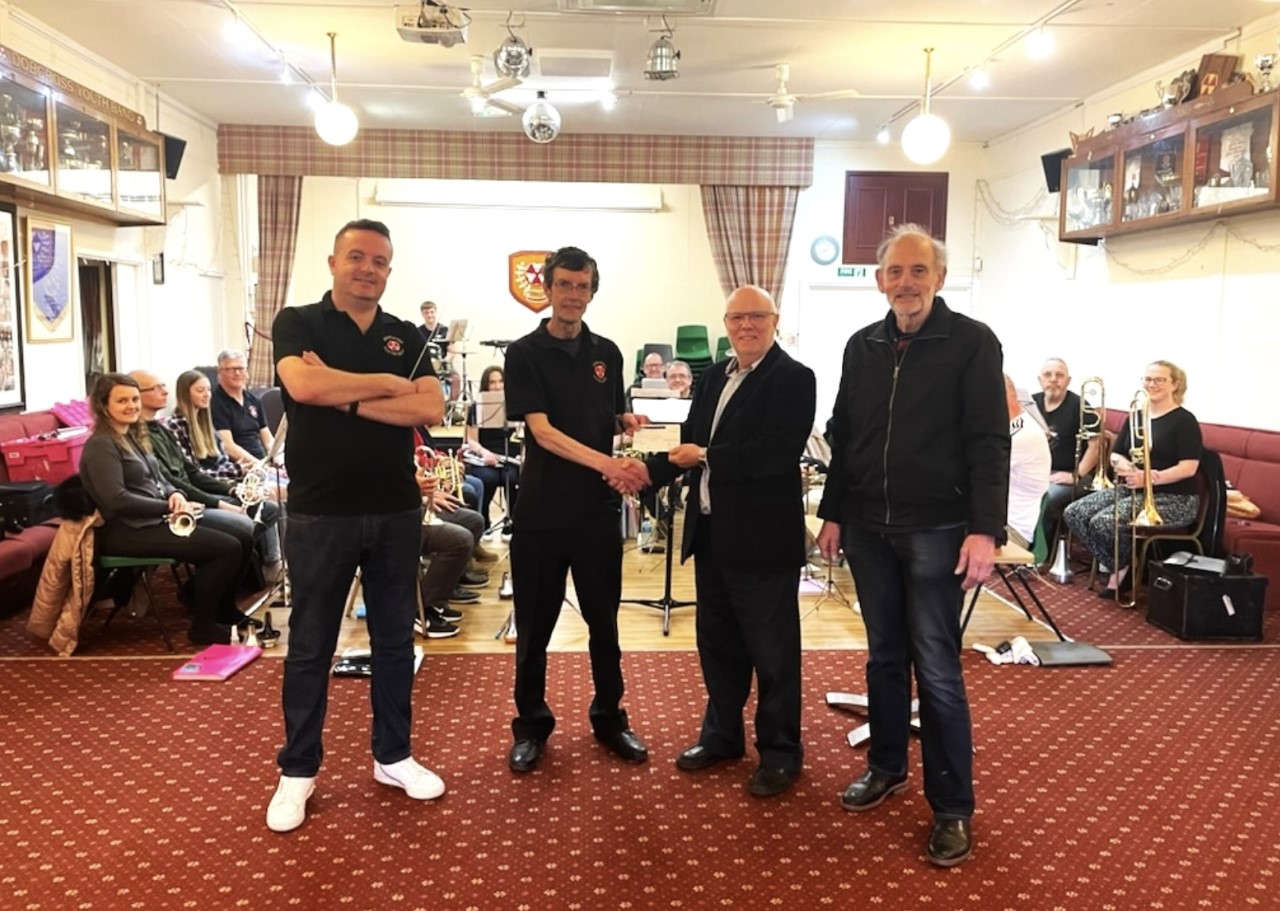 Community Chairman Jon Stocker and President Ian Brett, right, from Saddleworth Rotary present the cheque to Chairman Andy Black and Musical Director Jason Smith.
Community-loving Saddleworth Rotary have presented a £350 cheque to a legendary brass band which is performing at a prestigious music festival.
Dobcross Silver Band has built an outstanding tradition for developing musical talent and performing quality music for the community and beyond.
Andy Black, Dobcross Silver Band chairman, said: "The Band recently achieved runners-up position at the North Regional Finals in Blackpool, qualifying for the National Finals in Cheltenham in September for the first time since 2009. That's a massive achievement.
"This will be a great experience for the players and a major step towards our ambition of returning the band to the highest levels in the brass banding world. In recent weeks we have consolidated this success with winning performances at both Holmfirth and Buxton contests."
He went on: "We have overseen the development of many highly talented individuals and provide instruments equipment music and uniforms to all our members. We perform at least five concerts each year in the village and of course play an integral part in the Whit Friday marches and contests.
"We are entirely self funding and rely on performance income and community support to cover operational costs. These include purchase and maintenance of instruments, equipment, music, insurance and costs of coach transport to contests / Whit Friday.
"Whilst the covid pandemic curtailed activity, we have managed prudently and returned strongly. And we have a busy programme of concerts and contests through the summer months."
The band's annual concert on the village green, 'Brass on the Grass,' will be followed by concerts at the Diggle Hotel and the ever popular Yanks concert in Dobcross Band Club with the Bailey Dolls.
Saddleworth Rotary president Ian Brett said: "We are delighted to support local initiatives and organisations. We wish the band all success at Cheltenham."
Read more from the Oldham Reporter