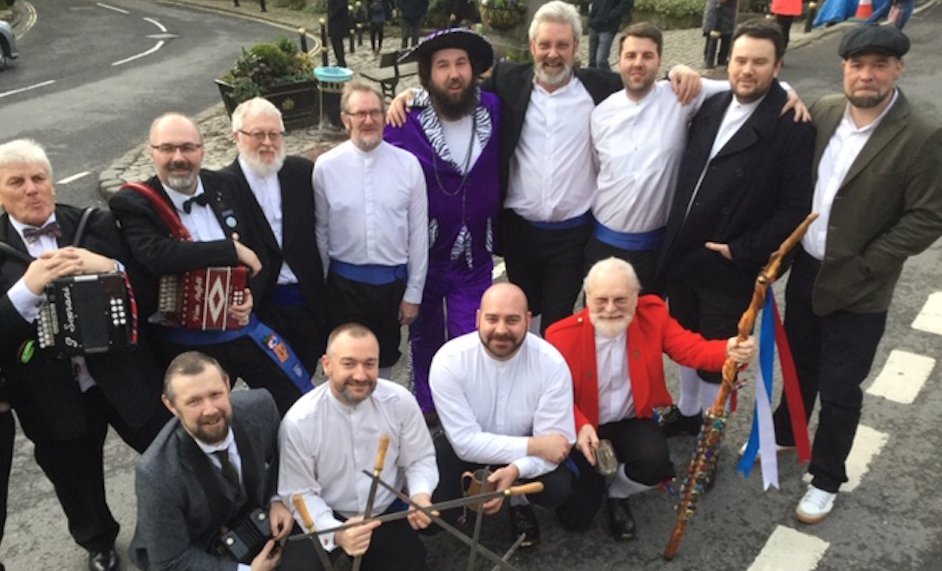 Group swap their clogs to perform ancient sword dance at local villages and pubs
by Ken Bennett
Delighted villagers shared a unique end of year tradition when the legendary Saddleworth Morris Men toured the community.
Leaving their famed jingling bells on their clogs behind, the team performed the intricate Lordsmere Longsword dance at pubs, including The Wellington, Greenfield, The Diggle Hotel and The Swan, Dobcross.
And they abandoned their distinctive waistcoats for more traditional outfits to perform the dance which includes a series of intricate twists and turns with swords, believed to have been banned under the reign of Oliver Cromwell but revived under Charles II.
Peter Ashworth said: "When we revived the rushcart and morris dancing traditions in Saddleworth in 1974 it was decided, by the original team, to revive the Yorkshire longsword dancing.
"Over the Christmas period it was a well known regular custom throughout Yorkshire. It was a good idea to wear off some of the excess food and drink.
"Every year Saddleworth Morris Men have carried on the festive display visiting the villages and pubs in the area.
"The captain of the team is chosen from the newest recruits in the morris team. It is his duty to determine where and when the dance is performed. This year it was Tom Frost from Denshaw now living in Dobcross.
"The original dancers wore black and there was an idea to call the team Black Banner with reference to the Saddleworth banner at Peterloo.
"Eventually the name Lordsmere Longsword was chosen. This is the original name of the area where they practised in Saddleworth at The Cross Keys.
"The original six swords of 1975 were made in York with a series of engravings of a fox chasing and catching a goose.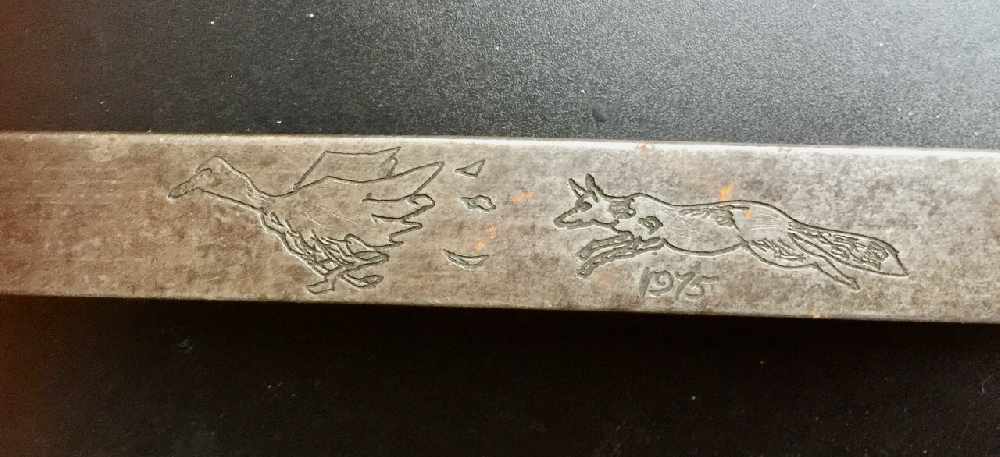 "Each sword had a different part of the story. This image is of the chase but others were of a subsequent sequence of the chase. This is the only remaining sword in my possession. (Pictured above)
"The new ones being used today are lighter and easier to lock for the finale when the the swords are locked and raised."
Peter added: "While dancing in Delph in the 1970s John Bradley lost the grip of his sword and the point hit me over the eye and caused blood to stream down my face.
"As I was moving round the set I heard the comment from a little boy "oh look mum he's got blood coming down his face, it's so realistic!
"It was in fact very real. But the show must go on..."