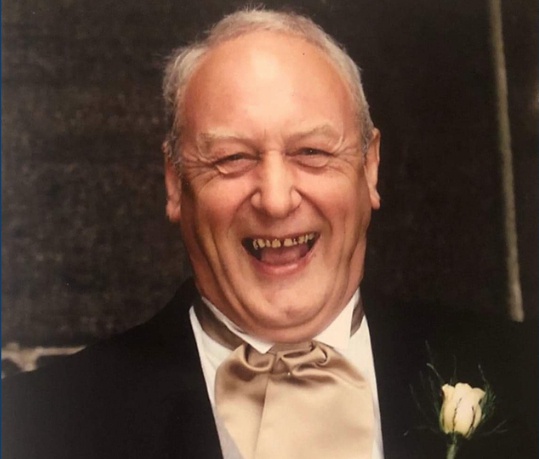 A women's institute leader has praised a kind-hearted community for raising funds to provide a memorial bench to remember a legendary local policeman.
Jessica Moreland, president of Dovestone WI, was speaking after a bumper coffee morning they organised at Uppermill Civic Hall to celebrate PC Martin Warburton, affectionately known as Warby, who died recently.
Some years ago, Martin (pictured) - described by colleagues as "the cornerstone of community policing" - had an apartment block named in his honour in Uppermill.
The Dovestone WI had earlier launched a JustGiving page but overall the event, backed by donations from Saddleworth Morris Men and Saddleworth Rotary Club, raised more than £930.
Jessica said: "The awesome Saddleworth community have done it again. We would like to thank one and all that took part or contributed to our coffee morning to raise funds in memory of PC Martin 'Warby' Warburton 4991.
"A huge thank you - it was a great success with grateful thanks to McClintocks Farm, Paul's Meats Ltd, JW Buckley's bakery and Dovestone WI members and committee who baked some fabulous things to sell."
Raffle prizes were donated by The Old Bell in Delph, Reclamation Rooms in Uppermill, Hair by Kathryn in Uppermill, Not Just Travel Co, Lorraine Robinson, Saddleworth Boutique in Uppermill, Jules Jakes Temple Spa and Hair & Beauty Lounge in Delph.
She added: "We can now get cracking and get this bench sorted so Martin's family, friends and colleagues can all enjoy the legacy that was 'Warby'."
Dovestones WI host a Monday Meet Up on the first Monday of every month, which is free to members and £2 for guests. It's a great opportunity to make friends and chat over coffee and cake. Craft demonstrations and workshop details can be found on the website.
On the last Sunday of each month, they will be joining forces with Vintage Rewind for The Yackety Yak Initiative at Boarshurst Band Club in Greenfield.
Entry is £5, including cakes and biscuits, from 12pm to 3pm.
People who suffer from loneliness are being encouraged to go along to the friendly monthly social gathering, listen to music from the 1940s, '50s and '60s while making new friends.
And to celebrate their first birthday, Dovestone WI are hosting an 'Ice and Fire' first birthday Fundraising Ball on Friday, April 24, at the White Hart, Lydgate. Proceeds will be donated to Skullfades and MASH.
The black-tie event will consist of a four-course meal, then dancing to the brilliant 'Red on Black'.
Tickets are £40. Further details and where to buy tickets can be found at www.dovestonewi.com.
The group meet on the third Tuesday of each month, upstairs in the Wimberry Suite at the Royal George in Greenfield at 7.30pm.
The speaker on February 18 is Sharon Pegg, a Well-being and Mental Health Specialist.
Sharon is accredited with MHFA (Mental Health First Aid) England to deliver MHFA training courses within businesses up and down the country.
New members and guests are welcome.
Guests may attend two taster meetings before joining. There is a monthly donation of £1 for members and £3 for non-members.