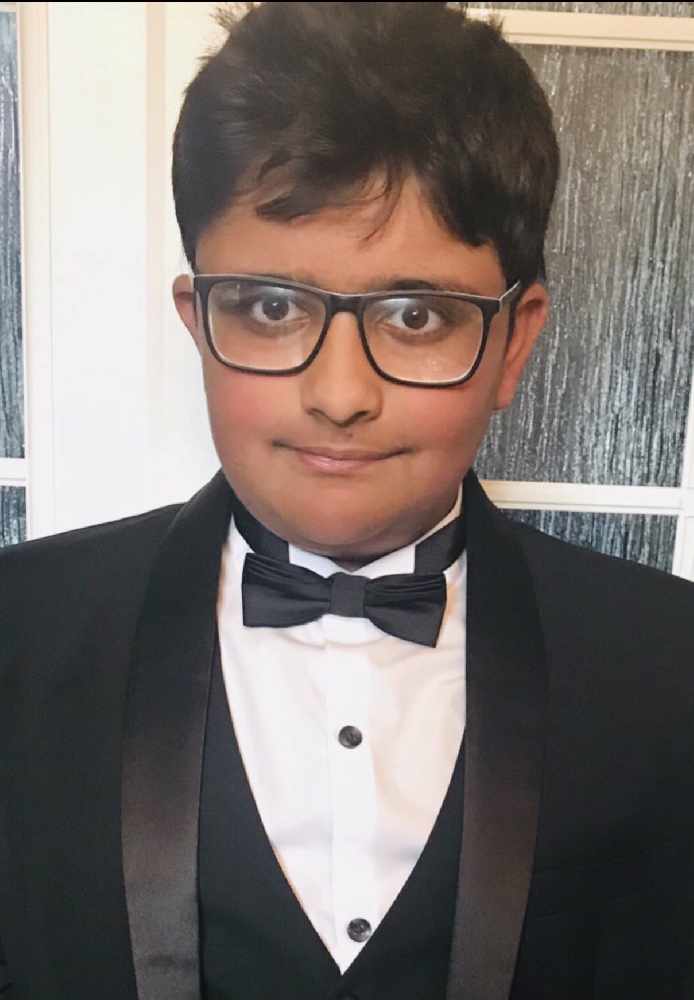 The Duke of Sussex, Prince Harry, has hailed a 14-year-old Oldham schoolboy for being an "outstanding local young hero", presenting him with the coveted Diana Award in memory of his late mother.
Ibrahim Yousaf (pictured) - who is already a British Empire Medal holder - has been recognised with the highest accolade a young person can achieve for social action or humanitarian efforts.
Established in memory of Diana, Princess of Wales, the award is given out by the charity of the same name and has the support of both her sons, The Duke of Cambridge and The Duke of Sussex.
Ibrahim's citation reads: "Ibrahim is an inspirational young person whose charitable campaign supports 11 small local charities in his home town.
"Not only does he help to raise funds for these charities, but he also uses social media to raise their profile and expand their platform to reach more potential supporters, improving awareness of their services.
"He has done everything he can to support these organisations, from declining birthday presents and parties in exchange for donations to his charities, to connecting independent businesses with the charities to share their skills, being described by one of the charities as 'a lifesaver'."
In a video message to the six award winners, Prince Harry said: "I am so incredibly proud to be part of these awards as they honour the legacy of my mother and bring out the very best in people like you.
"You are all doing such incredible work and at a time of great uncertainty you have found the power and inspiration inside of you to make a positive mark on the world.
"I love that the Diana Award is able helping you do it. I know that my mother has been an inspiration to many of you and I can assure tout that she would've been fighting your corner. Like many of you, she never took the easy route or the popular one or comfortable one.
"But she stood for something and she stood up for people who needed it. Right now we are seeing situations around the world where division, isolation, and anger are dominating as pain and trauma come to the surface.
"I see the greatest hope in people like you an I am confident about the world's future and its ability to heal because it's in your hands. My wife said recently that our generation and the ones before us haven't done enough to right the wrongs of the past. I too am sorry. Sorry that we haven't got the world to the place that we deserve it to be.
"Institutional racism has no place in our societies, yet it is still endemic. Unconscious bias must be acknowledged without blame to create a better world for all of you. I want you to know that we are committed to being part of the solution and part of the change that we are all leading. Now is the time and I know that you can do it."
The Diana Award chief executive Tessy Ojo said: "We congratulate all our new Diana Award recipients who are change makers for their generation. We know by receiving this honour they will inspire more young people to get involved in their communities and begin their own journey as active citizens.
"For over 20 years the Diana Award has valued and invested in young people encouraging them to continue to make positive change in their communities and lives of others."
Award recipients have been put forward by adults who know the young people in a professional capacity and recognised their efforts as a positive contribution to society. Through a rigorous nomination process, these nominators had to demonstrate the nominee's impact in five key areas: Vision, social impact, inspiring others, youth leadership, and service journey.
There are 13 Diana Award Judging Panels representing each UK region or nation and a further three panels representing countries outside of the UK. Each panel consist of three judges; one young person, an education or youth work professional, and a business or government representative. The panels have an important main purpose: to determine which nominations from each UK region/nation/country will receive The Diana Award.
Nominations are judged using the criteria guide and scoring guide which have been created to measure quality of youth social action.