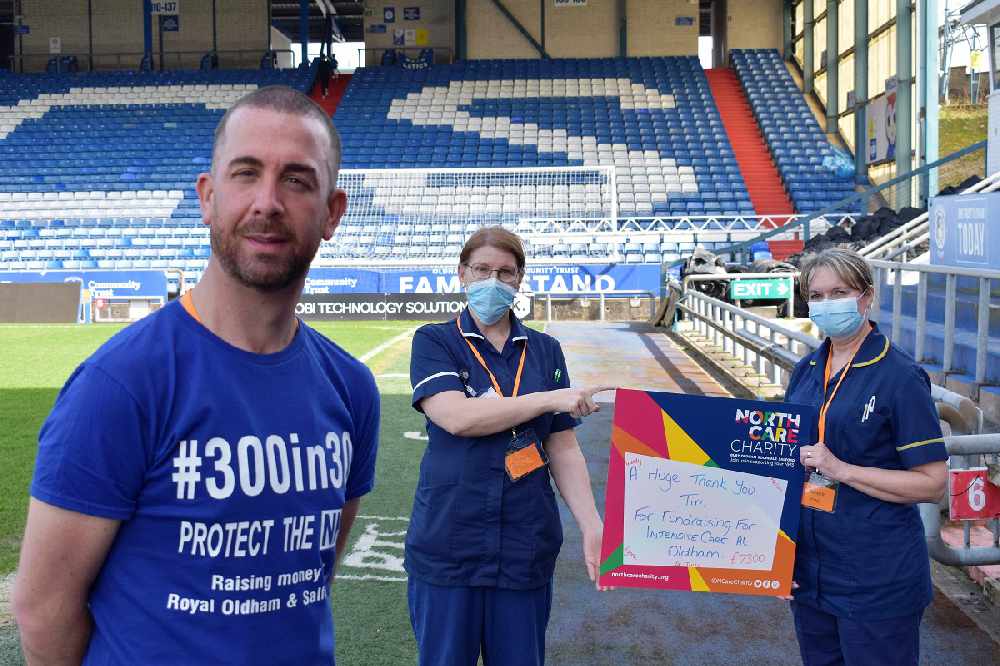 A Chadderton dad left paralysed after a brain injury had an emotional reunion with some of the nursing staff who helped save his life as he completed a 300-mile charity run.
Tim Greenwood has been running at least 10 miles every day throughout March as part of his #300in30 fundraiser for an NHS charity.
On the day he celebrated his 42nd birthday, Tuesday (30 March), Tim completed the challenge at Boundary Park - home of his beloved Oldham Athletic AFC - having raised more than £7,300 for NorthCare Charity, which supports The Royal Oldham Hospital and Salford Royal where Tim was treated.
Among those cheering him over the finish line were his close family, and Lynne Charles and Helen Barrow from the Intensive Care Unit (ICU) at The Royal Oldham Hospital.
Lead nurse Helen was in charge of the nursing team who helped save Tim's life in September 2019, when he was admitted after suffering severe headaches.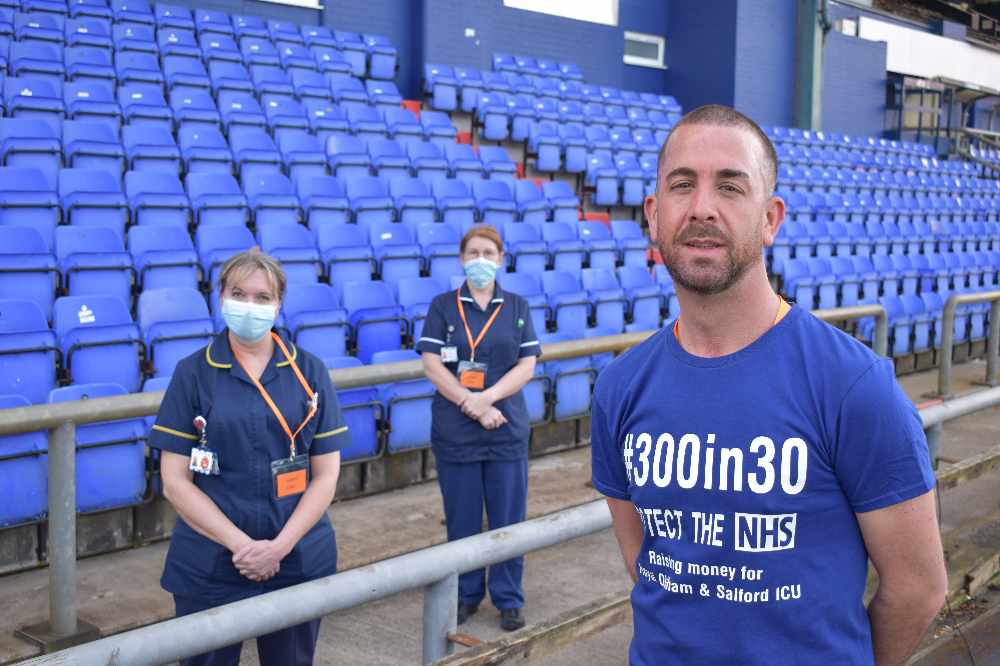 Tim with Lynne Charles and Helen Barrow from the Intensive Care Unit at The Royal Oldham Hospital
Tim was placed in an induced coma for four weeks and was left temporarily paralysed after a blood clot had formed in his brain.
The uncommon condition, called cerebral venous sinus thrombosis (CVST), was the consequence of an unknown ear infection. Tim was later transferred to Salford Royal, where he was cared for by a specialist neurology team who helped him learn to walk again.
Tim, a detective sergeant with Greater Manchester Police, is often left in pain and needing more time to rest after mild exercise. But that didn't stop him taking on the challenge of running 10 miles a day for 30 consecutive days throughout March to say thank you to the NHS staff who cared for him.
He has combined many of his runs with his daily commute home from his office at Rochdale Police Station.
Tim has raised £7,300 via his JustGiving page www.justgiving.com/crowdfunding/tim-greenwood300in30 for NorthCare Charity. The NHS charity helps provide innovative equipment, education, research and wellbeing support across the Northern Care Alliance NHS Group in Bury, Oldham, Rochdale and Salford.
Tim has been regularly supported by his wife Sam, who runs Samantha Jane School of Dance in Chadderton, and their two children Isabelle, 13, and Noah, 5 – all of whom were able to see him finish his challenge at Boundary Park.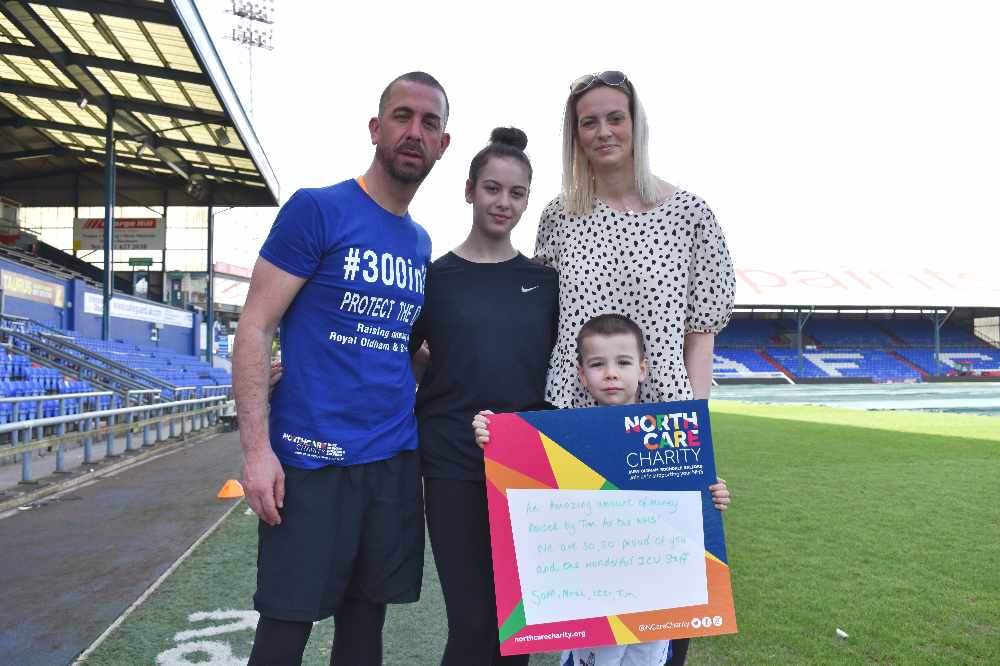 Tim completed his 300-mile run at Oldham Athletic's ground Boundary Park, with wife Sam and children Isabelle, 13, and Noah, 5.
The lifelong fan of Oldham Athletic was invited to finish his last run at the ground by Oldham Athletic Community Trust, after the club was inspired to help after hearing his story.
"I feel relieved and shattered, but more than anything pleased and overwhelmed," Tim said.
"I got emotional meeting the nurses who treated me. I'm so pleased to have raised such a good amount thanks to support from good friends and family and people who don't know me but wanted to join me in thanking the NHS.
"It means so much to me that the nurses came to see me finish. We talked about my stay there and it was very emotional. I think about them every day and what they did for me and what they do for everyone else. I am so grateful for them and giving my children their dad for the future."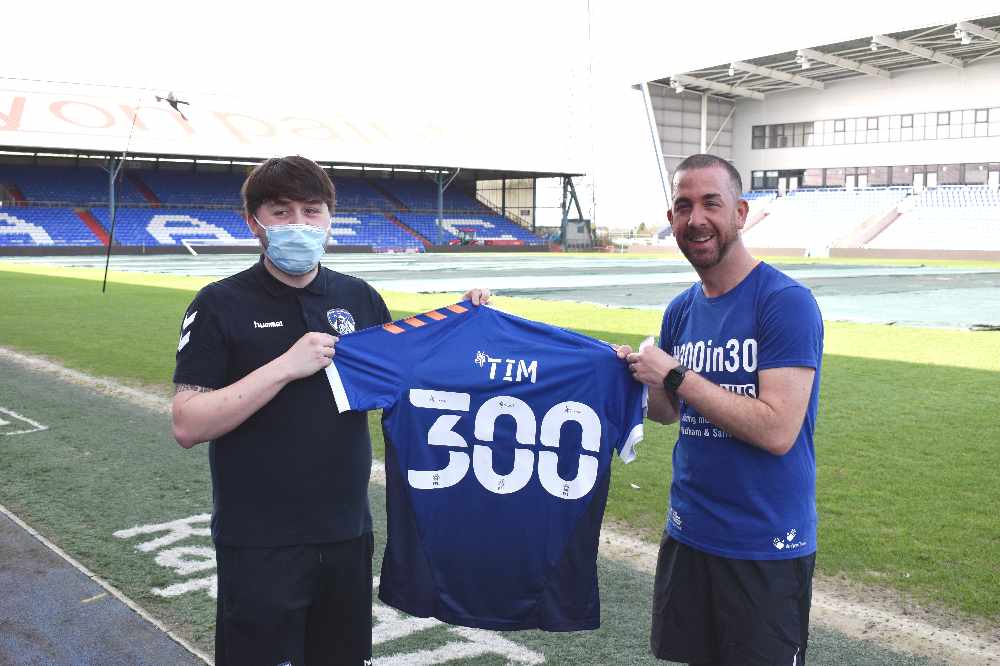 Tim (right) is presented with a special Oldham Athletic shirt from Callum Irving from Oldham Athletic Community Trust.
Helen Barrow, ICU Lead Nurse at The Royal Oldham Hospital, said: "I remember Tim very well and he was incredibly sick. To see him 18 months later completing a 300-mile run is remarkable. All the staff who cared for him are over the moon that he has made such a fantastic recovery and it's heart-warming to see him with his family today.
"We're humbled that he has decided to do this challenge to say thank you and raise money for our unit. We're just pleased to have played our part in getting him better and proud to have worked with our colleagues at Salford Royal to give him the best possible care and rehabilitation he needed."
Dave Nichols, of NorthCare Charity, commented: "A massive thank you to Tim and everyone who has sponsored him during this incredible challenge. The money will make a massive difference to the lives of future patients at our hospitals, as well as the staff who care for them. We will work with Tim and the care teams in Oldham and Salford to make sure this donation reaches those services most in need."
Read more from the Oldham Reporter