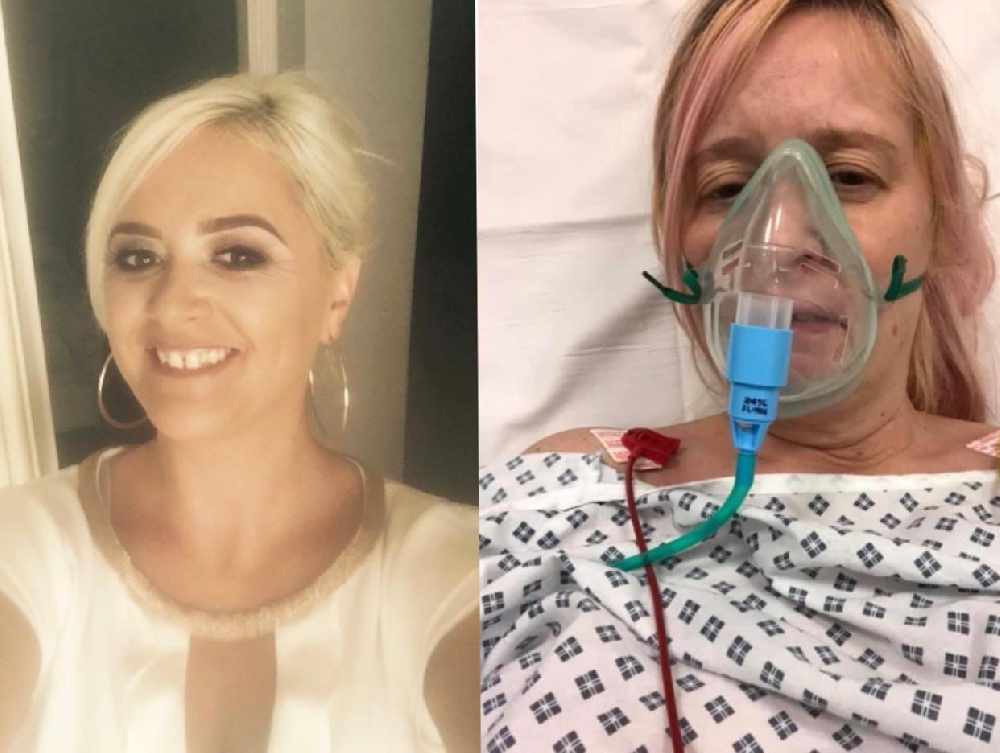 Coronavirus victim Rebecca Fannon has praised NHS staff after being rushed to hospital but says she fears for their safety, stating they are 'over-stretched and under-protected'.
The 43-year-old started to develop flu-like symptoms before being raced into the Royal Oldham Hospital when she began to have problems breathing.
"I was at home, shaking with the sweats and my temperature spiking. I'd been taking paracetamol to control the temperature, but I couldn't breathe. I was gasping for breath and couldn't get comfortable," she explained.
"I rang 111 and was told I had COVID-19 symptoms, and was triaged to someone from GO Doctor who said it was a secondary bacterial infection and to go to the doctors in the morning."
As her breathing worsened, Rebecca consulted her sister who is an NHS nurse, and she told her to ring for an ambulance.
After more discussions between 111 and the ambulance service, it was decided Rebecca should be taken straight to Resus at Oldham for immediate treatment.
"They were absolutely fantastic. I had checks, chest X-Rays, bloods and every test – it was determined I had COVID-19 symptoms but it wasn't confirmed, but I was reading for DKA which is when the blood becomes acidic – we later found this was because of coronavirus. I had a big infection."
Rebecca was put on oxygen in critical care as she was at risk of deteriorating. Tests revealed that she did have the virus.
She was then placed on a specialist ward with other patients who had tested positive but said she watched staff and nurses who were "overstretched" - working in normal masks as opposed to further personal protective equipment.
"Their PPE had been taken off them and given to staff working in the ICU, when they were working with infected patients and on the frontline. They are coming in and facing the threat and they are being jeopardised.
"They were trying their absolute best and managing as well as they could, but they are stretched so thinly that patients were going hours waiting for medication.
"I was on oxygen and IV antibiotics, saline... anything to get me through it.
"One of the nurses said she was glad I was getting better as everyone should know that people can recover from it - and asked that when I got out, could I tell people to be aware of their situation with a lack of PPE as the government aren't telling people what's going on.
"They are the staff that are caring for us and they need protecting with how much they are struggling and it's just not fair."
Rebecca was able to return to her home in Failsworth last week but must remain totally isolated within her home for 14 days meaning her nine-year-old daughter Tilly has had to stay with her aunt.
Friends and family from Tameside are rallying around her by dropping off food and essentials as she recovers, but her condition has certainly brought it home to a number of people just how serious COVID-19 is.
"I want people to take this seriously. My friends have been taking precautions, but I think having someone close to you that has been through it really brings it home.
"We've been taking that as a positive, that people can pull through – but the NHS is really being stretched thin and I'm concerned about the safety of nurses."
Dame Donna Kinnair, Royal College of Nursing Chief Executive and General Secretary, said: "The government is finally prioritising Covid-19 testing for NHS staff, including social care, but it is completely unacceptable that weeks into this crisis, there are colleagues in all settings – hospitals, community or care homes – who have not been provided with personal protective equipment.
"I am hearing from nurses who are treating patients in Covid-19 wards without any protection at all. This cannot continue. They are putting themselves, their families, and their patients at risk.
"As the professional trade union representing potentially the largest group of affected workers, the RCN has said repeatedly that we will not accept anything less than aprons, gloves and masks for all staff, in all settings. But this is a minimum – and that is why we are so disappointed even that level of protection has yet to be provided.
"Every minute we wait is a minute too long. All nursing staff, no matter where they work, must feel safe. We need action, we need equipment, we need it now."
A spokesperson for The Royal Oldham Hospital said: "Our priority is always focused on maintaining the safety of our staff and patients. Our teams are working closely with both regional and national colleagues to ensure that we have adequate supplies of Personal Protective Equipment (PPE), and that we provide the correct equipment to all our staff, in line with the national guidance that has been issued to NHS providers.
"Like many other NHS trusts, we recognise that there are some challenges with the supply of PPE, and our procurement colleagues continue to support our clinical and frontline teams to ensure that they are able to access adequate supplies.
"The safety of our staff and patients will always remain our priority and we will ensure that they are fully supported to care for our patients safely."