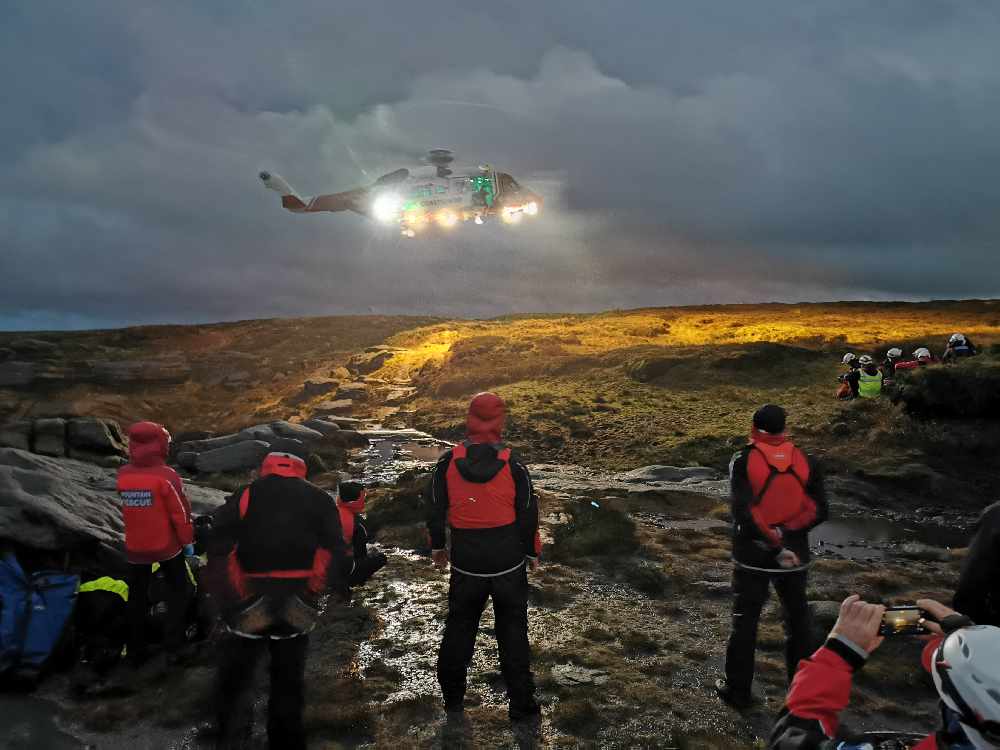 MISSION: Coastguard helicopter was called in.
Maritime helicopter called in to lift casualty from Saddleworth moors
Twenty-two heroes of the hills were involved in a dramatic multi-force rescue yesterday when a woman was injured in a fall.

Oldham Mountain Rescue Team received a request from Greater Manchester Police for assistance with the location and evacuation of a 23-year-old woman.

The distressed woman had fallen and injured her ankle somewhere in the Dovestones area, although initially her exact whereabouts were unknown.

Battling foreboding squalls and using sophisticated phone-find equipment, the valiant rescuers were able to accurately pinpoint the casualty and direct team members to Dean Rocks on the Edges Path above Dovestones, one of Saddleworth's favourite visitor haunts.

An OMRT spokesperson said: "We soon had a medic and kit at the casualty site and were able to assess and treat the casualty.

"But due to the potentially long and difficult carry off, North West Air Ambulance was requested to airlift the woman from the moors.

"Unfortunately, they could not land due to the deteriorating weather conditions and had to abort, so the larger Maritime and Coastguard Agency helicopter was allocated.

"MCA arrived just as light was failing and we were able to hot load the stretcher for the casualty's onward transport to hospital.

"We then escorted the lady's companion safely off the hill before heading back to base to disinfect, dry and check our kit so it is ready for the next time."

The rescue operation involved OMRT personnel for almost three and-a-half hours.
Report by Ken Bennett