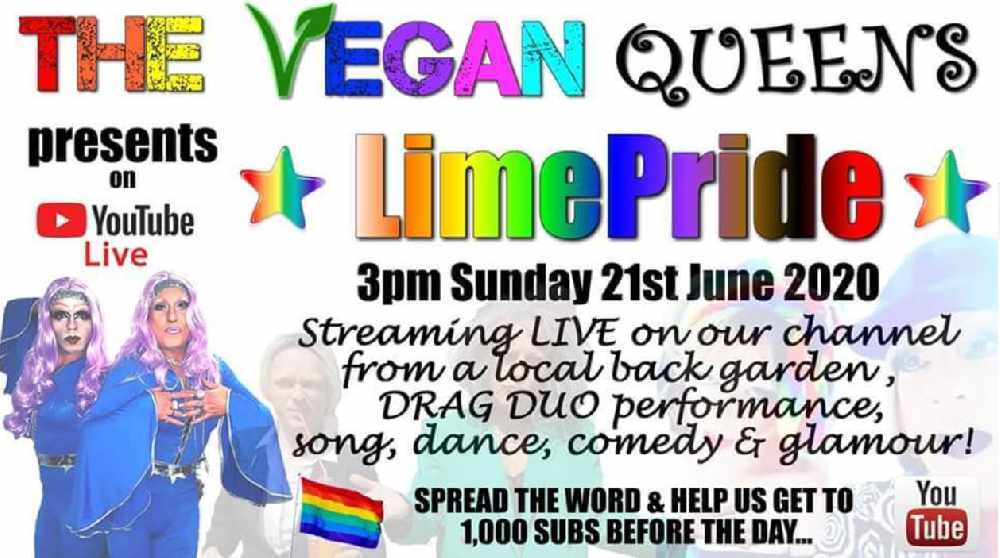 A local drag duo, who have become YouTube sensations, hope to celebrate the spirit of Pride month with a live performance which will help to raise money for two LGBTQ+ charities. 
The Vegan Queens, a.k.a Paul Burgess from Oldham and Stuart Crowther from Rochdale, plan to perform live on Sunday 21 June from 3pm on their YouTube channel - and aim to reach 1,000 subscribers before the big day!
June is Pride month, which is dedicated to celebrating LGBTQ+ communities all around the world.
Last year, Paul and husband Jason Bromley, from Limeside, became a hit on YouTube as Those Vegan Guys - a channel they started in late 2015 to combine their unique brand of vegan culinary expertise with a hilarious drag act.
Their online presence is augmented by Paul, 50, and drag act partner Stuart Crowther, 34, who have been The Vegan Queens as their alter egos Gemini Andro and Creeping Miasma for nearly four years.
Paul explained: "This will be our own personal PRIDE Performance, after so many we had booked from the beginning of April until September, have already had to be cancelled.
"I, Gemini Andro (Paul Burgess) am from Oldham, and Creeping Miasma (Stuart Crowther) is from Rochdale. For the last couple of years we have performed at PRIDE celebrations and events in Rochdale, Stockport, Levenshulme & Bolton to name but a few.
"We have been continuing our YouTube videos, which we were producing together fortnightly, with Skype sessions which have been uploaded to our channel.
"This performance will be the first time we have seen each other in the flesh since 5 March and it will be packed with our usual songs and shenanigans.
"We will of course be practicing social distance and keeping apart whilst we perform, but we thought it would be a lovely way to celebrate Pride, to perform which we love doing, and to let as many people watch as we could. It will be a totally free drag show after all."
Viewers who tune in to 'LimePride' are promised a drag duo performance, song, dance, comedy and glamour - all from Paul's back garden in Limeside!
Jason, one half of Those Vegan Guys, says he also hopes to play a few songs on the day.
People will be able to donate during the live event through YouTube 'Superchat' - providing the pair can reach 1,000 subscribers. They are currently close to 600. To subscribe, click here.
Funds raised will be split between The Vegan Queens and two LGBTQ+ charities - Manchester's George House Trust, which supports people living with HIV in the North West, and the Albert Kennedy Trust, which provides accommodation for LGBTQ+ youth facing homelessness or unsafe home environments.