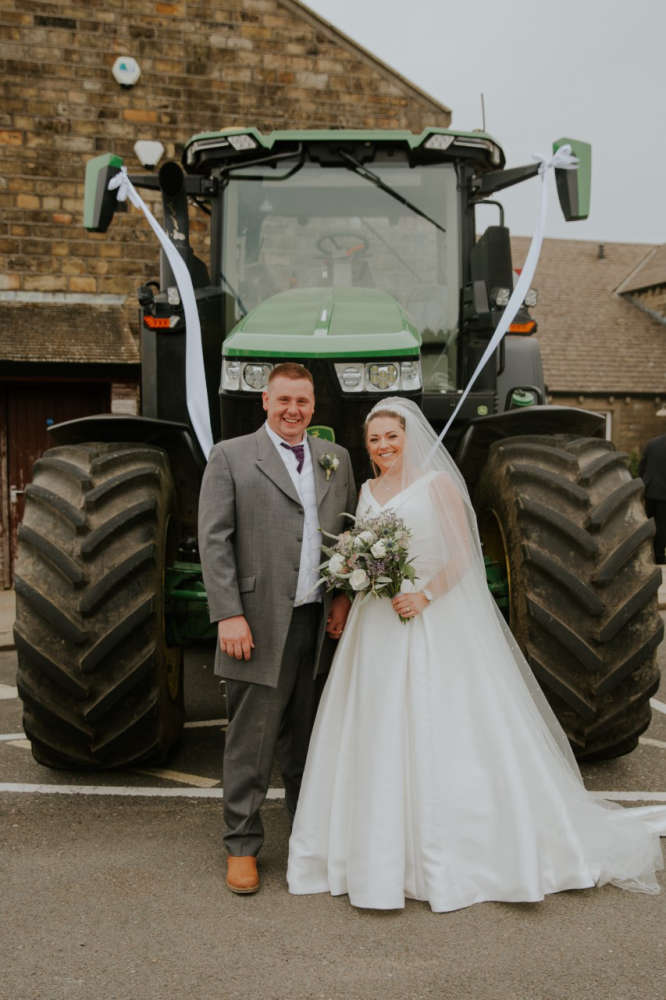 Holly Charnock and her husband Joshua Mullin. Image credit: Jamie Sia Photography.
Bride Holly Charnock and her husband Joshua Mullin left a country church in style for their wedding reception… aboard a giant tractor!
Holly, 34, a veterinary nurse, and Joshua, 29, an agricultural contractor, raised smiles and cheers from passers-by on their 10-mile journey from St Chads Church, Uppermill, Saddleworth, to their wedding reception aboard an eight tonne John Deere tractor decked out with wedding bunting.
Holly attended St Chads primary school and had family connections with St Chad's church but now lives in Beverley, East Yorkshire.
She said: "Our wedding had been postponed twice from 2020 to 2021 to now so even after we moved we kept everything in Saddleworth as most our family and friends are there. The evening celebration was at The Huntsman in Holmfirth.
"Josh drove one tractor to reception from the church with me on board and his friend Harry Ripley drove the other tractor with bridesmaid Fliss Crawshaw as passenger."
The couple met through mutual friends. Holly is originally from Carrbrook and Joshua from Marsden.
Rev Hilary Edgerton, who conducted the wedding service, said: "We're glad to be able to encourage weddings in church where couples commit themselves to one another in the eyes and hearing of their supportive family, friends and God, in trust God's help will strengthen their marriage for years to come."