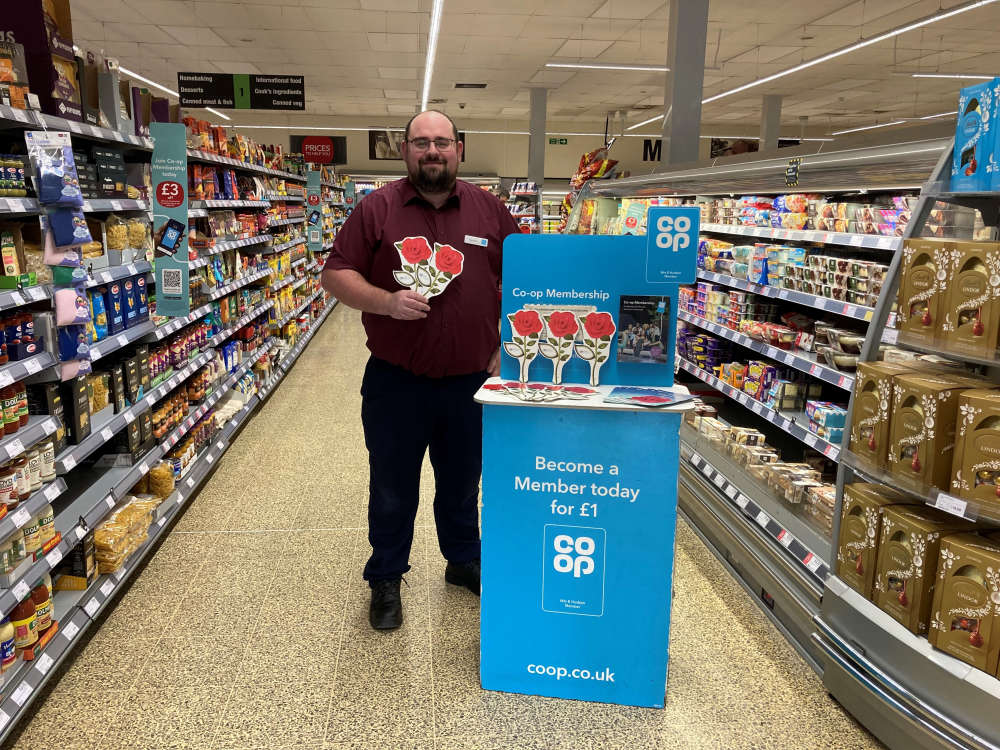 Darren from Co-op supporting the Rose to Remember Appeal.
Royton Co-op Store Manager Darren Ramsden is encouraging the community to support Dr Kershaw's Hospice's new summer appeal, after his grandad was cared for at the hospice.
The Rose to Remember Appeal gives the community the opportunity to dedicate a beautiful rose plaque to their loved ones, with their dedication enabling more patients and their families across the community to receive specialist care and support from the hospice.
The appeal has the full backing of the team at The Co-op in Royton, who are already stalwart supporters of patient care at the hospice. In addition to choosing Dr Kershaw's as one of their Community Fund charities and inspired by Store Manager Darren, the team will also be supporting the Open Garden by providing supplies to be served at Café K, as well as helping to serve afternoon teas.
Darren, whose grandad was cared for at Dr Kershaw's seven years ago, said: "My grandad loved spending time in the Hospice before he passed away, I particularly remember him being overjoyed that one of the nurses had allowed him to have a glass of Baileys!
"One occasion I'll never forget was just before he died, he had asked to see the gardens, as I walked through the hospice gardens pushing my grandad's wheelchair, a bright blue butterfly landed on his arm as he sat so still. My grandad looked at me in amazement, his eyes welled with pride and satisfaction and for a moment everything was forgotten apart from that beautiful moment.
"My grandad passed away not long after this, but that moment inside the hospice gardens gave me a memory of him that I not only cherish, but often think about."
Speaking of the Co-op's involvement with the appeal, Darren added: "The Rose to Remember Appeal is a fabulous idea and one that coincides absolutely with the Co-op's values and principles. At the Co-op we drive ourselves to be a pillar of support within our communities and what better way to help support our communities than to help people remember the passing of their loved ones in a positive and respectful way.
"Dr Kershaw's is not only close to my own heart, but has touched so many colleagues hearts too from Royton Co-op. Collectively we are proud to be able to stand along side Dr Kershaw's by supporting this Appeal which is such a worthy and worthwhile cause."
Each rose plaque dedication costs £5 and, for each dedication, a bespoke designed rose plaque will be placed in the hospice's garden for a special day of reflection.
Appeal supporters will be invited to visit the hospice garden for the official Rose to Remember Open Garden Day on Saturday 3 July, between 11am and 3pm, to see the display of rose plaques, as they stand proud, as a celebration of those you love.
People can then take a stroll around Dr Kershaw's newly landscaped garden, enjoy performances from Dr Kershaw's Hospice Choir, visit their Café K for a cream tea or take a look around some of Dr Kershaw's special stalls which will be set up for the day. Those making a dedication of over £25 will also receive a special Rose to Remember pin badge.
Lillie Winterbottom, Community Fundraising Team Leader at Dr Kershaw's, added: "Whether remembering those you have lost or simply showing your support for our Hospice, your kindness and generosity will help to create a carpet of colour around our Hospice gardens at the same time as honouring your loved one's memory.
"By dedicating a rose you will make a difference to the patients in our care – what a wonderful gift. Your £5 could provide a good night's sleep, helping towards a patient's freshly laundered bedlinen, a £15 dedication could help a love one left behind by providing bereavement support and £30 could help towards the comfort of personal care in a patient's own home."
To find out more or to order a Rose to Remember, visit www.drkh.org.uk/rosetoremember or contact the Hospice's Fundraising Team on 0161 624 9984 or email fundraising@drkh.org.uk
Read more from the Oldham Reporter