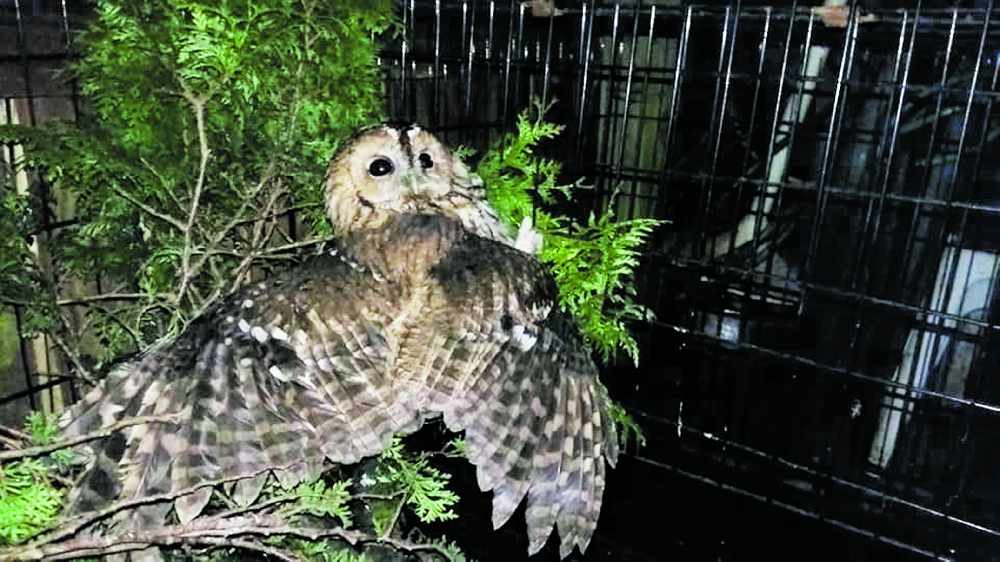 An animal sanctuary in Diggle is appealing for much-needed cash after Storm Ciara's high winds battered and collapsed the aviary of poor tawny owl Alan - who has had to grumpily bed down in a dog crate while repairs are made.
Birds of a Feather Animal Rescue, run by 22-year-old Robert Dobson, took to Facebook to share Alan's plight, which has come at a very tricky time for the shelter.
"Unfortunately, we're spending all our funds on the feed and bedding for the current animals in our care as well as beginning to stock up for baby bird season," Robert explained.
"Alan is currently in a dog crate inside, but he really needs his aviary.
"He doesn't mind, but the quicker he's outside the better - he's still very much wild!"
Robert made the headlines following the Saddleworth blazes in the summer of 2018, after he was kept busy visiting sites affected by the fires and rescuing any animals that had been injured.
The dedicated animal lover has been rescuing all manner of animals such as deer, swans and hedgehogs since he was 11.
After a neighbour's cat caught a baby swallow, Robert took it in and released it when it was able to fly - from then on, people started to bring him any animals in need - and he hasn't looked back since.
Robert first met Alan in July of last year, following a call from a local veterinary surgery who needed assistance.
"We got him from a vet in Lees who rang us up asking if we could take him.
"Someone had brought him after finding him on a doorstep.
"We picked him up and looked after him, but when it came for him to be released we discovered that he'd actually had a broken wing which had set and healed incorrectly, so he's unable to fly."
Alan had been living in his bespoke aviary ever since, until strong winds brought by Storm Ciara last weekend caused the structure to collapse.
It will cost roughly £200 for the aviary to be rebuilt, with the rescue appealing for kind donations to help get Alan back into his home, with £80 raised so far.
But just after we went to print, the sanctuary was alerted to the plight of another bird - a Common Buzzard called Geoff, who has come in with suspected poisoning and a sprained leg.
He is being treated for both issues and will hopefully be released soon, but will need a few days to recuperate in the aviary, namely the one destroyed by the storm.
As a result, Alan's fundraiser has now doubled to also make room for Geoff.
If you'd like to donate, you can do so by Paypal at boaf.animalrescue@gmail.com or through bank transfer: 60-83-71 and 97979353.
The sanctuary also takes donations of dog/cat food, bird seed, mealworms, puppy pads, newspaper, peanuts, fat balls, tinned fish and frozen peas to keep the animals going.
For more information you can visit their Facebook page at: Birds of a Feather Animal Rescue.