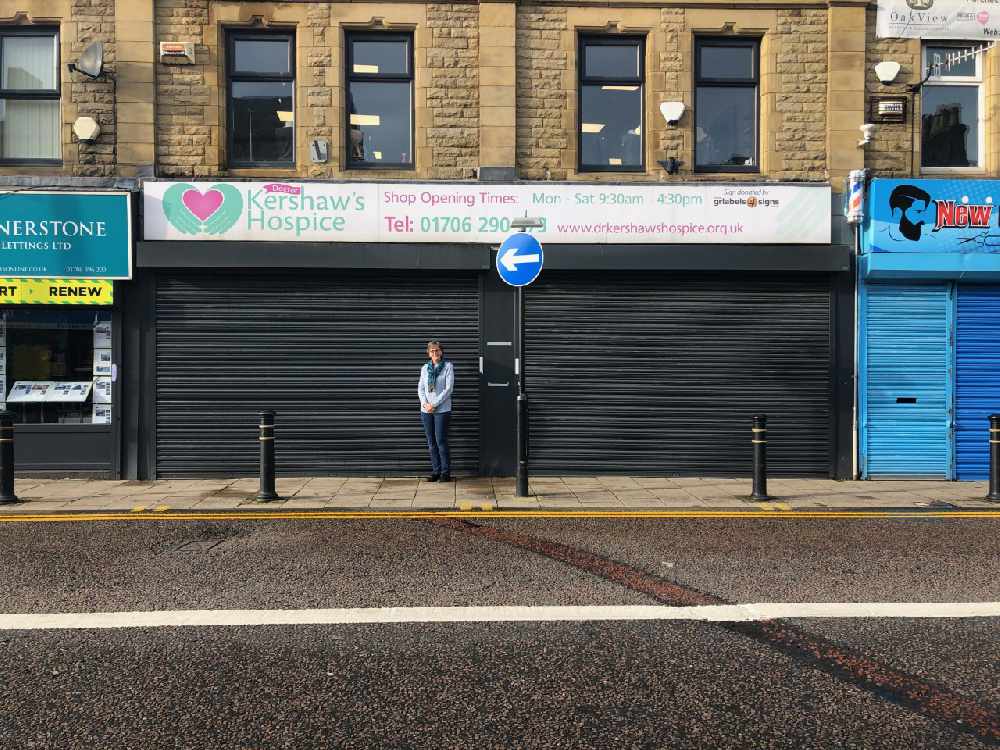 Dr Kershaw's Hospice is urgently appealing to the community for support when it's most needed, after the coronavirus pandemic has led to a shortfall of nearly £650,000. 
The Royton-based hospice has seen their charity shops income once again grind to a halt, fundraising events cancelled and their lottery members have seriously depleted since the pandemic started in March.
With the country now back in official lockdown, the hospice has once again had to close all four of its charity shops across Oldham, doing so in the run up to the busy Christmas period which normally brings in the biggest funds for the shops, and helps to support patient care in the borough.
Since the first lockdown took place in March, the pandemic has taken its toll on the hospice, which says it needs £9,000 a day to be able to provide dedicated care and support for their patients.
Along with the shop closures, there has been a steep decline in donations, a blanket cancellation on all fundraising events and a significant reduction in members for its weekly lottery.
To date, the hospice say it has left it with an overall shortfall of £649,000 for the current financial year - a figure which is expected to continue rising given the current closure of the shops.
Dr Kershaw's Chief Executive Joanne Sloan commented: "We are so very grateful for the wonderful, generous support we have received from the people of Oldham over the years. We recognise how hard these current times are for many people in our community. For those who are able to support our Hospice in any way they can we are eternally grateful."
The hospice adds that its shops have had to take all their Christmas hospice-branded stock - which would normally generate a significant amount from in-store customers - onto both their phonelines and online shop to try to sell what they can to the community in the run up to Christmas.
Rebecca Bentham, Head of Income Development at Dr Kershaw's Hospice, is responsible for the running of all four charity shops.
She said: "Our priority since we reopened the shops has been to maintain a safe shopping environment whilst maximising sales where possible. To close the shops once again at such a busy shopping time of the year is catastrophic for us, and a hit we were hoping we wouldn't have to take. We are now hoping that our Christmas cards and crackers along with our 2021 calendars and diaries can sell as well online and by phone so that we can at least continue to bring in some revenue for the Hospice."
The hospice says its lottery is one of the biggest, consistent sources of income and the loss of members has proved difficult over the past seven months.
Joanne Penketh, Lottery Manager at Dr Kershaw's Hospice, explained: "Since the start of the Covid-19 pandemic, our weekly lottery has lost over 1,000 members which is totally understandable in the current situation. This means it makes it much harder for us to generate the £3.6 million each year that we need to keep the Hospice doors open for those who need our help and support.
"The £1 a week that our lottery members give means so much to the Hospice and we are extremely grateful to all those who support us. Our lottery offers a weekly jackpot prize of £1,000 and 5 x £50 cash prizes, it's a chance for people in the community to win as well as supporting their local Hospice."
The hospice's In-Patient Unit has closed temporarily to facilitate their new building, which is due to be completed in the New Year.
Dr Kershaw's says its priority now is to dedicate all of their clinical resources to patients in the community through their 'Hospice at Home' nursing service and domicillary care service - 'Caring Hands' - along with their new overnight 'Rapid Response' service which is currently being piloted.
Crucial day patient services at the hospice's Well-being Centre had to be suspended at the beginning of the pandemic back in March, and the hospice is "exploring a variety of different ways of supporting people who would normally access this service".
Dr Kershaw's says everyone in the community can help support the hospice - whether it's making a donation or organising their own fundraising activity, signing up to the Hospice's weekly lottery or even purchasing Christmas merchandise from their online shop.
To purchase your Dr Kershaw's Christmas cards, crackers, calendars or diaries, visit their online Christmas shop at www.drkh.org.uk/funds or call the hospice on 0161 624 9984. To sign up to the Hospice Lottery, visit www.drkh.org.uk/lottery or call the Hospice Lottery Team on 0161 624 9213.
Main image:
Shop Manager Alison Taylor outside Dr Kershaw's Hospice's closed shop in Shaw.