People with dementia and Alzheimer's are being helped to reminisce about past memories thanks to an art project at Oldham Hospital.
The Rowan Tree of Life was created by artist Simon Young, 52, who also has experience as a support worker and helps patients who are living with the effects of dementia.
The piece displays a giant tree, which changes throughout the year, reflecting the view patients see out of the window. It can be taken down off the wall where it's hung and used during activities with occupational therapists.
There are various graphics and additions to the tree that can reflect the patients memories and life, making it a powerful tool for staff to use.
Creator Simon says the piece is patient focussed: "It's like a living picture that is evolving 24/7 and its never the same picture twice.
"It's unique to each patient and group and the subjects change with relevance to the year.
"Its great, its reminiscing and that's the thing that people love to talk about and that's one of the last things that goes with people's memory.
"Everybody's unique life story comes out that way and its a fantastic thing that people like to do.
"That half hour that the occupational therapist spends with the patient will just be about them and they're taking part in the building of the tree."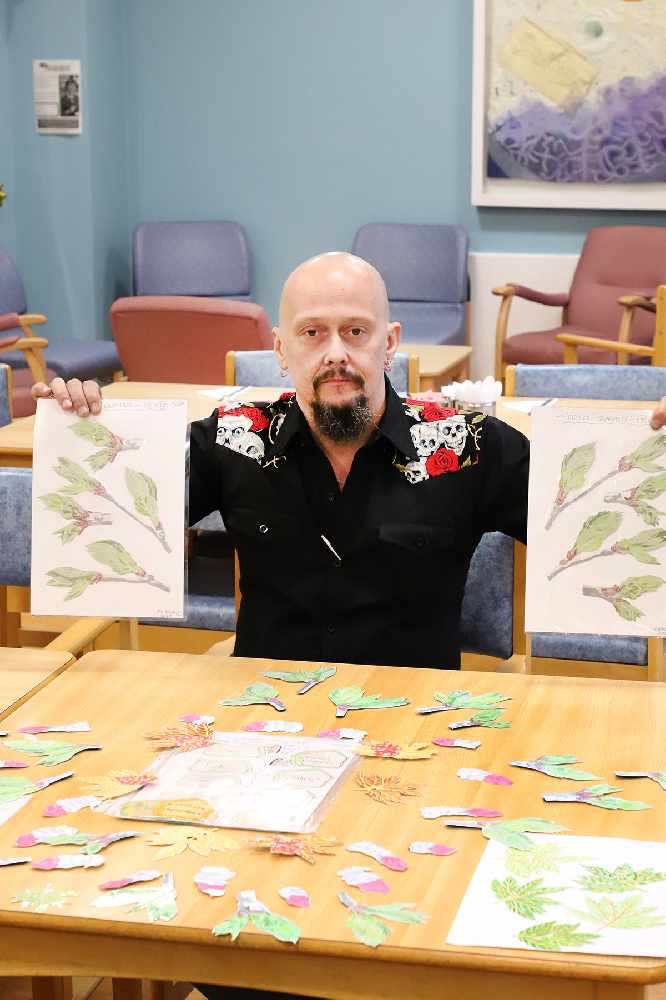 Patients are encouraged to add their own memories to the tree throughout the year, with buds turning to blossom and leaves changing colour as the months pass.
As the tree itself evolves so do the memories on it, reflecting the ever changing lives of the patients.
Simon says his fascination with reminiscence came from growing up with his two great-grandmothers who lived through the Second World War.
"I used to love listening to their war stories about how life used to be," he said.
"I've always been interested in that so if this is a way of helping then all the better. It's a great buzz for me."
Here are some more images of the therapy room, courtesy of our photographer Nigel Wood...