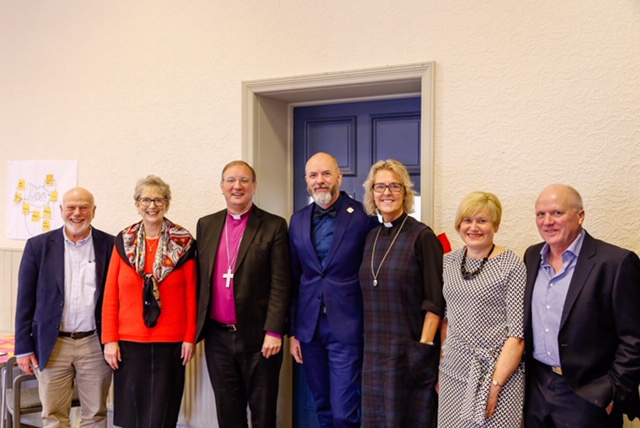 The Bishop of Middleton has given his blessing to Sola Fide CE Trust and its move into its new office premises in Uppermill.
The Right Reverend Mark Davies visited the St Chad's Parish Centre to perform an official opening ceremony with members of the Trust boards, along with the CEO, Peter Burnley, who welcomed the Bishop to the event which was attended by educational partners, associates and friends of the Trust.
From a single stand-alone academy, the Trust has evolved into a multi-Academy Trust currently consisting of three schools St. Chad's C E Primary, Uppermill; St. Anne's C E Primary, Lydgate; and St. John's C E Primary, Failsworth.
Sola Fide is a Mixed Multi-AcademyTrust, not exclusive to church schools, and welcomes the challenge of life-long education in an ever-changing world.
Children's futures are entrusted into the trust's hands who ensure children are placed at the centre - they always come first.
The trust ethos says love and service underpin all they do and these Christian values are embraced by all personnel and firmly embedded in all their academies.
The core purpose of Sola Fide is to establish effective collaboration and embrace interdependency; an acknowledgement there are some things that can only be resolved by groups working together.
And the trust's genuine willingness to share what they have with others underpins their belief when we freely give everyone gains and grows.
Peter Burnley said: "As a Trust, we ensure that children are placed at the centre of all we do - they always come first. Children's futures are entrusted into our hands.
"We are motivated by the desire to make a difference, strategic in our approach and committed to unleashing everyone's potential. It is our ambition that all schools within Sola Fide Trust impact positively on the communities they serve."
The Trusts thanked the staff of the Reclamation Room Cafe, Uppermill, for providing an array of tasty refreshments for the event.
Image:
Bishop Mark Davies, Peter Burnley, CEO with Members and Trustees of Sola Fide Trust.