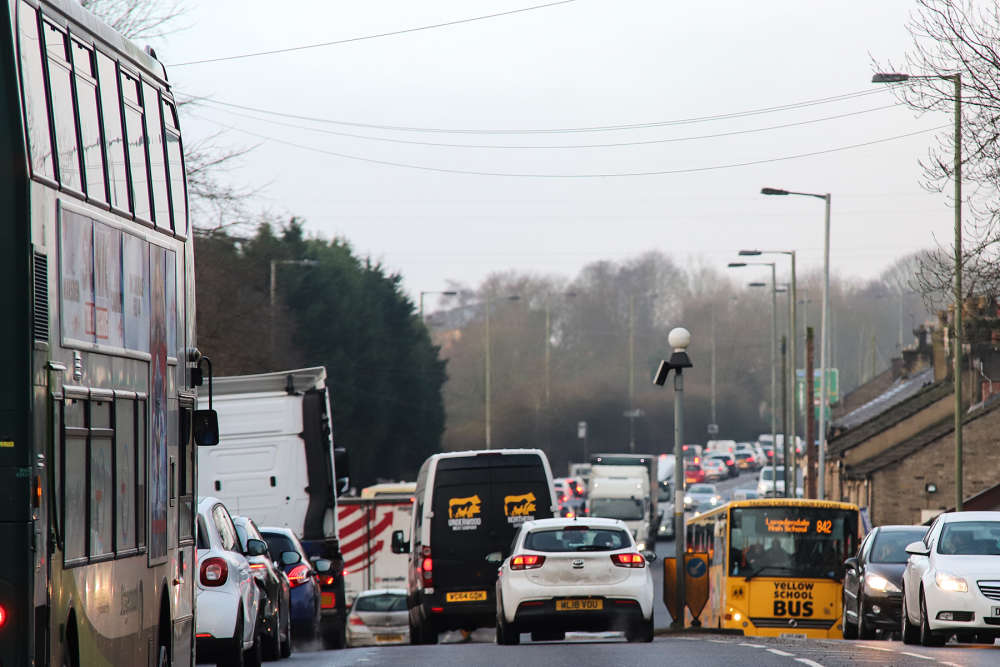 Image credit: Nigel Wood.
"Urgent action" is being taken to improve the traffic situation around Glossopdale and Mottram, amid gridlock caused by roadworks. 
Cadent Gas are currently installing around 1,400 metres of new gas pipe under the A57 Mottram Moor - a huge project which is expected to last until the end of August.
This week, there is a four-way traffic control on Marple Road in Charlesworth - at the junction with Long Lane - to allow Electricity North West to carry out utility repair and maintenance works, which could be in place until Wednesday 4 May. This has led to long queues on Glossop Road, stretching as far as Dinting Vale.
To compound matters, Derbyshire County Council has put up two-way traffic control signals on High Street West for road surface dressing works - which could last until 18 May - and there are more temporary lights further down the road near Tesco on Wednesday (27 April) to allow United Utilities to carry out repair and maintenance works.
Locally, MP Robert Largan and councillors have been inundated with complaints from angry and frustrated residents who have been missing long-awaited hospital appointments, and have been late for work and other commitments because of the traffic chaos - even when drivers have allowed up to two and three times the usual travel times.
The situation has only worsened since schools and colleges have returned following the Easter holidays.
Damien Greenhalgh, who represents the Glossop and Charlesworth division on Derbyshire County Council and is deputy leader of High Peak Borough Council, says he has spoken to the county council's Highways team in a bid to ease the heavy congestion.
He said: "Most of us understand the need for important utility infrastructure work to go ahead, but the timing, phasing and wider chain reaction of work is extremely important and it doesn't seem to have been adequately thought of by Derbyshire County Council.
"The Cadent gas works at Mottram Moor are understandably out of the County Council's direct influence, the work being carried out by Electricity North West in Charlesworth is however and, thanks to the permission granted by DCC, is now causing significant difficulties for people and palpable anger.
"I have therefore IMPLORED that the senior leadership and Conservative Councillor in charge of the DCC Highways Department liaise urgently with Electricity North West and even consider the removal the four-way control in Charlesworth before this evening (Tuesday) peak travel times.
"Something needs to happen, and soon. THIS CAN'T GO ON!"
In a further update, Cllr Greenhalgh added that the Senior Project Engineer for highways management has sent a Highways Inspector to Charlesworth to "see what practically can be done right now and ensure that Electricity North West is doing everything as they should be".
He added: "This might include manually operating the temporary traffic lights rather than using standard timers and proximity sensors which don't take account of the significant queues and the flows.
"DCC's Highways Hub Team are also speaking with Electricity NW to see if work can be speeded up and altered in any way to improve traffic management. The headline remains expect delays though unfortunately."
High Peak MP Robert Largan also said he is pushing for "urgent action to try and get traffic flowing again" as well as urging both Derbyshire County Council and Tameside Council to "actually talk to each other and co-ordinate roadworks much more carefully".
He said: "In between meetings in Parliament today (Tuesday), including giving a speech on an important debate on Ukraine, I've also been holding emergency discussions with both Derbyshire County Council and Electricity North West about the traffic chaos around Glossop.
"I've been repeating my calls from nearly a month ago, urging Derbyshire and Tameside councils to talk to each other and plan sensibly to avoid major roadwork clashes. Frustratingly, my warnings from several weeks ago were ignored and we're now experiencing the total gridlock that we've seen so far this week.
"I've asked Electricity North West and the Council to urgently review the roadworks and to push back any works that they possibly can, look into carrying out any works at night that can't be delayed and request that both Electricity North West and Cadent put on extra workers to get any unavoidable work done as fast as possible to try and bring the traffic chaos to an end as swiftly as possible.
"It's so disappointing that such bad planning has led to such chaos, making so many people late for work, children late for lessons and others miss hospital appointments. There's also a major safety risk, with emergency services potentially not able to get through.
"The people of Glossop have been let down badly. All involved have to do better and take action quickly to solve the mess they have created. I'll keep pushing for rapid action on behalf of local people."