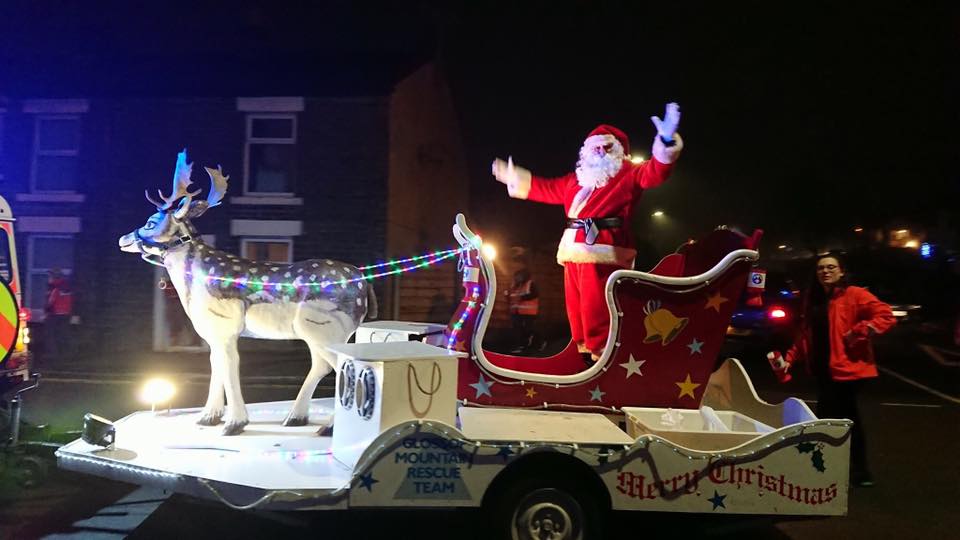 Glossop Mountain Rescue Team is still making plans to bring Santa and his sleigh round the streets of Glossopdale as normal during December. 
There will be some changes to the way Santa does his rounds this year, in order to make it safe for everyone.
But GMRT hope the children (and adults) of Glossop, Hadfield and all the usual areas will be able to enjoy a Christmas visit from Santa and Rudolph.
In a statement, they say: "We will publicise the exact routes and dates a bit nearer to the time.
"One of the main differences this year is that Santa's elves will not be knocking on doors. So instead we are hoping that we will have a tracker available via our Facebook page which will enable everyone to watch Santa's progress and to know when he's near.
"We will be maintaining social distancing though, so Santa's sleigh will not be stopping for children to meet Santa individually this year, and we will not be giving out sweets.
"Every year, we are amazed by the kindness and generosity of the people of Glossopdale towards Glossop Mountain Rescue Team and we would like to thank everyone for that.
"The Santa season is usually our single biggest fundraiser and, as we will not be doing any door-to-door collecting this time, we are hoping that people will donate to us in other ways.
"Supporters can go to our website gmrt.org.uk where there are various donation links and giving can also be done via our Facebook posts.
"Our collecting tins are in many shops and venues around the area, or please just get in touch with us any way you like.
"We know that these are difficult times for many and so we really do appreciate any help.
"The team are all volunteers and so every single penny donated goes to pay for essential equipment and supplies, enabling us to assist people in difficulty.
"We are looking forward to bringing some Christmas smiles to everyone in a few weeks."
Last Friday, two GMRT members collected materials for the part refurbishment of Santas sleigh in preparation for his rounds next month.
The team say they were grateful for the support and donation from Markovitz Ltd in Hadfield, who kindly gave them everything required to get the job done.