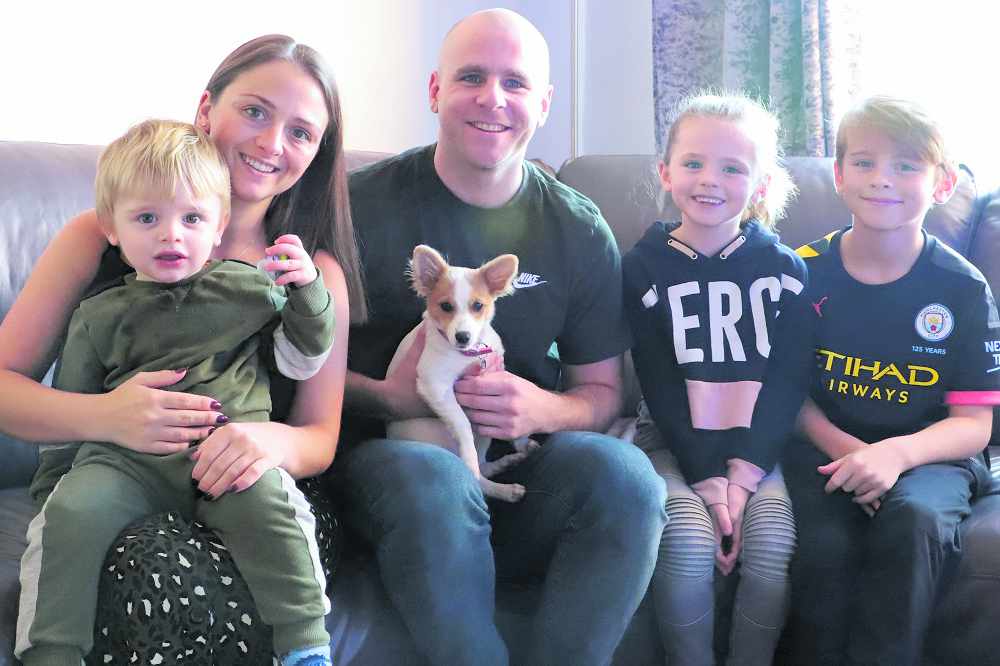 A Hadfield family who rescued a poor pup from Italy have been 'overwhelmed' by the generosity of kind Glossopians. 
It comes after they were left counting the cost of unexpected vet bills after little Rose needed extensive treatment.
Back in August Rebecca Giles, her husband Adam and their children Travis, Iolanda and Raef were enjoying their annual holiday visiting her grandparents in Calabria, Southern Italy, when they spotted the frail stray.
"She was in a horrific state, full of ticks and fleas and goodness knows what else," said Rebecca.
"She was so nervous, she didn't make a sound and was constantly trembling so we took her back, gave her some treatment and a bath.
"Everyone mucked in and slowly but surely she began to come out of her shell."
The children were besotted with their new companion, now named Rose, and Rebecca quickly set on securing a pet passport to rescue her.
Despite the cost of bringing their furry friend back to England amounting to more than £1,300 due to travel and vet expenses – with Rebecca's grandparents ensuring Rose received all her puppy jabs while in Italy – the family welcomed her home two weeks ago.
But shortly after Rose started to 'go downhill' and was rushed to Victoria Vets where she was diagnosed with a gastric blockage.
Last week Rose underwent two lots of invasive emergency surgery, requiring doctors to open up her small intestine and stomach and put an endoscope into her oesophagus to locate the blockage.
After an overnight stay and a good dose of painkillers and antibiotics, Rose is now recovering back at home with the Giles family.
"Although she is so much better in herself, physically she is still very vulnerable.
"She has a good 8cm wound down her tummy, which goes right through her stomach, so it is essential that she rests over the next ten days to avoid opening it," explained Rebecca.
"As you can imagine for a 16 week old puppy – this is no fun!
"She is still on four different sets of medication and needs twice weekly visits to the vets, but we are a million miles away from where we were on Monday and that's enough for us right now."
But the bills for such an unexpected procedure is the source of great worry, especially after the family spent such a large sum rescuing Rose in the first place.
The family have set up a Gofundme page to help with her surgery costs, and in just 48 hours it had raised over half the £1,520 needed – now standing at £970 at time of print thanks to generous donations from Glossop and the wider community.
Rebecca added: "With regards to the appeal, we are truly overwhelmed.
"We are still amazed at how many kind people have responded to Rose's story, and are eternally grateful to all those who have not only donated, but shared her story."
If you'd like to donate to Rose's appeal, you can visit her gofundme page here: https://www.gofundme.com/f/rose-the-rescue-dog-lifesaving-treatment?
Main image:
HOME AT LAST: Little Rose with her new family in Hadfield.