A popular resident at a Hadfield nursing home was inundated with well-wishes from all corners of the globe as she celebrated her birthday in lockdown.
Lillian Harrison turned 101 on Monday (1 March) and, although Covid-19 restricted celebrations somewhat, staff at Oakford Manor and her family pulled out all the stops possible to make it a day to remember.
The weather gods were also smiling down as her big day was spent in glorious early spring sunshine.
Two weeks prior to her birthday, staff at the Newshaw Lane home – where Lillian has been since January last year – appealed to the local community in the hope she could receive 101 cards – one for every year of her life.
But such was the magnificent response, it is thought that Lillian – who has two children, four grandchildren, nine great grandchildren and four great great grandchildren – has received over 1,000 cards!
With Oakford Manor having converted part of the conservatory and lounge into a new pod to allow visitors who have received a negative Covid test amid strict hygiene measures in place, some members of Lillian's family were able to safely spend some time with her from behind a screen to mark her birthday.
The pod was decorated specially for Lillian with balloons and banners, and it was filled with the many fabulous gifts, cards and flowers she had been sent so she could see just how much she is loved.
Browse through our photo album from Lillian's birthday below. Images by Nigel Wood.
Debbie Holland, one of Lillian's grandchildren, told the Chronicle: "It's been absolutely lovely. Nan was an absolute star. She gets a bit tired normally but she was absolutely on form and really enjoyed herself.
"Myself, my sister Paula, my cousin Mike, my dad Phillip and my mum Jennifer got there at 11am and we left at around 3.45pm. It was a lovely day.
"Nan was really excited to see us. It's been around six months since my mum has been able to see her in person, so it was a bit overwhelming for her too.
"The response from everyone has been amazing. I'd been for two visits over the weekend and brought cards home with me. It probably took me four or five hours to open them all!
"We've not counted them all yet but she's probably had around 700 or so cards in total – possibly more – from schools, businesses and members of the public both locally and from countries like Australia, the Netherlands, America and more.
"She got lots of flowers and chocolates but also things like a china cup and saucer from people who genuinely wanted to wish her a happy birthday. It's been absolutely amazing."
Debbie went on: "She even got a lottery ticket in one of her cards – we checked it and found out she had won £2.80!
"To make her laugh, we also got her a banner which said 'Finally 21' on it and she had a pink tiara to wear.
"The local singer [Samantha Mitchell] who performed was brilliant. The residents came into the room and she sang old songs for them. Lilian was in the pod and had her hands in the air listening to an Elvis song."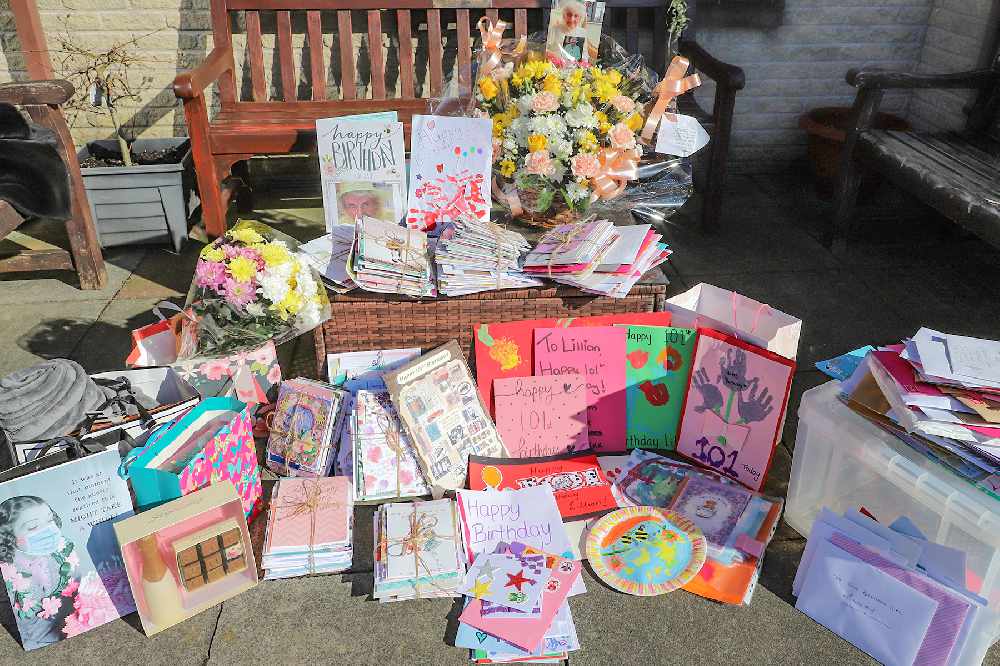 Just some of the gifts and cards Lillian received for her birthday
Lillian is very settled at Oakford Manor and, in spite of the pandemic, she's been keeping in remarkably good health.
Debbie said: "It must be so frustrating for Nan not being able to have more visitors, as we are a big and close-knit family. As she's got Alzheimer's, she can't remember about the virus but it's almost a blessing that she can't understand what's going on at the moment.
"But she's done amazing, she's such a fighter. A lot of people have passed away in care homes across the country but she seems to have kept on going so well.
"As I live locally in Glossop, I try to visit her every other day and I'm lucky enough to be able to do so."
Debbie also had a message for staff at Oakford Manor, who have been looking after Lillian every day since she arrived at the home 14 months ago.
She added: "She's been at the nursing home for just over a year and I have to say the staff have been absolutely incredible, we cannot fault them.
"Their care for my nan has shone through and we cannot thank them enough."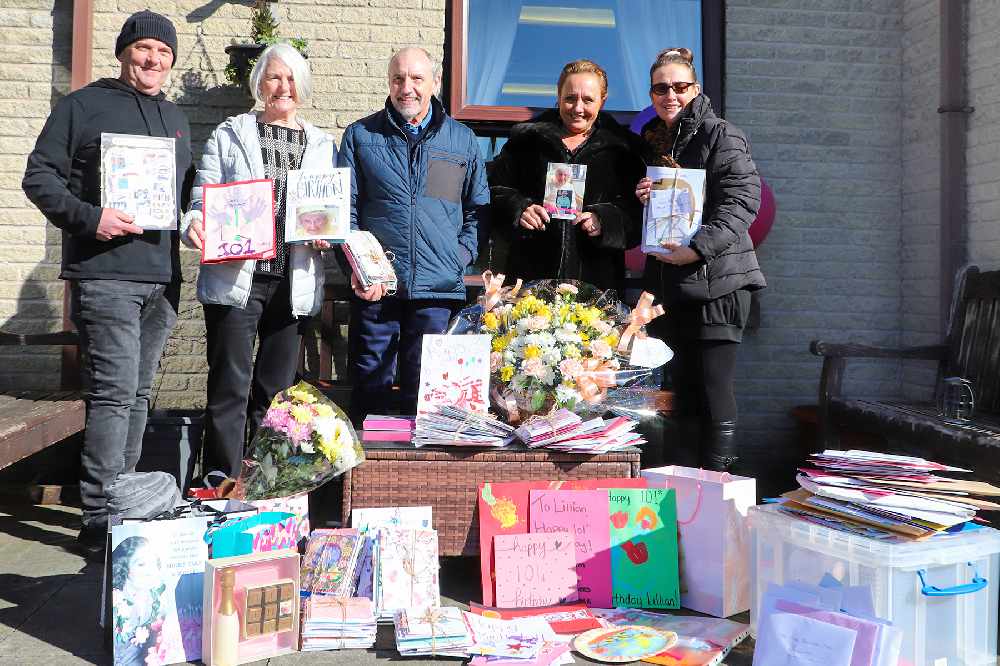 Some members of Lillian's family with some of her gifts and cards at Oakford Manor
Tracy Lidster, temporary manager at Oakford Manor, said: "Lillian really enjoyed the day. She was shattered by the evening, bless her, but she had a lovely day with her family.
"It was a really nice day weather wise, it would have been more difficult in these times particularly if the weather hadn't been good.
"She got lots of cards! She was a bit confused as she didn't understand why so many people had written to her. But it was nice for the family as they had lots of cards and gifts to open and go through with her.
"She loves yellow so she had some yellow flowers and yellow food too. It was a brilliant day and everyone enjoyed it."
Lillian has always lived in the area and was born on 1 March 1920 to Joseph and Eva Moorby at their home at New York in Broadbottom.
She attended school in Charlesworth before moving to Hollingworth with her parents and two sisters Jean and Barbara.
She met her husband Irvine at work and they lived on Market Street in Hollingworth, where they had two children – Irvine and Jennifer. They moved up to Fields Grove and then on to King Street – where she lived for 50 years.
Lillian loved to go to the Methodist Church and the coffee mornings in the village, as well as having long walks up to Woodhead Tunnel and going up Cow Lane.
Lillian worked at the Aerialite Castle Works in Stalybridge up until starting a family. When the children were growing up, she went back to work in the office of a leather company in Ashton, followed by working in the office at the Mill on Wedneshough Green in Hollingworth for a while.
After the Mill closed down, Lillian went to work in the office at McConochies in Hadfield but unfortunately she was made redundant. She then got an office job at a rope company in Padfield, where she worked until retiring at the age of 60.
Watch a video of some of Lillian's family celebrating her birthday safely at Oakford Manor at the top of the page. Video by Nigel Wood.
Read more from the Glossop Chronicle
Click here for more of the latest news
Click here to read the latest edition of the paper online
Click here to find out where you can pick up a copy of the paper