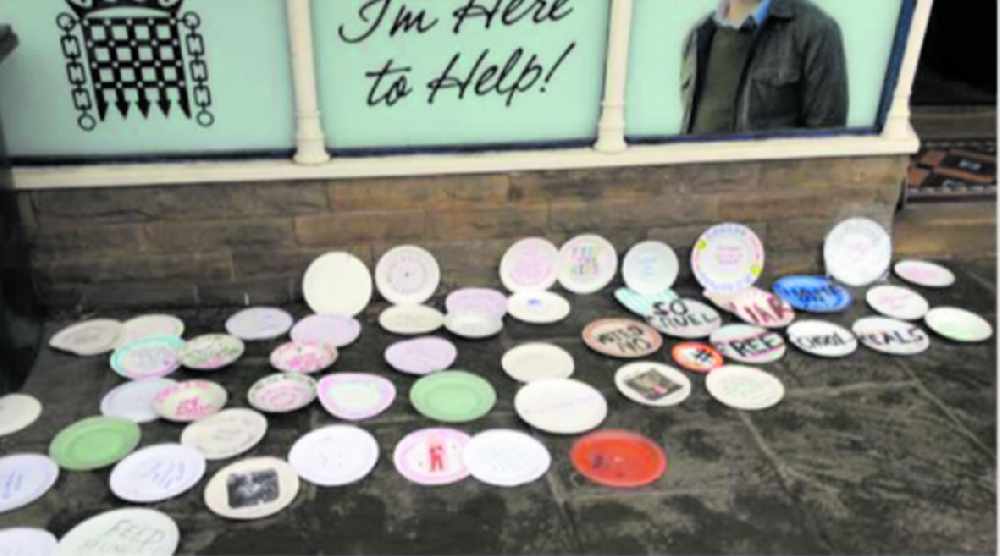 People who made a 'plates protest' outside Robert Largan's constituency office have denied being Labour activists.
The accusation came from the High Peak MP after crockery covered the pavement of his headquarters in Whaley Bridge.
It was left by Pam Cohen and fellow protesters angry that the MP had voted against a motion to extend free school meals for pupils into the October half-term.
Reacting to the protest, Mr Largan said: "It's disappointing that a group of Labour activists seemed to ignore social distancing rules and created an obstruction on the high street in Whaley Bridge, including blocking access to a dentist.
"Covid cases are on the rise locally and we all need to act responsibly."
Mr Largan said the plates were blocking the entrance to his office and the dentist and were moved.
In reply, Pam Cohen said: "We were social distancing and we were all wearing face masks, the only time I took mine off was when I was speaking.
"I am member of the Labour Party, but I am not an activist. The meeting was not political.
"I invited people and some of them brought friends."
Mr Largan added: "I went to my local comprehensive in Manchester. My mum grew up on free school meals. This is an issue I take extremely seriously.
"People on all sides of the political divide recognise the serious challenge of food poverty and agree that action is needed. We only disagree on the best way of helping people.
"Despite some misinformation being put out there, it is important to stress that there are no changes to free school meals. Free school meals continue to be served to over one million children every school day.
"To help further during this difficult time, we've brought in an emergency increase of £20 per week to universal credit and provided over £800,000 to Conservative-run Derbyshire County Council to take a targeted local approach to supporting the most vulnerable children, including offering food boxes to parents, supporting holiday hunger clubs and giving substantial funding directly to local charities."
Late last week it was reported that Prime Minister Boris Johnson decided to provide free school meals to disadvantaged school children over the Christmas holidays.