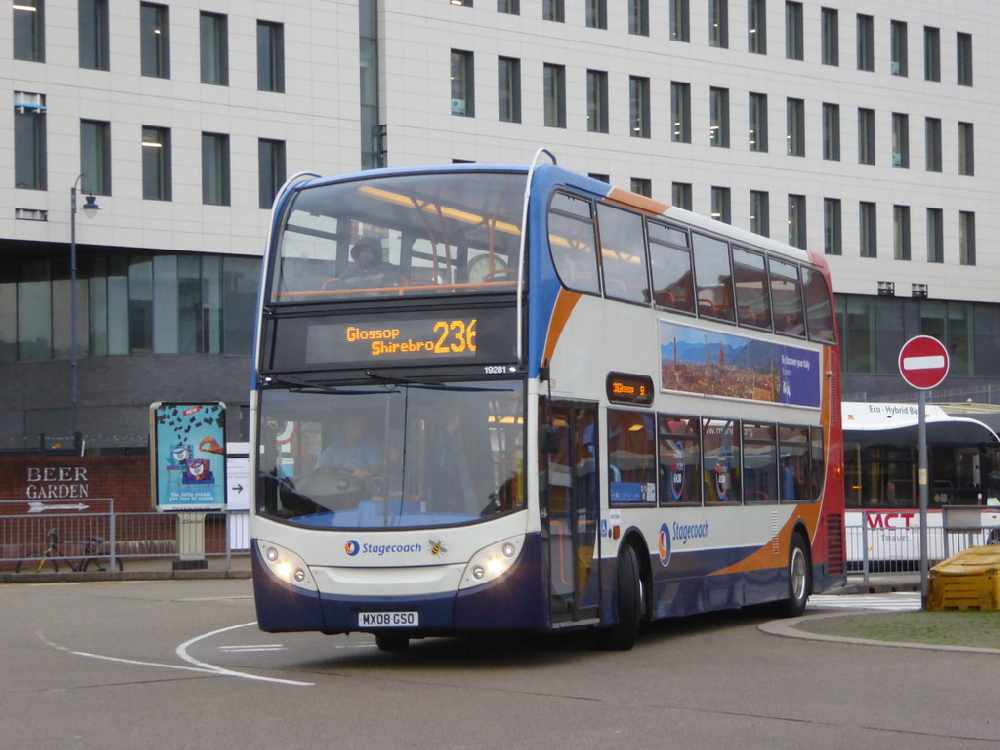 A direct bus service between Glossop and Ashton-under-Lyne is set to be axed completely from the end of next month. 
Stagecoach has confirmed its plans to completely remove the 236 at the end of August, following a recent meeting of the Greater Manchester Transport Committee.
The company intends to add additional journeys to the 237 service - which travels through Hadfield, Tintwistle and Hollingworth - but is yet to outline details of how this will operate.
A report to the committee advised that Transport for Greater Manchester won't be looking to put in place any support to retain the 236 as it only leaves two stops over the border in Tameside unserved, which they say are within 500 metres of where the nearest 237 stop at the Gun Inn in Hollingworth.
The loss of the 236 will leave residents living in Brookfield and Woolley Bridge without a bus service covering their area from September.
Stagecoach say both the 236 and 237 are "declining services with inefficient timetables" and have made the decision to "simplify the services" to provide an "overall more efficient service for passengers".
A spokesperson said: "Both the 236 and 237 were declining services with inefficient timetables, leading to increased waiting times for passengers. We made the decision to simplify the services to this area by removing the 236, to allow an increased frequency for the 237, providing an overall more efficient service for passengers.
"We informed both Derbyshire County Council and TfGM to make them aware of the changes to the services in this area and have provided the Council with patronage figures for the affected sections, for them to review opportunities around re-routing or procuring an additional service."
Whilst confirming the decision to remove the 236 was made by Stagecoach, TfGM has explained what it will mean.
A spokesperson said: "The withdrawal of Stagecoach's 236 service will leave Woolley Bridge and Brookfield unserved. Three stops in Woolley Lane will become unserved, two towards Glossop and one towards Mottram.
"Woolley Lane is covered by the East Tameside Local Link which provides door to door links to a number of destinations within Tameside, including Stalybridge and Ashton town centres. On the Derbyshire side of the border service 237 will operate along Shaw Lane then operate via Dinting Vale to and from Glossop."
It has left passengers who rely on the service concerned about what it will mean for them.
Among a host of specific concerns raised on social media include the huge impact the lack of the 236 is going to have during peak times - particularly during term time when pupils from Longdendale High School, West Hill School in Stalybridge and students from Ashton Sixth Form College rely on it and are due to return in September - at a time when capacity on buses is reduced due to social distancing.
The affect on elderly people, a much longer walk for some residents to access the 237, the increased duration of journeys and fears of more traffic on the roads were others.
High Peak MP Robert Largan, who sits on the Transport Select Committee, has described the proposed cut as "unacceptable" and "short sighted". He has also launched a petition for people to sign.
The MP commented: "This cut to local bus services is unacceptable. We should be improving local bus services, not taking them away. This move is short sighted and will end up with both Woolley Bridge and Brookfield left without a bus service and with many more residents facing a much slower service.
"I will be campaigning to save the 236 bus and have launched a petition to show the strength of local feeling. You can sign my petition and oppose this cut at www.robertlargan.co.uk/save236bus."
Gamesley councillor and High Peak Borough Council leader Anthony Mckeown, who travels on the 236 himself, is urging people affected to get in touch with their local councillors and Stagecoach to address their concerns.
He said: "As a user of the 236, this is a disappointing decision by Stagecoach to reduce travel options from across Glossopdale to Ashton Under Lyne and highlights the need for more local control of bus services, so vital services are not cast away due to a commercial decision made without the thoughts of passengers.
"Whilst the increased frequency of the 237 may offer some assistance, we'd urge local residents affected by the change to contact Stagecoach and your local Councillors with details on how this change will affect you."