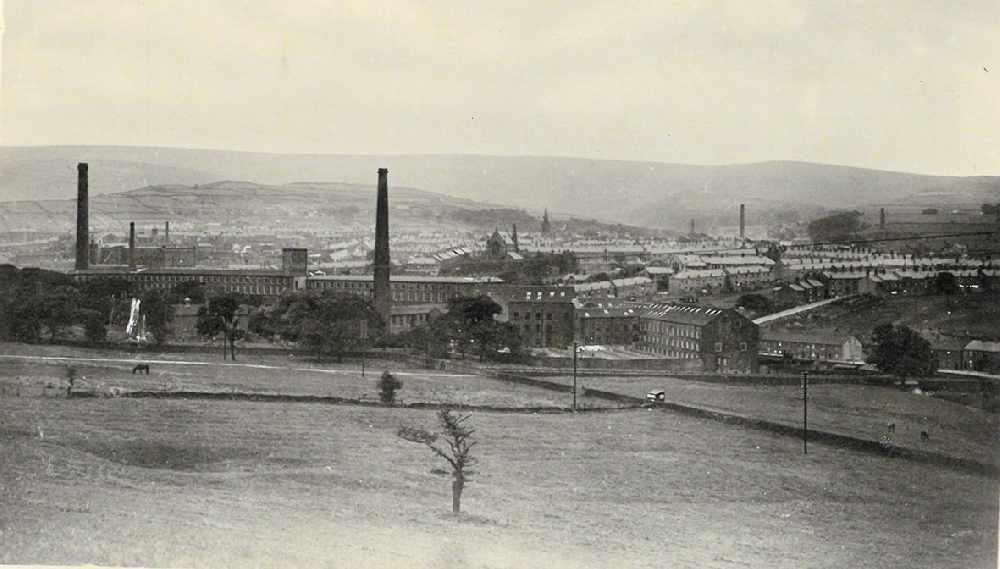 Here is a Glossop scene that's changed considerably since this photograph was taken, probably in the early days of the last century.
Taken from Dinting Road, it shows Sumner's Mill, now part of what is now Wren Nest Retail Park.
But then the five storey building was one of the biggest cotton spinning mills in Europe.
The fields in the foreground are now occupied by industrial units and there is no sign of the Surrey Street home of Glossop North End.
The photograph echoes the time when Glossop was a mill town and every mill had a very tall smoking chimney.
We counted eight or nine in the photograph, maybe you can spot more.
All but a couple of them long ago demolished, the mills closed, the buildings turned over to a variety of other uses.
For people of a certain age the picture will be a reminder of when life in Glossop seemed to be at a much slower pace.
The next time you take a train in or out of Glossop take a look put of the window as you approach the station and soak up the changes.
DATELINE FROM OUR FILES - 50 years ago:
Tie of the day in the first round of the Manchester Intermediate Cup was at Church Lane where New Mills took on near neighbours and keen rivals Glossop. The Millers were leading 2-1 with Barry Welsh hitting both and Alan Doodson replying for the Hillmen, before Glossop were awarded two penalties, both brilliantly saved by 'Mr Dependable' Colin Woodhouse.
Making the news off the field was veteran football boss Joe Martin, who was in charge at New Mills for many years before becoming manager of Glossop. Joe, who was 70, had quit the Surrey Street side after a single season and spent some time out of the game, but after seeing New Mills beat Glossop, decided to return to Church Lane as manager!
There were goals galore at North Road where Old Glossopians hammered Chadderton Grammar School Old Boys 7-5 and striker Ashley Allsopp hit three of them for the home side. Old Glossopians' third and fourth teams were also hitting the goal trail, beating Bury Amateurs 5-0 and North Manchester 9-1 respectively.
Newcomers to Simmondley had formed a garden estate association and intended to influence local affairs as much as possible - even contesting town council elections. Chairman Bob Pocklington said: "We have just been instrumental in getting improved bus services to the village and this shows that a pressure group like ours can count."
The Chronicle was reporting that the mobile Chest X-Ray Unit was returning to Glossopdale for the first time in five years when more than 5,000 people were examined. It was being set up in the grounds of Hadfield cannery Maconochie Brothers Limited which was then at Waterside.
Police were keeping a close eye on Tintwistle bowling green and recreation ground following a spate of vandalism. Parish councillors had complained of privet hedges damaged and deep heel marks deliberately made on the green.
Packed audiences had made Glossop Old People's Week one of the most successful ever held. Old folk were happily praising the organiser for coming up with concerts, parties, afternoon teas and shows.
Sixty people at a Tintwistle meeting unanimously agreed that if a new school was to be built in the village it should 'continue the tradition and high standards' of Christ Church Day School.
Adrian Mitchell who was said to be one of the most influential poets of the day had agreed to read at Glossop Labour Club. Editor of 'The Black Dwarf', Mitchell described himself as a British Socialist poet.
Glossop Mayor Cllr Peter Matthews didn't just organise a fund raising charity swim in Wood's Baths - he slipped on his trunks and took part managing an incredible 80 lengths.