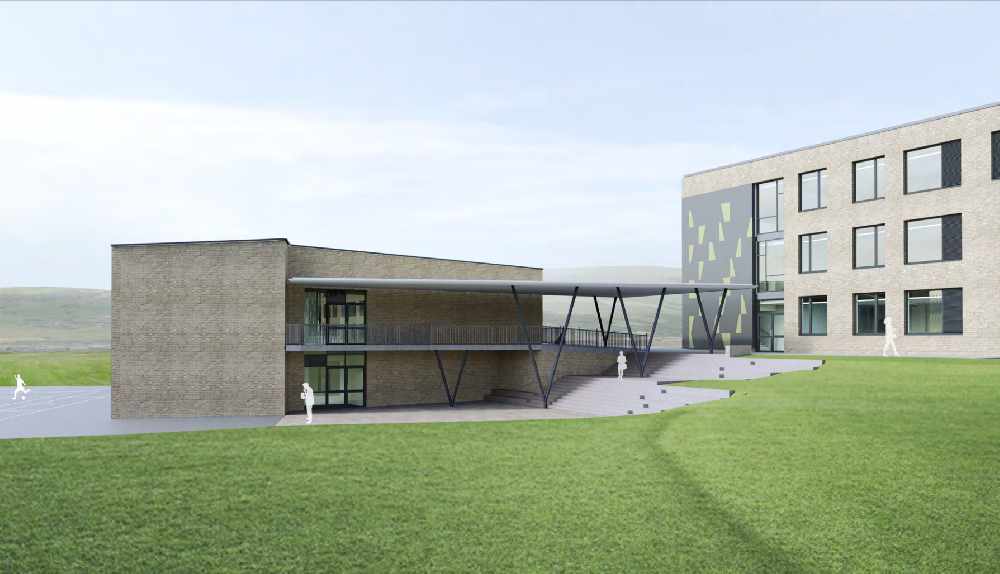 Plans for a 240-place expansion at Glossopdale School in Hadfield have finally now been fully approved. 
The decision was made following a virtual cabinet meeting of Derbyshire County Council yesterday (Thursday).
It comes following the end of a formal consultation in March, with all responses to both this and the initial consultation at the end of last year supporting expansion.
The £4 million funding for the extension to the already £23 million school off Newshaw Lane had previously been approved and the planning application recently submitted has now been given the green light.
High Peak MP Robert Largan commented: "I am very pleased that the Conservative Council have approved the expansion of Glossopdale School. This is the result of a huge amount of hard work from a wide range of local people and I am proud to have helped play a small part in this victory for children and parents. I want to publicly thank all those who have worked to deliver this. Councillors Jean and George Wharmby have also been very helpful in supporting the campaign, and have been working hard behind the scenes to push our case forward with the Council."
Cllr Alex Dale, DCC's Cabinet Member for Young People, said: "I'm very pleased that Cabinet colleagues and I have been able to approve the much-needed expansion of this school. I know that a lot of local families are anxious about the need for additional places, and I want to assure them that, once the planning application has been approved, we'll be working really hard to complete the project as soon as possible.
"I want to thank all those parents and campaigners who've contacted me directly on this issue to let me hear their thoughts and views. I also once again want to thank Robert, Jean and George for working constructively with the Council and passionately putting forward the case for the extension on behalf of local families."
Etherow county councillor Becki Woods commented: "As the County Councillor for the area where Glossopdale School is located, I'm delighted that after much pressure from myself, Ruth George the former High Peak Labour MP, and Parent's Groups, the County Council have finally relented, listened to our concerns, and agreed to make the very necessary extensions to the school.
"I have had many conversations with the Head of Childrens Services at DCC over the last couple of years about this situation, expressing my concerns about children from Glossopdale being forced to take long bus journeys to other areas in order to complete their education.
"Hopefully this will mean an end to this as soon as possible, and the children of Glossopdale will be able get on with their academic lives, in what is a fantastic facility. I have also been pressing DCC for a solution to the problems with parking, and volume of traffic at dropping off, and picking up times, so I'm hoping they will also be addressing this."
High Peak Borough Council deputy leader, Cllr Damien Greenhalgh, said: "This is really pleasing news for the students and staff who benefit greatly from these additional classrooms. I'm glad the current County Council have finally been pursuaded to build on the Labour investment and complete the school as per the original plans.
"Significant credit must go to the determined efforts of parents, coordinated by Catherine Wilson and supported by the tenacious Ruth George."
After two years of construction, the school opened its doors in 2018 to 1,064 pupils - with a maximum capacity of 1,200 at the time and the ability to expand further.
This extension will now take the school to its full maximum capacity of 1,440 pupils.
The decision made in January to go ahead with the building work followed several complaints about admissions to the school, with parents saying that friendship groups were being split and many children were having to go elsewhere for secondary school education because the school was too small.
Main image:
An artist impression of what part of the school extension will look like (from DLA Architecture).