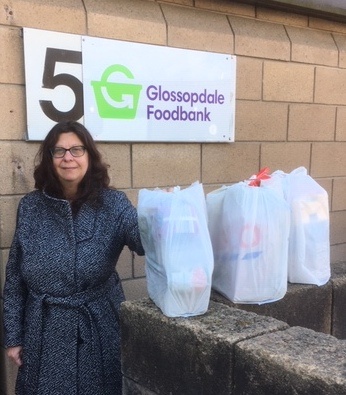 Cooperation across Glossopdale between crisis relief organisations, churches, schools, sports clubs, businesses and individuals ensured that families in crisis had a better Christmas this year than they might have been expecting. 
Glossopdale Foodbank acted as a conduit to provide families with festive food, toys and games, in addition to the food parcels which keep families and individuals in crisis going throughout the year.
Gift bags with food and toiletries, puzzles and toys were distributed by the food bank's delivery team as well as through Glossopdale School and Crossroads, the domestic abuse relief organisation.
Toys were donated by High Peak Toy Bank, while Elim Christian Centre provided 50 large gift bags, as did Glossop North End Community Football Club.
The food bank bought goods and made up 80 large gift bags. In addition, they made and distributed 150 toiletry bags and provided gift bags to Glossopdale School and Crossroads who distributed them to families known to them.
The food bank also received a huge response to its Christmas appeal. Donation baskets in Tesco, M&S, Simmondley Coop, Glossop Wholefoods and Glossop Leisure Centre saw food bank volunteers make extra visits to empty them for the two or three weeks before Christmas, while increased cash donations from the community enabled the food bank to buy extra food for Christmas.
Just before Christmas Day, people visiting to the food bank were offered double food parcels to enable them to get through the Christmas week when the food bank was closed.
Businesses also rallied round. Wickes brought in a donation of food, as did Howmet Aerospace. Glossop North End senior and junior teams added £100 to their donation of large gift bags.
Glossop Central Methodist Church sent a cheque for £500. Flair Rugs of Hadfield sent a transit van full of donated food. Charlesworth Primary School sent in a donation of food from their Reverse Advent Calendar collection, as did St Margaret's School and St Mary's School.
Glossopdale Round Table donated a food voucher for £250 and NatWest Bank also sent in a food collection.
Meanwhile, Glossop Fire and Rescue Service stood outside a number of shops asking for food donations, while individuals sent in money donations.
Glossop Military Fitness also held a raffle which raised £630. The manager of the Commercial Pub completed a sponsored keep-fit campaign and raised over £600 for the foodbank and Asda Community Fund donated £300.
The donations meant extra work for the food bank volunteers at the lock-up where the food is stored. Extra space was then provided by G52 in the next door lock-up to store all the extra food.
Chairman of the food bank, Godfrey Claff, said: "This really was a magnificent community effort. It was so heartening to see so many organisations cooperating to achieve a common goal.
"The response from the community demonstrated once again how generous and caring the Glossopdale community is."
Main image:
Glossopdale Foodbank co-ordinator Charlotte Mendes Kelly with food parcels outside its lock-up on Brookfield Industrial Estate.