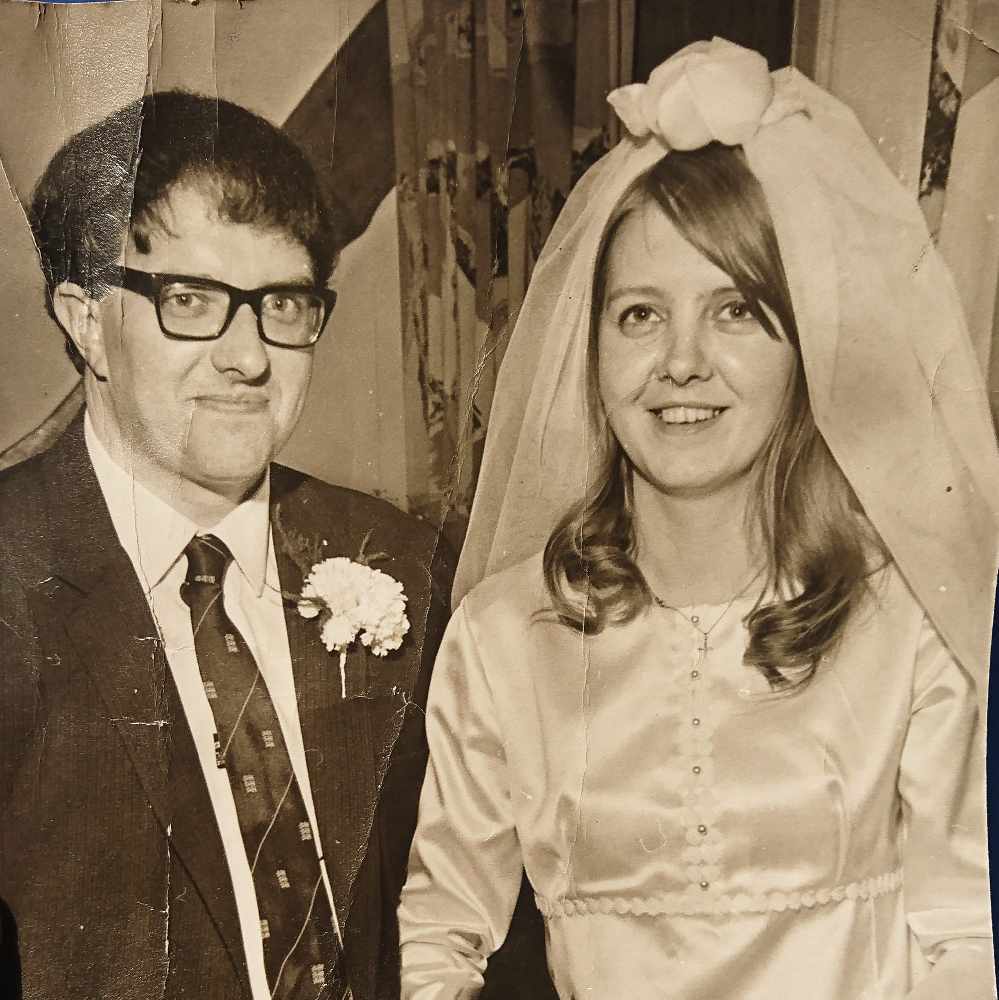 Our very own Glossop Chronicle editor David Jones and his wife Pat marked 50 years of happy marriage last weekend, as they celebrated their golden wedding anniversary in the comfort of their Glossop home. 
David, 76, and Pat, 73, tied the knot on 30 May 1970 at St James' Church in Whitfield, having got together a couple of years prior to their big day.
Due to the coronavirus lockdown, it was a quiet celebration for the couple, who spent the day together at their Sheffield Road home, but they were inundated with flowers, gifts, cards and messages from well-wishers.
David said: "Our living room is full of cards and flowers which started being delivered on Saturday morning and there have been over 60 lovely messages on Facebook. Our son Dave's family also sent a nice cake for us to enjoy.
"Our other son Mat, his fiancee Kristina and Rosie also sent us lovely bouquets of flowers.
"We both really appreciate all of the kind messages, flowers, cards and gifts we have received and thank everyone for sending them."
When the pandemic is over, David and Pat plan to have a meal out with Dave and wife Emma, grandchildren Huey, 7, Annie, 13, and Will, 15; and Mat, Kristina and Rosie.
David has served our local newspapers and reported on our communities for an incredible 55 years!
He began his career in journalism at the age of 20, initially starting at the Glossop Chronicle in 1963. He then moved to the North Cheshire Herald in Hyde a few years later before returning to the Chronicle in the 1990s as news editor.
In November 2017, David won a special 'Stand Out' award at the O2 North West Media Awards for his outstanding service to local journalism.
Last September, he also became the Honorary President of Quest Media Network, which incorporates the Glossop Chronicle, Tameside Reporter, Oldham Reporter and Tameside Radio.
Everyone at Quest Media Network would like to congratulate David and Pat on their 50th wedding anniversary, and send them our very best wishes for many more happy years together.
Main image:
A black and white photo - a sign of the times! - of David and Pat on their wedding day, taken by the late Harry Buxton who was the Chronicle's photographer at the time.