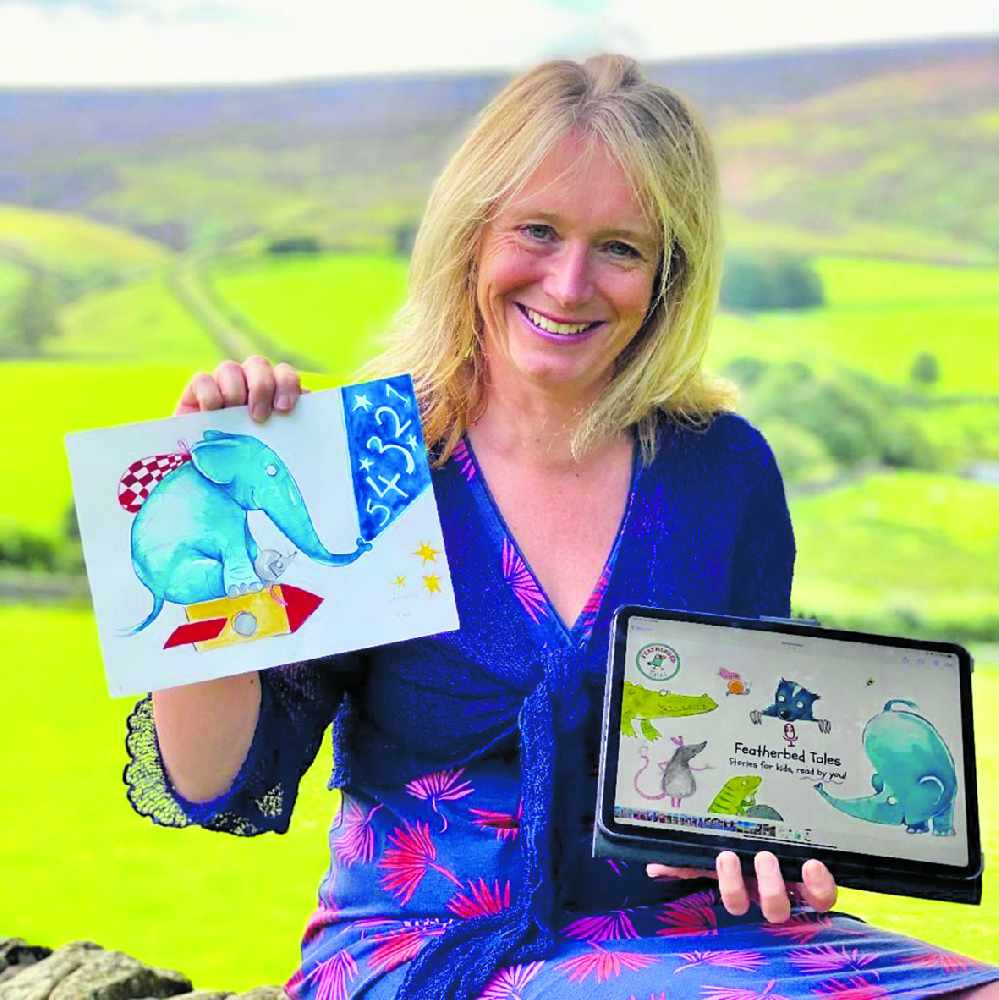 An idea dreamed up in Glossopdale could be about to go global.
Caroline England (pictured) has launched a family friendly reading and story-telling app called Featherbed Takes.
She's just launched a global Kickstart fundraising campaign to finance her dream.
Caroline's start-up company's goal is to market the digital illustrated story books to children and families all around the world.
She is aiming it particularly for children who cannot be with parents and other close relatives because the youngsters are in hospital.
Caroline, who lives in the Whitfield area of Glossop, told us: "The aim with Featherbed Tales is to provide smiles across the miles.
"Children find comfort and take delight in having books read to them, especially at bedtime.
"With so many family members and relatives living apart or across different households, Featherbed Tales offer children an enduring connection with the people they love most."
Caroline says the app can 'soothe children' who cannot be with their loved ones.
She says NHS healthcare staff and play workers at Royal Manchester Children's Hospital and Evelina London Children's Hospital at Guy's and St Thomas' are planning to use the first Featherbed Tales digital books with the children in their intensive care and high dependency units.
Parents/carers can record stories for their children to listen to. During hospital stays it eases the separation and helps children to settle.
Caroline says that with continued restrictions on hospital visitors due to Covid-19, Featherbed Tales' personalised recordings can help a child feel connected to loved ones who are not allowed to visit, which might include classmates and friends as well as family.
Once recorded, the stories can be accessed time and again whenever the child needs some reassurance.
With internet enabled devices so easy to wipe clean and disinfect, she says Featherbed Tales are a safe and convenient way for multiple users to enjoy reading a personalised story on a shared device, such as often happens in schools and nurseries as well as clinics and hospital.
Julia Birchall-Searle, Director of Nursing at Royal Manchester Children's Hospital, part of Manchester University NHS Foundation Trust, said: "It's a pleasure to be working with Featherbed Tales on this exciting new way to help make our young patients feel more connected with their families and loved ones.
"We know how important it is for our patients of all ages to be able to hear the voices of those close to them, and we're looking forward to sharing Featherbed Tales across the Hospital."
You can support the campaign by visiting https://www.kickstarter.com/projects/featherbedtales/featherbed-tales-creating-smiles-across-the-miles