Maddie Spencer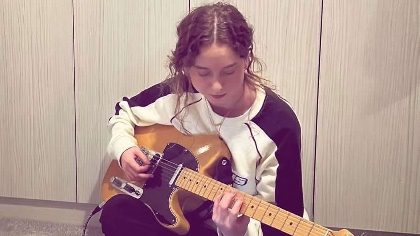 Next week's artist on Tameside Radio's 'Local Music Spotlight' feature is 21 year old singer, songwriter and guitarist MaddieSpencer from Middleton.
Maddie has been a familiar name on gig and festival line ups locally for the last few years, playing at many events and venues here in Tameside along the way. Her influences come from the likes of David Bowie, Bruce Springsteen, Alfie Templeton and Declan McKenna, and it's easy to see why she is well loved on the scene, with relatable and enjoyable music that's easy for everybody to enjoy.
She puts on a great live show, and has so far released four singles, the first being 'Modern Life' back in 2020, followed by 'Ice Rink', 'Lemonade', and the most recent release ' Sunflowers'.
All of these songs will be played throughout the week on Tameside Radio from this Monday onwards, and you can also listen to an interview and live performance which Maddie gave on Dave Sweetmore's last Monday night show, this can be found on the 'on demand' section of the Tameside Radio website.
For more information on Maddie Spencer and the Local Music Spotlight feature, visit Tamesideradio.com. Maddie can also be found on Twitter @mads_spencer, her Facebook page is Maddie Spencer, and Instagram @madelinespencer_.
There is also now an official Spotify account which features all bands and artists who have been included on the Local Music Spotlight feature, search for 'Tameside Radio Local Music Spotlight'. We can't wait to have Maddie's music on the daytime playlist all of this week.
Get in touch