#WeAreOpen - Supporting Local Businesses to get Back to Business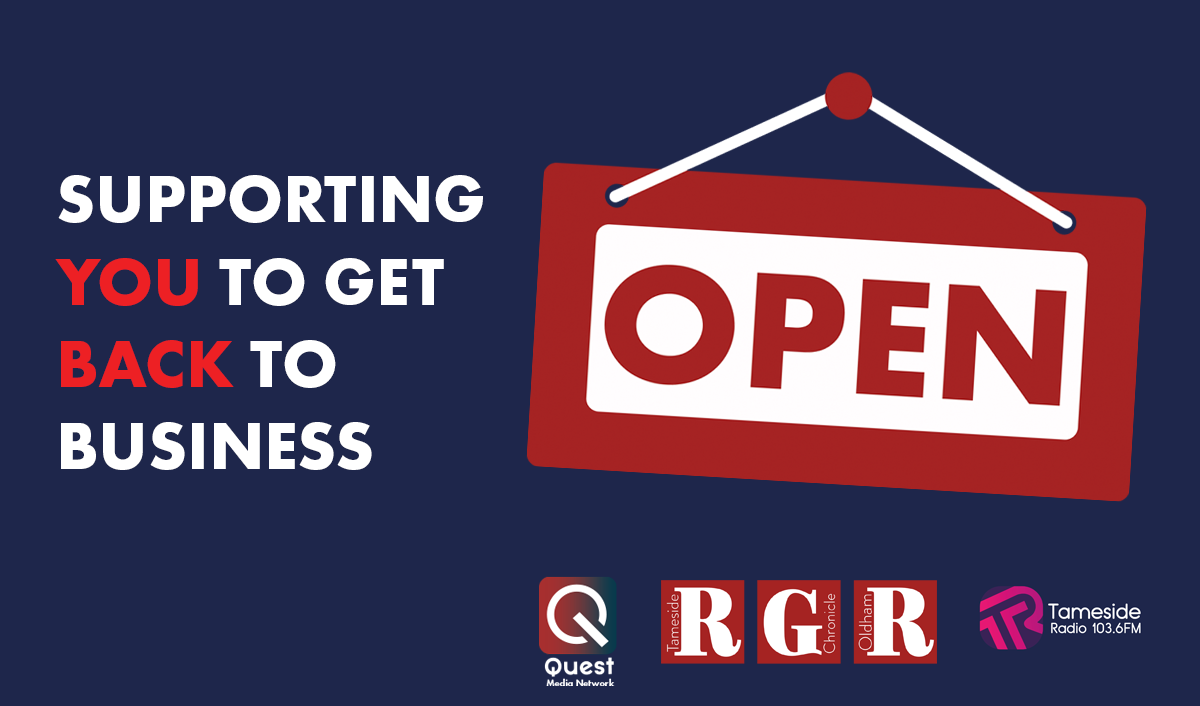 This week we launch a new campaign to back businesses reopening for the first time since the coronavirus crisis began. Our #WeAreOpen campaign aims to support businesses that have been impacted by the lockdown over the last three months. As part of the campaign, we will be offering a range of opportunities and incentives to help support businesses including free webinars, the creation of free landing pages on our website, editorial support in print across our publications, online and on air on Tameside Radio 103.6FM.
Quest Media Network Executive Chairman Chis Bird: "I know the devastating impact these unprecedented times have had on businesses across all of our communities, we at Quest have also been affected greatly, but in this, our 165th year of trading, we are focused on supporting the communities we serve and the businesses within them, helping rebuild our high streets to make them the vibrant focal point of our towns once more. This is vitally important to all of us. #WeAreTogether. "Now we're going one step further with #WeAreOpen, which we hope will be of real benefit in the coming weeks and months ahead as our local businesses open their doors once again. "Not only can local businesses use our platforms to let everyone know they are open, but our readers can learn more about the hundreds of different companies that are on our very doorstep. "Local business is the lifeblood of our towns, providing local jobs and training and stimulating our economies. We want to do all we can to help them for all of our futures.
As a small business at the heart of our community for 165 years, we are committed to keeping our local businesses and economy thriving.
Nothing is more important to us that your business and vital role locally. So, as you re-open we are here to support you with reaching new customers and reconnecting with your regulars.
BACK TO BUSINESS COMPETITION
Win a 12-week advertising campaign on-air, online and in print and get Back to Business.
To support you in getting Back to Business Quest Media Network is offering you the chance to reach an audience of up to 500,000.
Win free advertising for 12 weeks across all our titles: Tameside Radio, Tameside Reporter, Oldham Reporter, Glossop Chronicle and our online platforms.
Your customers could hear about your business on the radio every day and see you featured in our newspapers and online on a weekly basis.
There are 3 prizes up for grabs!
A first prize of 12 weeks of free advertising worth £4,300
A second prize of 8 weeks, worth £3,200
And a third prize of 4 weeks, worth £1,700
Each prize includes:
Tameside Radio advert – 5 plays per day every day (including advert production)

Weekly ¼ page advert in Tameside Reporter and Glossop Chronicle

Featured Business with a bespoke web page in our online Business Directory

Regular social posts across all our channels, including Facebook, Instagram and Twitter
To enter, fill in the form below! Just by entering you will also get a free listing on our local business directory!
See below for our special pricing on how you can advertise your business across our titles!