Totally Locally Fiver Fest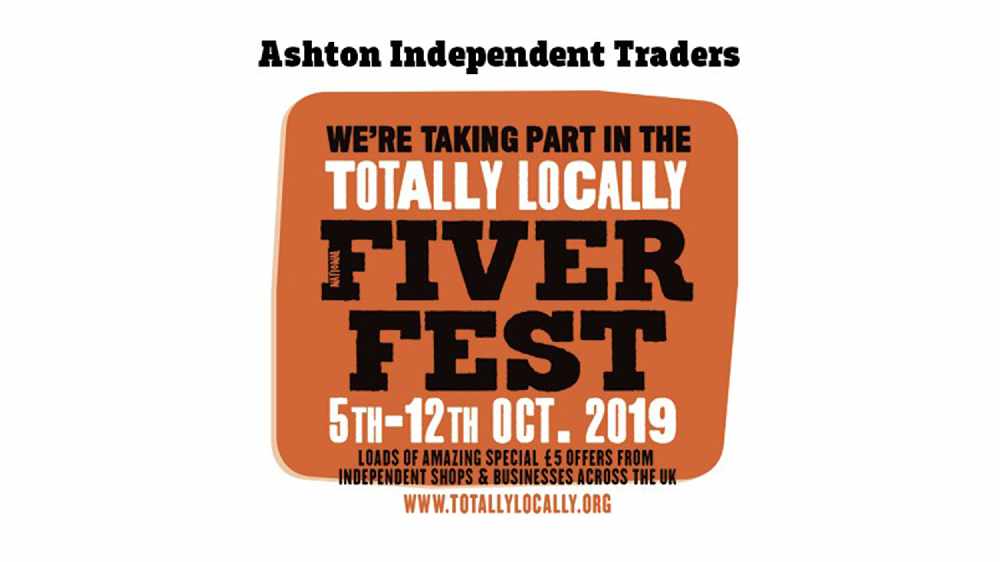 Quest Media Network - namely your Reporter, Chronicle and Tameside Radio - are collectively throwing our weight behind our local businesses this week with a unique competition.
We are offering all local residents the opportunity to scoop £25 of vouchers as part of a £500 giveaway to spend with our local shops and businesses at the forthcoming 'Totally Local Fiver Fest' in Ashton.
ENTER BELOW TO WIN
The innovative promotion is aimed solely at helping revitalise independent traders and will be running in the town from October 5 to 12.
Ashton is one of some 40 towns participating in the 'Fest' across the country next month.
The initiative sees independent traders will be offering special £5 promotional offers with shops, cafés, restaurants and pubs all taking part.
Special deals can be identified by the 'Fiver Fest' poster displayed in their window.
Figures from the Totally Local team show reveal that if everyone spent just £5 a week in local independent shops instead of online or at chain stores, it would be worth £9.4m to the local economy.
Organiser for the Ashton initiative Val Unwin said: "The last National Fiver Fest was a huge success, with 41 towns and thousands of independent shops getting involved.
"We're joining in with the Totally Locally Fiver Fest to introduce some great bargains for local shoppers, but also to showcase the town and the great shops and businesses we have here, and show how important independent High Streets are to our communities and towns.
"On average each independent business has around 12 local suppliers who are also often independent, family run businesses. So that £5 spent is re-spent locally as well, further helping the town.
"And the beauty of spending £5 is that it's easy, guilt free and pretty much anyone can do it. Tiny actions like this can make a huge impact when lots of people vote with their feet!"
Totally Local founder Chris Sands said: "Independent businesses are the lifeblood of our High Streets and town centres, run by incredibly passionate and knowledgeable people, often pouring their life savings into their businesses.
"Everyone is aware of the challenges our High Streets are facing and, so far, there has been a lot of talk but no real action."
We aim to help change that and want to encourage everyone to take part.
To do just that we have a total of £500 in £5 vouchers to giveaway to 25 lucky winners who will each receive four £5 vouchers (£20 in total) to spend with at least two of the participating businesses.
We'll be giving £250 in vouchers away in the newspaper this week - and £250 in vouchers next week on the Breakfast Show with Scott and James - so make sure you tune in to 103.6FM to be in with a chance of winning.
A full list of participating businesses is as follows:
Decisions Clothing - Fletcher Street
Knits and Pieces - Fletcher Street
Goody Two Shoes - Ashton Market
Brian's Curtains - Ashton Market
Spec Tackle - Ashton Market
Bargain Textiles - Ashton Market
Pearson's Butchers - Ashton Market
Lindsay's Cosmetics - Ashton Market
My Medicines - Ashton Market
Cards Galore - Ashton Market
Briggs Butchers - Ashton Market
A-List Fancy Dress - Ashton Market
Suzy's Sweets - Ashton Market
Juues Baby and Children's Wear - Ashton Market
Bailey's Hardware - Ashton Market
Press Gang - Ashton Market
Pillow Talk - Ashton Market
Sweet Station - Ashton Market
Detox Juice - Ashton Market
Wendy and Mandy's - Ashton Market
Cockney Toys - Ashton Market
Gems Jewellers - Ashton Market
J.L Scotch Meats - Ashton Market
Cordwells Hot Deli - Ashton Market
Occasions - Ashton Market
Jacky's Floral Designs - Ashton Market
Fruits & Roots - Ashton Market
Nat's Bombay Kitchen - Ashton Market
TARPS Filipino Food - Ashton Market
Michael Hall - Market Street
Grade A Jewellery - Market Avenue
Sincerely Yours - Market Avenue
Mr Finch & Skin - Market Avenue
New Shu - Market Avenue
JRS Collectibles - Market Avenue
Eclectic Avenue - Market Avenue
Dizzi Gothic - Wellington Street
Happy Daze - Wellington Street
Laura Ashleigh - Wellington Street
Mosaic - Warrington Street
Rouge Fabrics - Penny Meadow
Jasmine Tea Rooms - Penny Meadow
SIMPLY FILL IN YOUR DETAILS TO WIN.
Closes: Monday 7th October
10 winners announced at 8:40 on Monday 7th October.
See our Terms & Conditions.