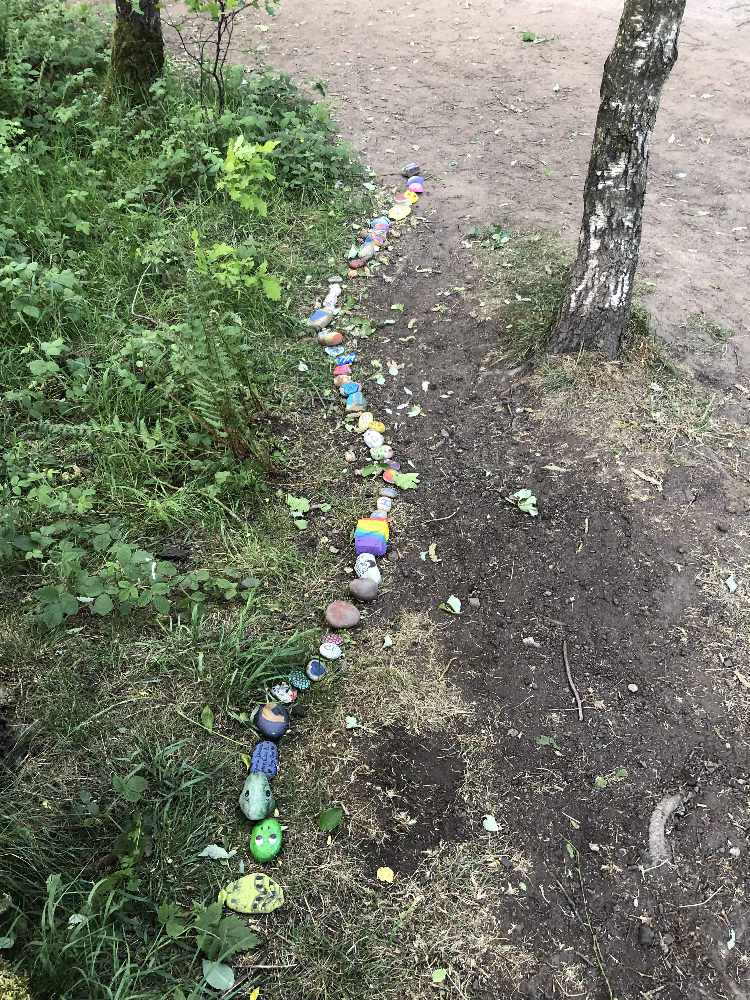 There's a giant snake slithering along the Simmondley end of Gamesley Sidings, but it's not a slippery serpent - quite the opposite, in fact… 
Named Sammy the Simmondley snake, it's made up of decorated stones and pebbles of all shapes and sizes, created by local residents who use the multi-use TransPennine trail between Simmondley and Broadbottom to bring smiles to people's faces as they exercise.
The snake begins close to a tree in woodland, accompanied with a colourful sign which reads 'Covid-19 Snake. Please add your decorated stones. Please don't move any or take any. Let's see how long we can make the snake…'
Each small part of the snake has been beautifully painted by local children - with lots of different designs and patterns on display.
It's been going for about two weeks and already has over 50 stones - and, as you can see, it's growing all the time!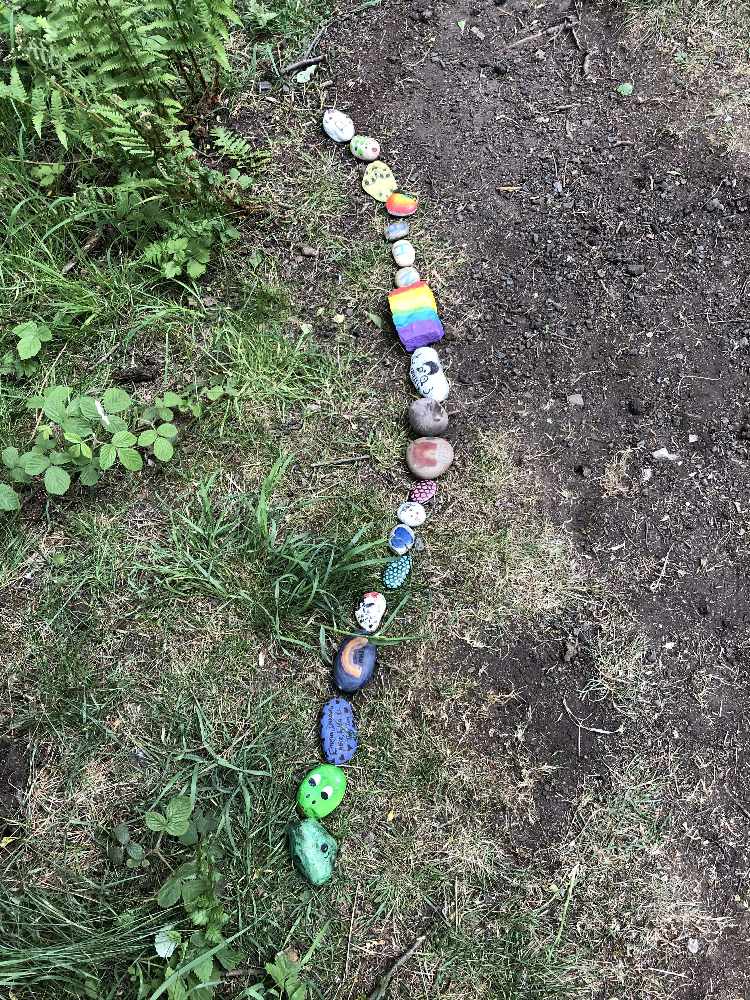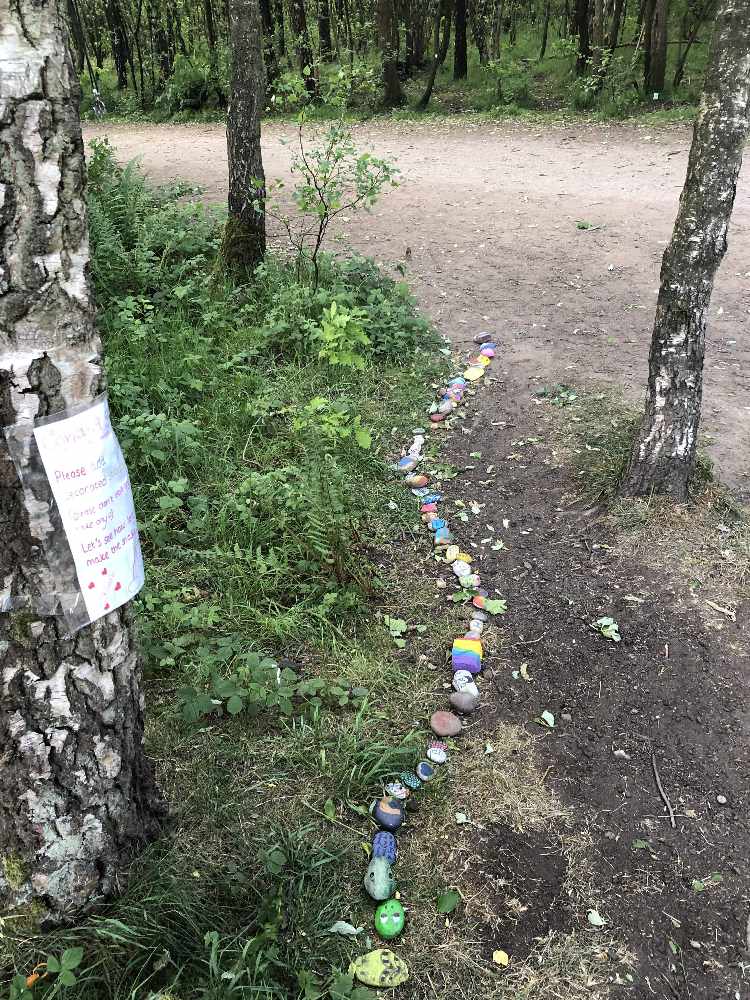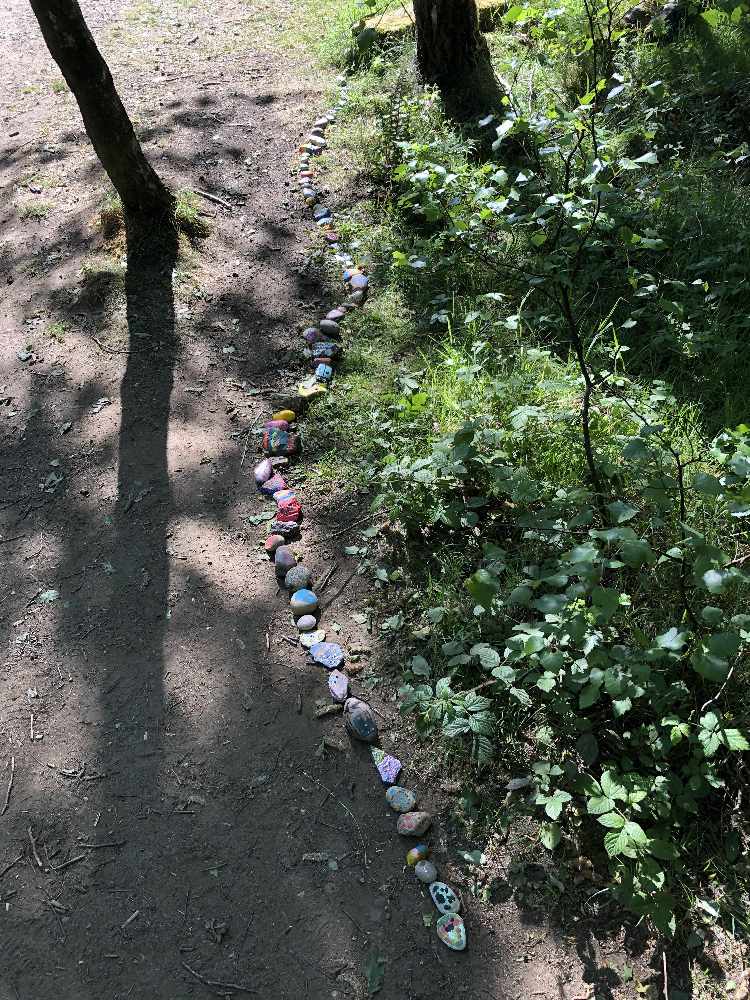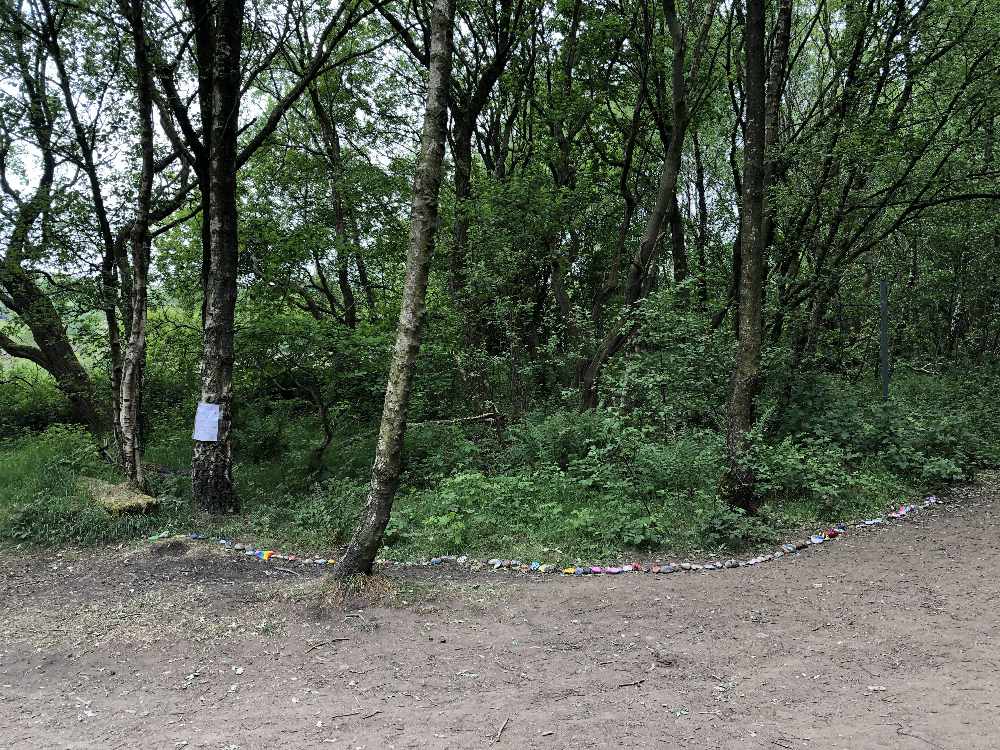 Simmondley resident Tracy-jane Fielding came up with the idea after seeing a post on Facebook and enlisted the help of others.
Tracy-jane said: "I can't take the credit - the original idea was from a lockdown Facebook page from a lady who lives in Dorset.
"So we thought we could create a Covid-19 snake out on the wider part of the track and engage everyone.
"Because I'm working from home as a key worker, I asked the Simmondley Facebook page if someone could come up with a poster for it.
"Emma Hills and her family came forward and made the poster and the snake's head very quickly, so it's thanks to her as well. Someone initially took the head but two people quickly made them again.
"Now we can keep our children busy painting and let Sammy the Simmondley snake get even bigger. Anyone can add to it and we'll keep measuring it. Hopefully it will keep growing!
"I did think we could open it up for wider community engagement by having a competition with other areas if they set up snakes - such as Gamesley and Whitfield."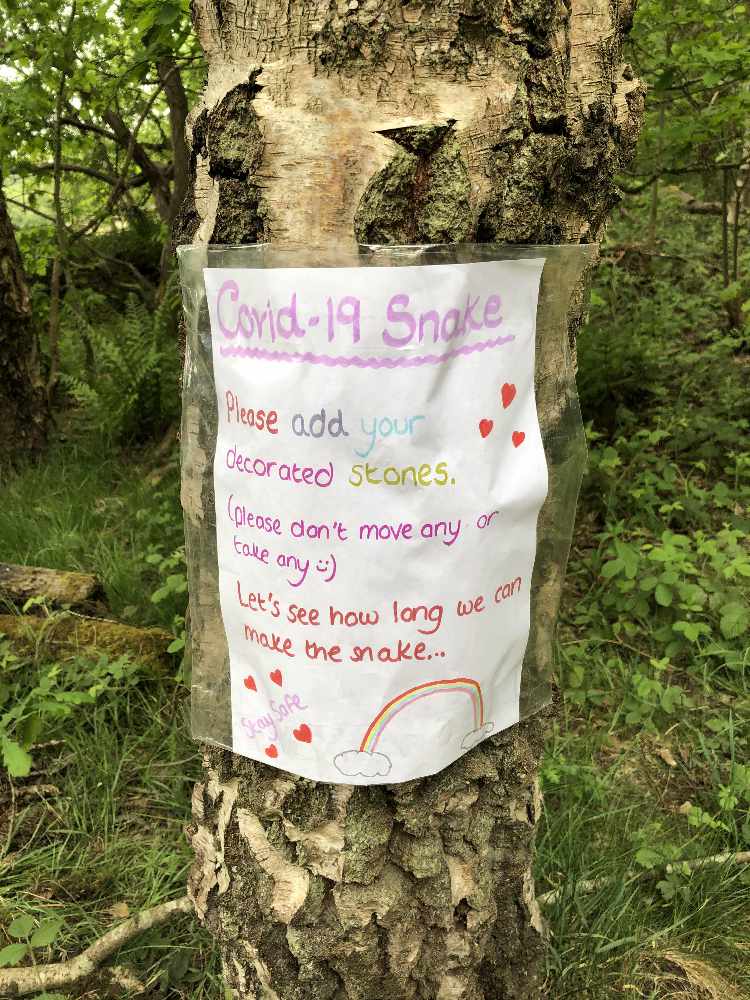 Emma added: "I chose to set it up as a way to ensure that my children and other people could stay connected. I have two children classed as extremely clinically vulnerable so they will not be returning to school any time soon.
"Our little walks in the country are the only time we get out of the house and I wanted to make it as fun as possible. It also shows them that a little bit of kindness and initiative impacts a lot of people.
"My children love to walk by and see how others have got involved. We have friends that have added pebbles and my family members request my children to make one for them. It's a beautiful idea and something light in a time of dark."
The multi-use trail, which is open to the public, is a popular route used by walkers, dog owners, cyclists, runners and horse riders.
During the coronavirus lockdown, they are seeing a whole lot more along the way.
We recently showed you how the trail has also been decorated with soft toys, craft items and objects - some appearing like magic, peeping out from undergrowth and hanging from trees and bushes.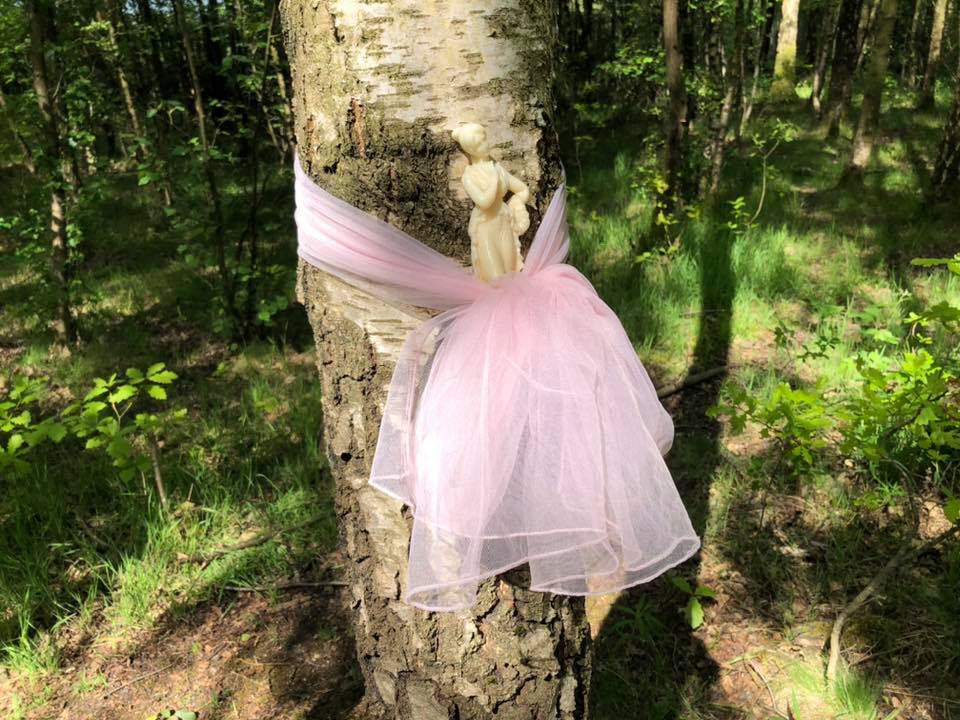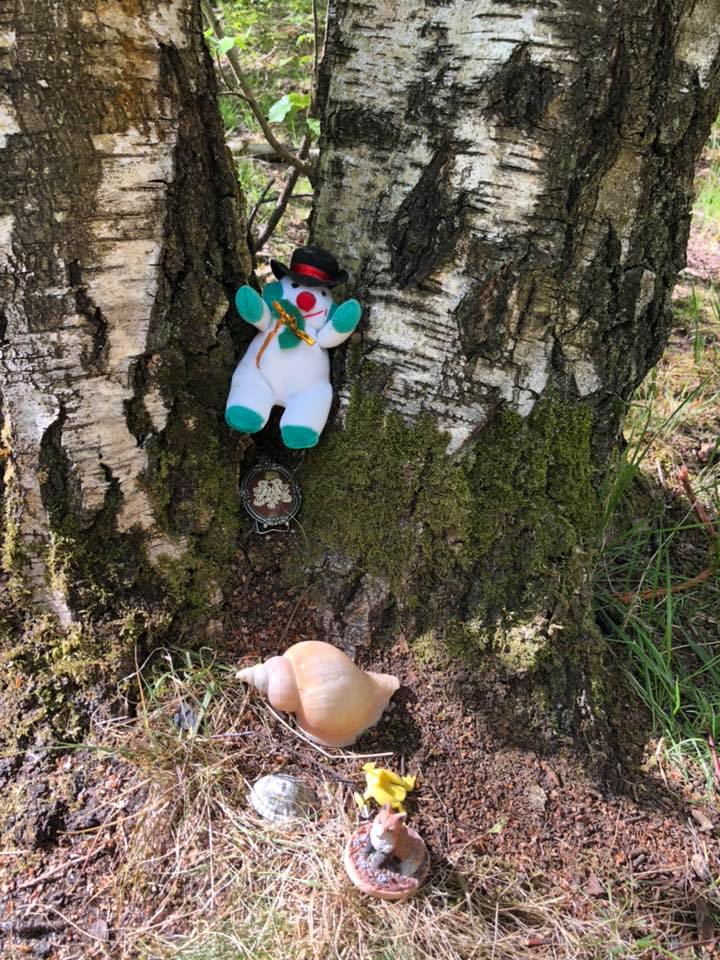 That's in addition to the eye-catching mosaics on the loop of the Gamesley Woodlands path, which were created back in 2015 by participants in Project eARTh with artist Debra Tracey - a partnership between High Peak Community Arts, High Peak Community Mental Health Team, High Peak Mental Health Project, and High Peak Community and Voluntary Support (CVS).
So there's plenty for you to keep an eye out for if you're local and use the trail for your daily exercise.
WE ARE A COMMUNITY!
With the majority of people now staying safe indoors, it's important we use this time to stay safe, but to also stay positive and come together! We're going to share nothing but positive and uplifting stories from the people and businesses in our community in a dedicated 'We Are A Community!' section of our website here: https://www.questmedianetwork.co.uk/news/we-are-a-community/.
To tell us all about your feel-good stories, head to https://www.questmedianetwork.co.uk/we-are-a-community/ and we'll be in touch!