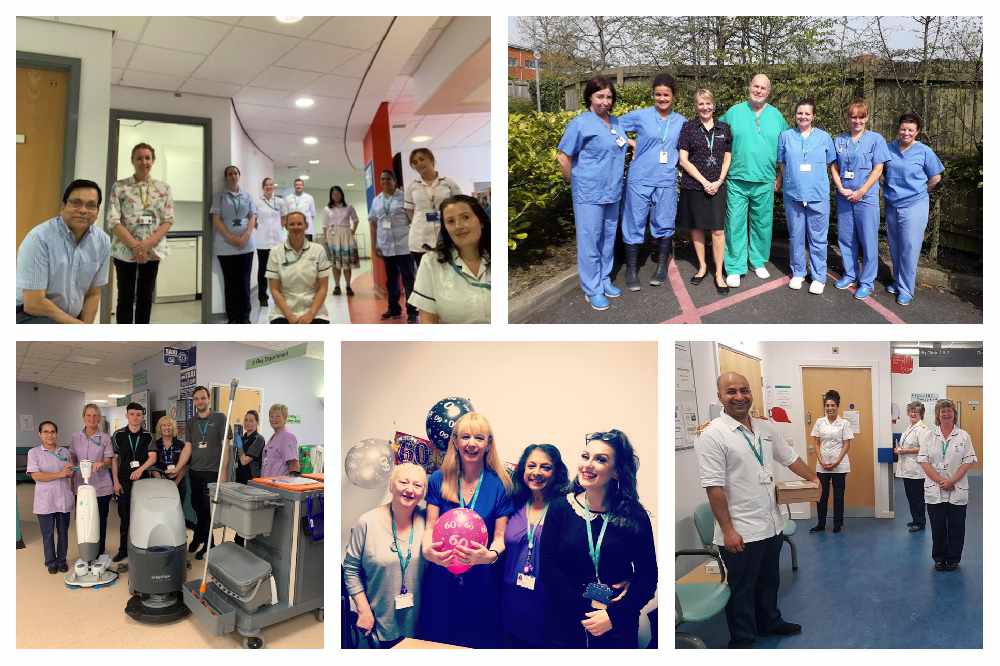 Our amazing healthcare heroes across the country have risen to the challenge during the coronavirus pandemic - and it's no different at Tameside Hospital, where staff have really stood up and made a difference throughout the crisis.
It goes without saying that nurses, doctors and support staff on the frontline have done an outstanding job under immense pressure to care for the most poorly and vulnerable people in our community.
But the Covid-19 outbreak has meant that all staff across Tameside and Glossop Integrated Care NHS Foundation Trust have had to adapt to new ways of working and dealing with new challenges.
To shine a light on some unsung people who have gone above and beyond during the crisis, the Trust has been running a series called #hiddenheroes.
Earlier this week, we told you how the Ashton-based hospital has remained well stocked with Personal Protective Equipment (PPE) throughout the pandemic, thanks to the tireless effort and 'can do' attitude of the Trust's Director of Operations, Jackie McShane, and the expert assistance of the procurement team.
Here, we take a closer look at some more people behind the frontline who have helped ensure the hospital has been able to respond to the crisis:
The Recruitment and Payroll Teams have been working hard, seven days a week, including a mixture of home working. At the start of the pandemic, they managed to recruit 12 porters, 23 domestics and 10 catering assistants with full clearances, for the Facilities Department within 10 days.

The PEF team of Helen, Jessica and Catherine have been really busy supporting the Employed Student Nurses and ensuring everyone received a welcome pack on their first day. They will continue to support and guide all the students whilst they are working at the Trust.

The Diabetic Foot Team, podiatrists, doctors and admin staff have been very active, working hard in clinics, on the wards and in the community even in the current COVID-19 environment, having to adapt to social distancing and other guidelines.

The Phlebotomy team - Shaz, Oneesa, Rita, Debbie, Denise - are on the wards every day, in the blood rooms or in community, looking after patients and ensuring clinical staff are supported to have blood tests done.

The facilities management team have been working tirelessly, deep cleaning and sanitising public and clinical areas while maintaining hospital standards.

The Medical Records Team have been providing patient case notes for all appointments, whether face to face or on the telephone. Some of the team have retrained and been redeployed to support numerous wards and new patient areas.

The Logistics Team are currently very busy, making sure any patients that need moving around the hospital are done so safely. As well as patients, the team has been moving all sorts - waste, equipment, furniture, samples and even medical gasses!

The Clinic Management Team have been working extra hard, converting outpatient appointments into telephone clinics as well as letting patients know that appointments have changed.

The SALT and Dietitian teams are supporting care for the hospital's COVID-19 patients with optimal nutritional care and safe swallowing - on top of their usual caseloads.

The PALS and Patient Experience Team have been so busy helping friends and families of patients keep in touch with their loved ones while they are in hospital, as well as coordinating donations to the Trust for staff and patients.

The switchboard team are working hard answering calls and dealing with queries.

The catering team have really stepped up at this crucial time. They are providing free meals to staff at the Trust and ensuring patient services continue to their high standards. They are also ensuring food supplies continue into the hospital.

The Mortuary and Bereavement Team have been working so hard during this pandemic to provide an outstanding service while dealing with exceptional demand.

The pharmacy team are going above and beyond, making sure the Trust has the medication needed and also putting together multiple medication boxes for wards.

The A&E Admin Team are working hard to continue to support patients and clinicians. They have really pulled out the stops to make sure that the department is staffed 24/7 as some team members have been affected by COVID-19.

The corporate information team, who regularly go above and beyond, have had to completely change their work patterns in order to ensure the correct information is obtained, verified and submitted relating to COVID-19.
See the hidden heroes in our photo album below. Please note some of the images were taken before the pandemic started and therefore do not follow social distancing guidelines.
Karen James, Chief Executive of the Trust, has paid tribute to all the staff.
She said: "Our staff have really risen to the challenge that COVID-19 has posed to the Trust, they have had to adapt to changes in work practices, work in new environments and some with new colleagues.
"The Trust is full of hidden heroes and I think this pandemic has really brought out the best in people here and I'm so proud to be part of Team Tameside and Glossop."
WE ARE A COMMUNITY!
With the majority of people now staying safe indoors, it's important we use this time to stay safe, but to also stay positive and come together! We're going to share nothing but positive and uplifting stories from the people and businesses in our community in a dedicated 'We Are A Community!' section of our website here: https://www.questmedianetwork.co.uk/news/we-are-a-community/.
To tell us all about your feel-good stories, head to https://www.questmedianetwork.co.uk/we-are-a-community/ and we'll be in touch!