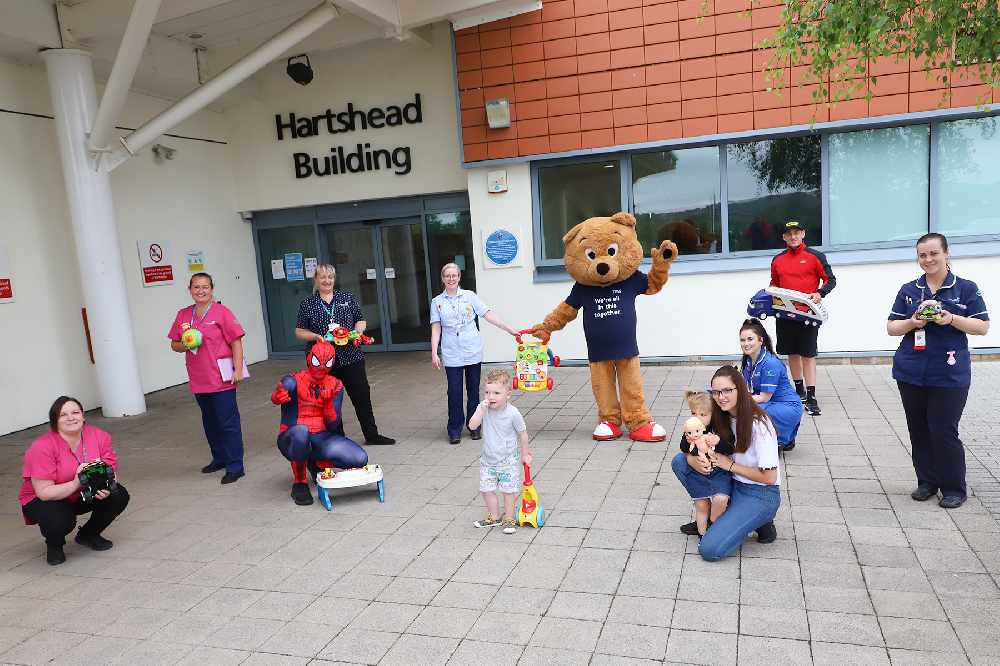 Tameside Superheroes have donated toys to the children's ward at Tameside and Glossop Integrated Care NHS Foundation Trust this week.
The toys were collected by Tameside Superheroes, namely William Mahaffey, Colin Campbell, Chris Thompson and Becky Ollerenshaw.
They had appealed for the donation of toys for the hospital using a page on Facebook as well as donations from family and friends.
The superheroes have been very busy collecting donations and delivering them to the Trust.
Explaining how the group came about, Colin said: "After the initial begin of the lockdown, there were groups online that had been set up in Stockport. At this point, people were joining the groups to make the kids happy in their local communities. Once we joined the group, we started to make contacts with great people.
"After many conversations it highlighted that about 10 members were actually based in Tameside. It was at this point that a couple of the members - namely Callum Sheridan, Chris Thompson, Taylor Brassington and myself - decided to make a Facebook group called Tameside Superheroes.
"The aim of the group was to purely use it to document our daily walks for a hour but this was not just our plan. We wanted to do more and decided to start looking for donations for the hospital. We have done our own collections, mainly Callum to begin with, using a bucket - and this money was used to buy about 300+ bottles of water to date, as well as toothpaste - basically anything we could get that the hospital needed."
Adding about how the toy donation was organised, Colin said: "It was not long into lockdown, we were tagged in a post from a lovely lady called Becky Ollerenshaw who was looking for help for the hospital. This was an appeal for toys for the waiting areas of the children's ward in the hospital, as things inside the hospital had to be moved due to safety of patients.
"We then used our platform with over 1k followers and we managed to team up with even more special people - one of whom had already been raising money for the hospital to date - the legend William Mahaffey.
"We had lots of donations and they were collected by William and Becky. The donations were made from Facebook friends and family and when collectively put together, it was lots so we more than achieved what we needed to."
Recently William received a citizen award from Denton MP Andrew Gwynne for the community spirit he had showed by facilitating donations of bottled water to the Trust.
Chief Executive Karen James said: "I would like to say thank you for all of the generous donations that we have received recently, it really does help to keep the morale of our staff and patients up at this challenging time."
WE ARE A COMMUNITY!
With the majority of people now staying safe indoors, it's important we use this time to stay safe, but to also stay positive and come together! We're going to share nothing but positive and uplifting stories from the people and businesses in our community in a dedicated 'We Are A Community!' section of our website here: https://www.questmedianetwork.co.uk/news/we-are-a-community/.
To tell us all about your feel-good stories, head to https://www.questmedianetwork.co.uk/we-are-a-community/ and we'll be in touch!