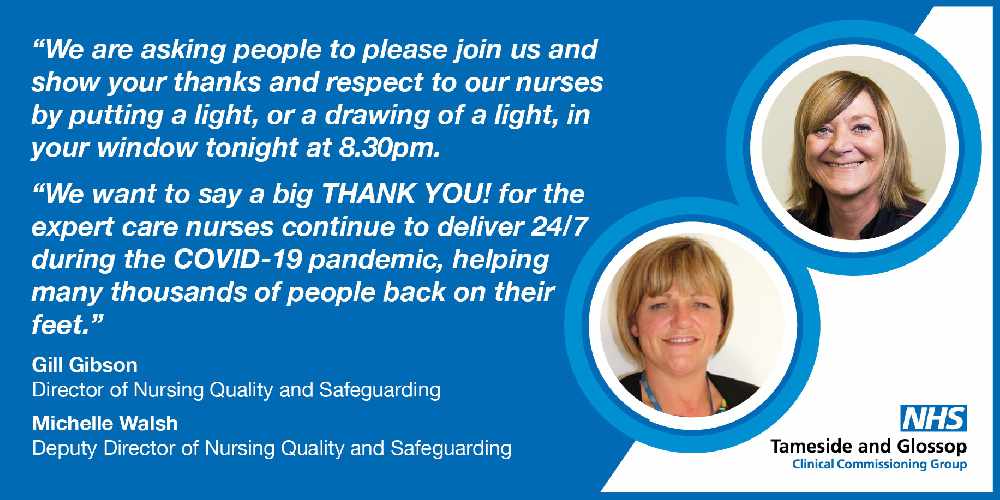 Today is International Nurses Day (IND) - giving local people the opportunity to say thank you by shining a light.
Light is a visible symbol of welcome, hope and warmth and NHS Tameside and Glossop Clinical Commissioning Group (CCG) is asking local people to join them and Shine a Light for our brilliant nurses at 8.30pm this evening, to show their thanks and to participate in IND2020 celebration.
The work and plight of nurses in our neighbourhoods has been well documented during the pandemic. Many of us have had a very real connection with nurses recently and people want to be able to do something to show their gratitude and support.
Recognition of the day this year will be a very different occasion to past years, as nurses will be uniting in response to the coronavirus pandemic.
Gill Gibson, Director or Nursing Quality and Safeguarding at NHS Tameside and Glossop CCG said: "These are tough and testing days for our nurses who have gone above and beyond their line of work protecting patients and residents during the coronavirus pandemic.
"They are all taking the necessary precautions to protect themselves and others from contracting the virus.
"Today is not only a celebration of our CCG nursing team but of all those nurses who work in care home settings and local GP practices.
"Today and every day, Nurses have never been more needed. If you are interested in becoming part of this amazing team, we encourage you to find out more by searching 'Nursing Careers'."
You can follow the team on social media @TGCCG and share your nursing stories with them.
WE ARE A COMMUNITY!
With the majority of people now staying safe indoors, it's important we use this time to stay safe, but to also stay positive and come together! We're going to share nothing but positive and uplifting stories from the people and businesses in our community in a dedicated 'We Are A Community!' section of our website here: https://www.questmedianetwork.co.uk/news/we-are-a-community/.
To tell us all about your feel-good stories, head to https://www.questmedianetwork.co.uk/we-are-a-community/ and we'll be in touch!