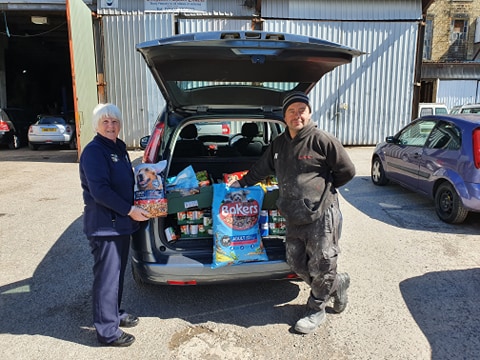 As times continue to be tough for people across the borough, Glossop's Tesco store has been doing their bit to support the local community during the coronavirus pandemic. 
Last week, the supermarket's kind-hearted Community Champion, Christine Clarke, was busy giving out flowers and chocolates to seven residential care homes across Glossopdale to help lift the spirits of hard-working staff.
She also paid a visit to community foodbanks, including Bellies Not Bins at Carmel Church on Station Road in Hadfield, to deliver a vital boost to their supplies - with items such as tinned food - to help them to feed the most vulnerable people in our area.
Christine said: "Tesco are a family store and we work with our community, coming together to help each other. We're always there with a help in hand. The supermarket's motto is every little helps and it certainly does. It doesn't matter how big or small your gift is, it's the thought that counts."
WE ARE A COMMUNITY!
With the majority of people now staying safe indoors, it's important we use this time to stay safe, but to also stay positive and come together! We're going to share nothing but positive and uplifting stories from the people and businesses in our community in a dedicated 'We Are A Community!' section of our website here: https://www.questmedianetwork.co.uk/news/we-are-a-community/.
To tell us all about your feel-good stories, head to https://www.questmedianetwork.co.uk/we-are-a-community/ and we'll be in touch!