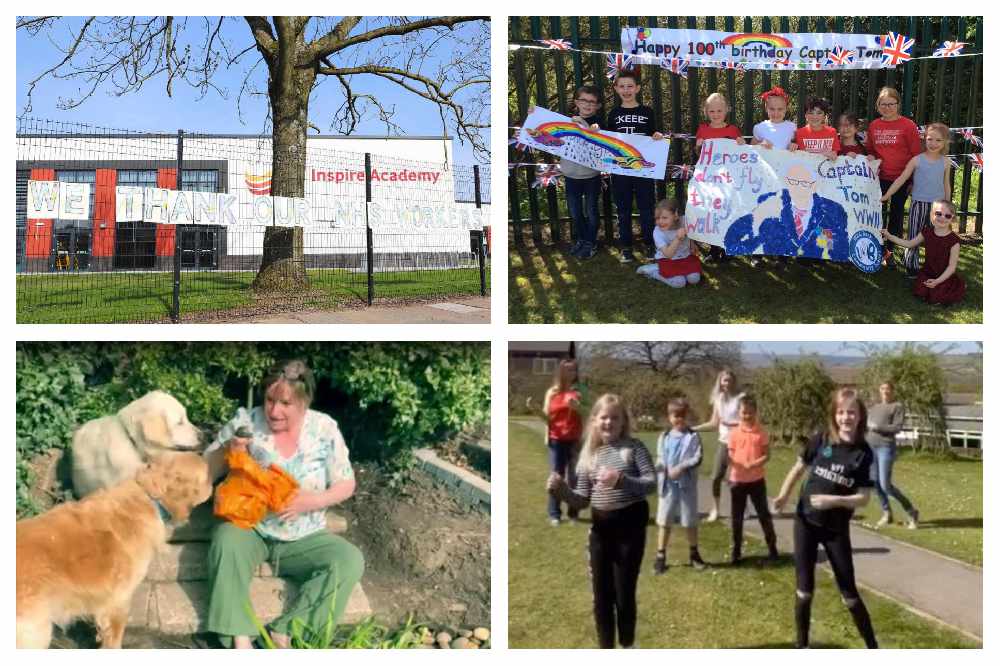 Schools which are part of the Victorious Academies Trust have been hard at work to continue to support their communities during these unprecedented times.
The Trust says: "All of our schools have been working so hard to continue to support our communities and we are very proud of everything the staff and pupils have been doing to look after each other."
At Inspire Academy in Ashton, staff have been making daily calls to more vulnerable families to check they are well and to ask how they can help. The children have been so excited to talk to staff and tell them what they are up to.
Principal Louise Byrne rewrote the lyrics to Adele's Make You Feel My Love and performed her beautiful song over a photo montage of staff sending love to the Inspire community.
And two pupils, Ruby and Issac, delivered cakes to a local care home for residents to enjoy.
There is also a nice banner outside the school to thank the NHS, produced by children of key workers who are still attending the school.
Staff have continued to keep on top of the children's educational needs across all of the schools, with teachers providing work packs and daily links via platforms like Purple Mash and Twitter.
At Inspire, the Inspire Loves Reading campaign continues to promote reading as the key to everything. Every night, Mrs P uploads a bedtime story on Twitter and YouTube for parents to access and for the children to enjoy.
To keep up spirits, the Inspire children have been producing some amazing artwork, which has been sent to Crickets Lane Health Centre for the new Palliative Care Unit.
Across all of the Trust's schools, teachers have been making daily deliveries of food, via the Fair Share scheme, to ensure that more vulnerable families have a meal every day. Some schools have also been shopping for families who are self-isolating and the Trust has been making donations to food banks across the region.
At Wild Bank Community School in Stalybridge, they had a fabulous Easter with loads of lovely Easter eggs kindly donated by Steve Barton, which were shared with pupils who collected their grab bags. Steve also regularly donates bread, which is delivered to the school's families.
Staff created an Easter themed video to show the school family that it continues to care for them. They also held an annual Easter bonnet parade and EGGstravaganza, which went ahead virtually, and all children will receive a certificate in the post.
A large quantity of books and toys that had been collected for their summer fayre have also been shared with families so that the children have a fresh supply of great new books to read.
The school is also keeping on top of many of the regular reward and recognition schemes such as their half-term PRIDE awards, which were posted to pupils.
Wild Bank's sports teacher Mr Ellis has been setting some fun daily home sports challenges that parents and children have been involved with.
At Greenside Primary School in Droylsden, they made Easter cards for the residents at a local care home and have had lots of lovely messages from parents and families who have sent cakes and chocolates to say thank you for all the hard work staff are doing. They even received a lovely painted rock which was left on the gate for all to see.
Like so many schools, they have made rainbows to display on their fence to cheer people up as they go past. The school's key workers children also made a beautiful, big handprint rainbow.
Before they closed, Greenside also had a lovely donation from Greggs bakery of cakes, biscuits and other food which kept them all going. Morrisons in Openshaw have also donated a lot of food, which the school has shared with its families.
The school have had a visit from 'Constable Cub' and a PCSO who they cheered up by showing them paintings and pictures through the window and they made a fun video including lots of staff playing 'Pass the Duck' to Mrs Reynolds.
Greenside even, when out delivering food to families, came across a lost dog which they were able to reunite with its owner.
In school, they have been doing lots of fun activities, the highlights of which have been chalk portraits, an excellent treasure hunt, Easter chocolate nest making and also some superb hot air balloons!
And at Gamesley Primary School, Katy Clubb, one of their UQTs, has made cards and chocolates with the children, which have been taken out to key workers.
WE ARE A COMMUNITY!
With the majority of people now staying safe indoors, it's important we use this time to stay safe, but to also stay positive and come together! We're going to share nothing but positive and uplifting stories from the people and businesses in our community in a dedicated 'We Are A Community!' section of our website here: https://www.questmedianetwork.co.uk/news/we-are-a-community/.
To tell us all about your feel-good stories, head to https://www.questmedianetwork.co.uk/we-are-a-community/ and we'll be in touch!