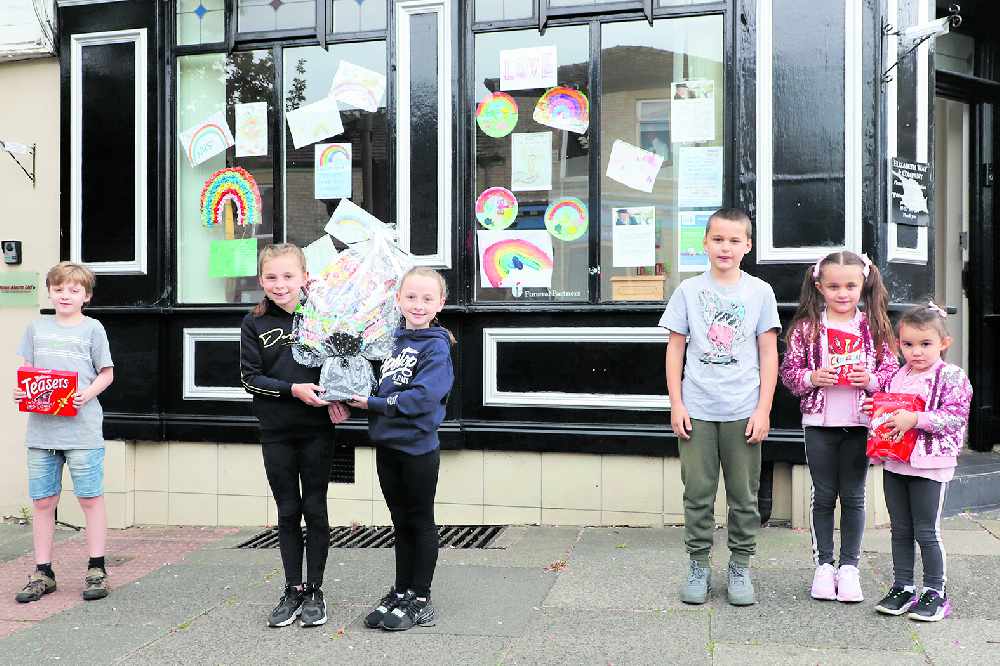 There's nothing like a bit of colour to brighten up dark times - which is exactly what Elizabeth Way Funeral Services did with their Rainbow Window competition. 
The team asked children to draw, paint or collage their best rainbow pictures to be displayed in the window of their Mossley offices, with entries pouring in from across the area.
But the tough decision to pick a winner was left to the Reverend David Warner of St George's Church, who took great care in deciding which rainbow should nab top spot.
Lillia and Ana Hanson won a huge hamper filled with chocolate goodies and Easter eggs for their First Prize entry, with Isaac, Sophie and Paisley Halloway coming second and Alfie Lovell coming third.
A spokesperson from Elizabeth Way said: "We have had so many people messaging us to say how fantastic the window looked, and the children should be really proud.
"Well done to all the winners!"
Main image:
WINNERS: The children with their prizes outside Elizabeth Way Funeral Services in Mossley.
WE ARE A COMMUNITY!
With the majority of people now staying safe indoors, it's important we use this time to stay safe, but to also stay positive and come together! We're going to share nothing but positive and uplifting stories from the people and businesses in our community in a dedicated 'We Are A Community!' section of our website here: https://www.questmedianetwork.co.uk/news/we-are-a-community/.
To tell us all about your feel-good stories, head to https://www.questmedianetwork.co.uk/we-are-a-community/ and we'll be in touch!