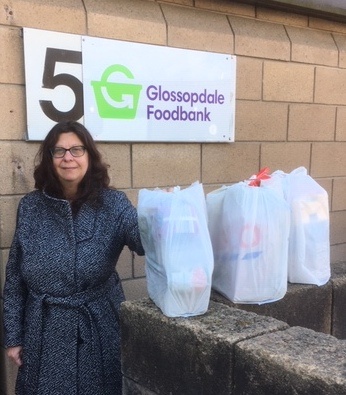 Glossop's leading wellbeing organisation has made a generous donation to help the town's main foodbank get food parcels to those who need them during the coronavirus pandemic. 
Be Well has donated over £1,700 to Glossopdale Foodbank to help the least fortunate people in the local community.
The funding was raised as part of the Pay It Forward (PIF) scheme, operated by Be Well's partners Eat Well Glossop up until June last year.
The scheme saw customers of a variety of food shops, cafés and other food outlets "paying forward" an amount to provide a meal "down the line" for someone in need.
Mick Owen, the Chair of The Be Well Partnership and a board member of Eat Well, explained how the residue built up.
"From the very start of the PIF project in October 2017, we were amazed by the very generous response of local people and of participating outlets.
"Our challenge, however, was finding a reliable mechanism which allowed people who needed a hot meal to walk into participating venues, order one and eat it without feeling any stigma.
"Despite hard graft and some inspired ideas, we were unable to find consistent distribution partners and 'the pot' simply grew. Early last year we closed the project and ring-fenced the funding for when we could pick Pay It Forward up again.
"In the light of the rising levels of food poverty produced by the government's "Austerity" measures and now being worsened exponentially by Coronavirus, it was decided that the best way to honour the commitment of our partners and the people of Glossop who donated money to help feed those less fortunate than themselves in their community was to use the money to directly fund food parcels through our friends at the Foodbank."
When Foodbank coordinator Charlotte Mendes-Kelly heard that the donation was on the way, she said: "This is money we can definitely use to very good effect.
"Demand for food parcels has increased due to the growing number of people who are finding themselves in difficult financial circumstances as a result of the impact of Covid-19. Unfortunately, food donations have plummeted and we are now having to buy almost everything we distribute.
"Before this crisis we were dependent on food donations from the public via baskets in supermarkets and from local organisations but since those routes have been effectively closed off and, although the Glossopdale community has been enormously generous with cash donations and that has enabled us to buy-in food stocks, Be Well's contribution will be a tremendous boost and will help hugely to keep the Foodbank stocked with the items needed to meet the growing demand."
Anyone who would like to donate so that the Foodbank can continue to help people living in food poverty at this time should visit www.glossopdalefoodbank.org.uk or email charlotte.glossopdalefoodbank@gmail.com.
Main image:
Glossopdale Foodbank coordinator Charlotte Mendes-Kelly with food parcels outside the foodbank's unit at Brookfield Industrial Park.
WE ARE A COMMUNITY!
With the majority of people now staying safe indoors, it's important we use this time to stay safe, but to also stay positive and come together! We're going to share nothing but positive and uplifting stories from the people and businesses in our community in a dedicated 'We Are A Community!' section of our website here: https://www.questmedianetwork.co.uk/news/we-are-a-community/.
To tell us all about your feel-good stories, head to https://www.questmedianetwork.co.uk/we-are-a-community/ and we'll be in touch!