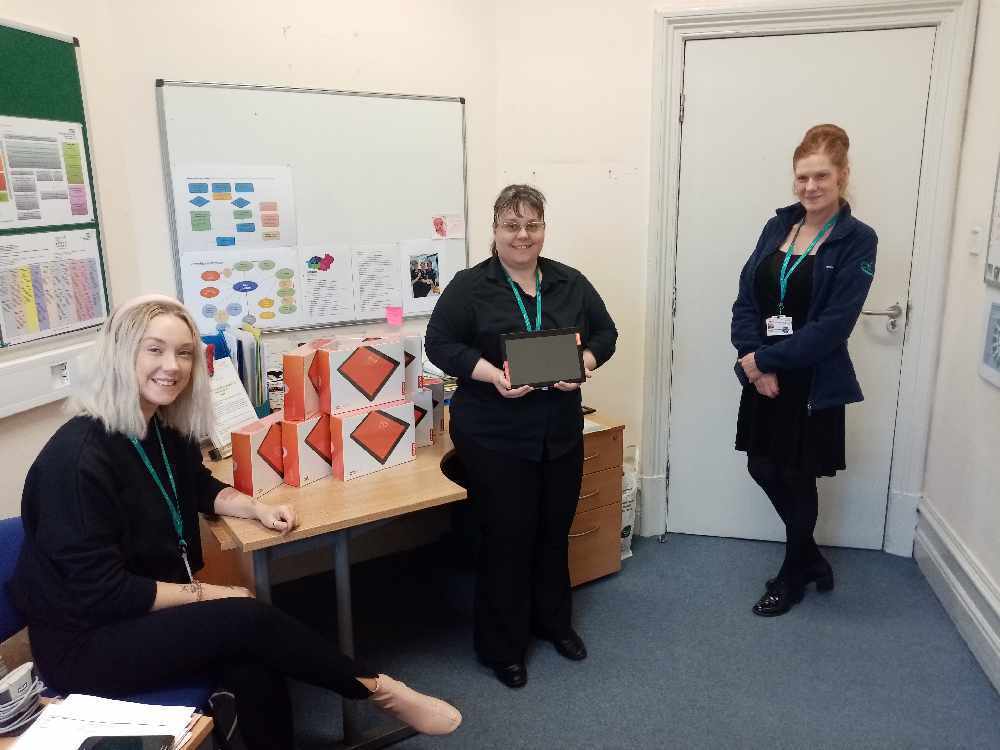 Tameside Hospital has received a kind donation of tablet devices from a Glossop charity to help patients keep in contact with their loved ones.
The donation of 10 tablet devices to Tameside and Glossop Integrated Care NHS Foundation Trust came from PCrefurb.
The tablets will be used by patients to contact their family, friends and loved ones while they are staying in hospital, if patients are unable to use their own mobile phone.
Visiting is currently suspended, which of course is very difficult for patients and their families.
The Patient Experience and PALS Team at the Ashton-based hospital has introduced a couple of new initiatives for families to be able to keep in contact while they are in hospital or care unit.
As well as assisting with video calls, the team have introduced initiatives to send messages to patients and keeping families and friends updated on how patients are doing.
PCrefurb refurbish donated IT equipment to make it accessible to individual and groups in need. They also provide informal training and technical advice at a drop in workshop, directly supporting the local community.
Their workshop is currently closed due to the current pandemic situation and they wanted to do their bit to support the community.
The Chair of Trustees and Mayor of High Peak, Councillor Ed Kelly, instigated a tablet appeal, asking for donations to provide tablets for care settings so families can keep in touch by video.
Thanks to support from individuals and businesses including Benchmark International and Myson Pages, they have been able to give new tablets to hospices, hospitals and care homes in Glossop, Tameside and the High Peak.
Karen James, Chief Executive of Tameside and Glossop Integrated Care NHS FT, said: "I would like to thank PCrefurb for their very kind donation. These devices will mean that more of our patients can keep in touch with their family and friends, which we know is so important to help with their care while in hospital.
"This is a really tough time for everyone but especially those with loved ones in hospitals or care units that they cannot visit. At the Trust we are committed to doing the best we can to care for our patients, so we hope the initiatives we have implemented will offer support and comfort to our patients and their families and friends."
For more information about visiting at Tameside and Glossop Integrated Care NHS FT, visit https://www.tamesidehospital.nhs.uk/patients/
Main image:
The PALS and Patient Experience Team with the donated devices from Glossop's PCrefurb charity.
Keep up to date with all the latest local and national developments here: https://www.questmedianetwork.co.uk/news/daily-coronavirus-updates/.